Yikes, Gucci's Being Called Out for Selling a "Blackface Sweater"
Hey hi happy fashion week, we're barely a few days in and a brand has already done something messed up. Great.
People are pretty angry with Gucci right now for trying to sell a balaclava-style sweater that resembles blackface. The turtleneck top features a big red cutout over the mouth, and it took approximately 0.02 seconds for Twitter to hone in on why that's messed up.
So ya'll just going to let #Gucci act like they ain't know better? #Blackface
STOP supporting brands that mock you! #BoycottGucci pic.twitter.com/TwPaAkZH6D
Balaclava knit top by Gucci. Happy Black History Month y'all. pic.twitter.com/HA7sz7xtOQ
How does this keep happening with supposedly 'luxury' brands? No-one at Gucci clocked the similarity between the racist imagery of their $890 blackface jumper and Prada's keychain – the latter of which was pulled from stores less than two months ago? Or do they just not care? pic.twitter.com/pNxTbuJeXV
So @gucci puts out a sweater that looks like blackface……
On Black History Month….
And then issues an apology because they didn't know that blackface images are racist.
🤦🏿‍♂️ pic.twitter.com/G3HjPTIuuQ
Gucci saw the feedback and ultimately pulled the sweater from its site, but not before issuing an apology.
The best response to that?
If you hire more Black people and cultivate an environment where people on all levels of the company feel comfortable to speak up incidents like this will be avoided.
Well there you have it.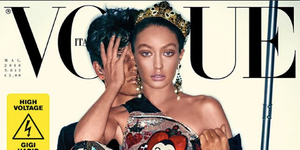 Source: Read Full Article