Kylie Jenner's 21st Birthday Party Featured Jaw-Dropping Outfits and a Star-Studded Guest List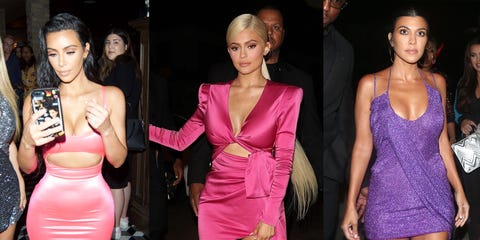 The Kardashians stepped out last night for Kylie Jenner's 21st birthday party, and the night was just as extra as you'd expect.
From Kylie's eye-catching outfit changes, to Kendall Jenner's barely-there dress, the Kardashian-Jenner clan proved once again that they know how to throw a party. Kris Jenner even got a little emosh giving the birthday speech for her youngest daughter, and Caitlyn Jenner reunited with the family to celebrate the momentous occasion.
From every skimpy outfit, to the impressive guest list, here's everything you need to know about Kylie Jenner's 21st birthday party:
The tributes.
Kourtney posted a NSFW tribute to Kylie, featuring a photo of Khloé, Kim, Kylie, Kendall, and mom Kris Jenner, all at the birthday party giving the camera the finger:
happy fucking birthday bitch
A post shared by Kourtney Kardashian (@kourtneykardash) on
Kim paid tribute to her baby sister tweeting, "Happy 21st birthday @kyliejenner baby!!!!! It's such a trip that my baby sister is 21 😱 So happy to be on this sister and now mom journey with you forever!!!! I love you so much! You will still always be my baby sis and I'm always here for you no matter what!"
Kendall revealed that bartenders at the party wore t-shirts featuring the cover of Forbes magazine which proclaimed that Kylie Jenner was soon set to become the world's youngest self-made billionaire. She also showed footage of an impressive mural featuring all of Kylie's family and friends: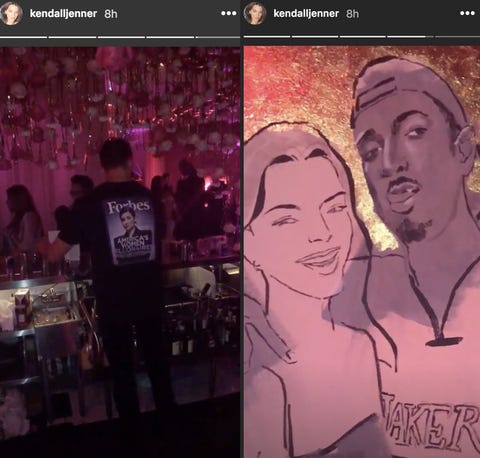 The outfits.
As it was her 21st, Kylie had two outfit changes during the night, and both were seriously pink. Firstly, her cerise cut-out dress closely mirrored her sister Kim's outfit: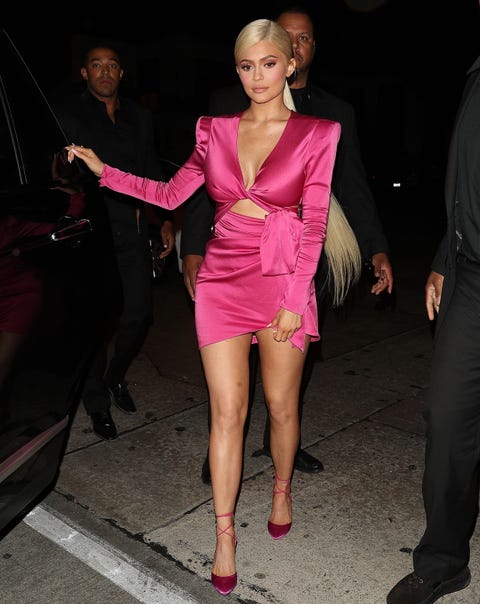 And later, Kylie emerged wearing a custom-made LaBourjoisie jumpsuit covered in pink Swarovski-crystals, and it was nothing short of breathtaking: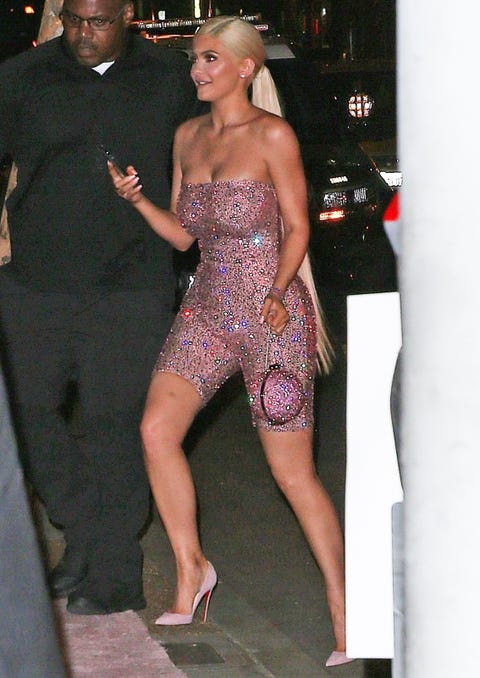 twenty one
A post shared by Kylie (@kyliejenner) on
Kourtney Kardashian stunned in a purple dress from La Perla's Pre-Fall 2018 Collection: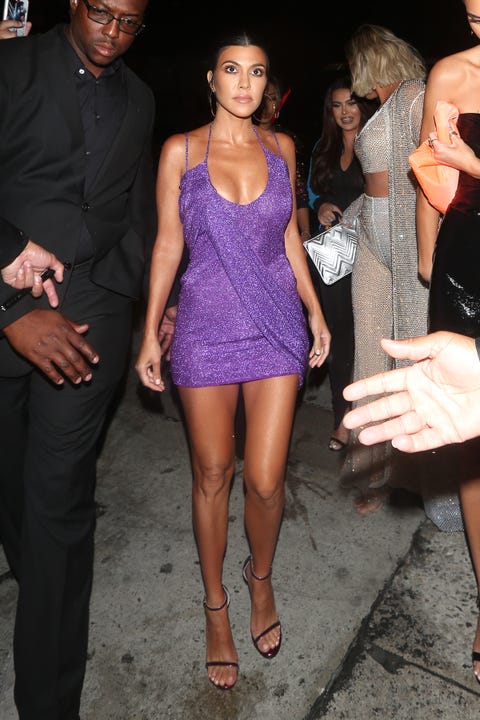 Kendall Jenner donned a tiny black PVC number: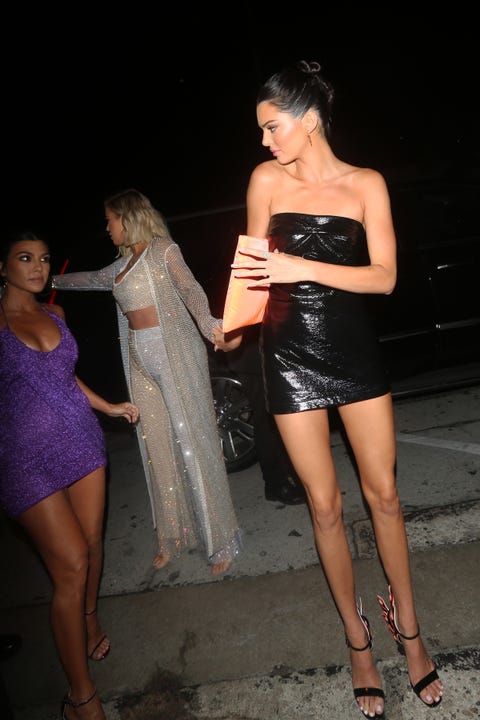 And Khloé wore some stunning separates:
Get it Khloe @kyliesnapchat
A post shared by Khloe Kardashian (@khloesnapchats) on
Meanwhile, Kim's pink dress closely resembled the birthday girl's style: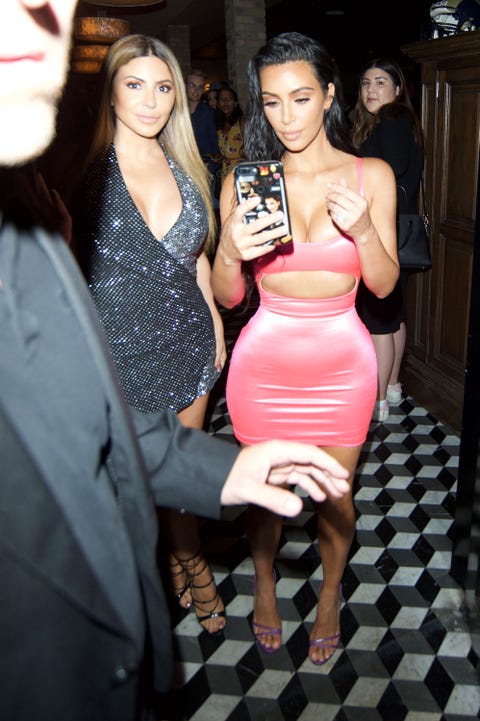 There was a pink ball pit.
There was nothing serious about Kylie Jenner's 21st. In fact, Kylie was snapped with boyfriend Travis Scott just chilling out in the uber pink ball pit which was available for guests at the event:
Can they adopt me already// @traplena
A post shared by Kylie J & Selena G Updates™️ (@kylenadaily) on
Khloé hoped for a Kourtney-Scott reunion.
In a sneaky Snapchat, Khloé showed Kourtney and Scott sitting next to one another at a table, along with the suggestive caption, "A girl can dream." Seeing as Kourtney is now single, following her split this week from Younes Bendjima, a reunion isn't completely impossible:
A girl can dream 💋#kourtneykardashian #scottdisick
A post shared by Khloe Kardashian (@khloesnapchats) on
Kris Jenner gave an epic speech.
The ultimate momager gave a beautiful birthday speech all about Kylie Jenner, and how proud she is of her super successful daughter:
love this! who thinks kris jenner cried giving this speech
A post shared by Kylie Jenner (@kyliesnapchat) on
The Barbie-themed birthday cake.
Kylie's 21st featured an amazing cake, with a Barbie on top of it, face down in the icing.
kylie's birthday cake😂🎂🎂🎂
A post shared by Kylie Jenner (@kyliesnapchat) on
The star-studded guest list.
Bella Hadid attended with The Weeknd as her date:
Abel & Bella attending Kylie's 21st B'day party| via Kim's snap
A post shared by Abel Tesfaye & Bella Hadid (@abelxbella) on
According to E! other celebs at the party included Ashley Benson, Cara Delevingne, Winne Harlow, and Sophia Hutchins.
Source: Read Full Article