Sam Burgess to move out of Anthony Bell's $11.5m pad and back in with Phoebe
It pays to have friends in high places – just ask Sam Burgess.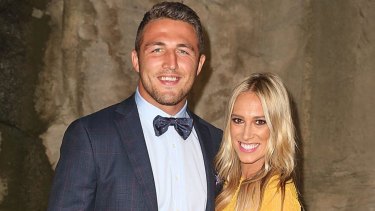 Sam and Phoebe Burgess in 2016.Credit:Mark Metcalfe
Bell bought the the plush clifftop pad 18 months ago from his good friend and client, Seven's The Morning Show host Larry Emdur, while he was going through his split from his wife, television host Kelly Landry.
"It was important to Anthony to be able to help a great mate like Sam out," a source said.
Sam and Bell became close through Souths, where Bell is a long-serving board member.
Anthony Bell's $11.5 million property in Dover Heights, where Sam Burgess has been staying.
The star player has often name-checked the businessman, as well as Rabbitohs co-owner and Hollywood actor Russell Crowe, as his mentors who he looks to "for inspiration" and has sought advice and comfort from both during his marriage difficulties.
In September, Sam became embroiled in a lewd video scandal, but denied that he had "sexted anyone" and he and the other players were cleared of misconduct by the club.
Following the incident, Phoebe, a former journalist, cancelled her attendance at a number of events, including Stakes Day at Randwick Racecourse.
Anthony Bell and Kelly Landry in the Lexus Marquee at Derby Day in 2016.Credit:The SMH
Meanwhile, Bell, CEO of Bell Partners, is known for his sprawling property portfolio, including the recent purchase of a $10.3 million waterfront home in Noosa, where he spends part of the week with Landry and their two daughters and the other part in Sydney or Brisbane for work.
The pair, known as Belly and Kelly in elite Sydney social circles, reconciled last year after a high-profile court battle when Landry tried to take out an AVO against Bell. However, it was dismissed in May 2017.
Sam Burgess has been approached for comment.
Source: Read Full Article