2019 women's NCAA tournament TV times, maps and channels
The women's NCAA tournament tips off Friday. Here is the tune-in information for Saturday's 16 games.
The maps below display home market-protected games for Saturday's first-round games. These are areas that will see their home market-protected game in its entirety.
The rest of the country (black areas) will be part of ESPN's national telecast, which will allow the viewer to see the most compelling action from multiple games.
Channel listings for DirecTV and Dish Network and additional maps will be added as they are made available.
Saturday, March 23: First round
11 a.m. ET: ESPN2/ESPN App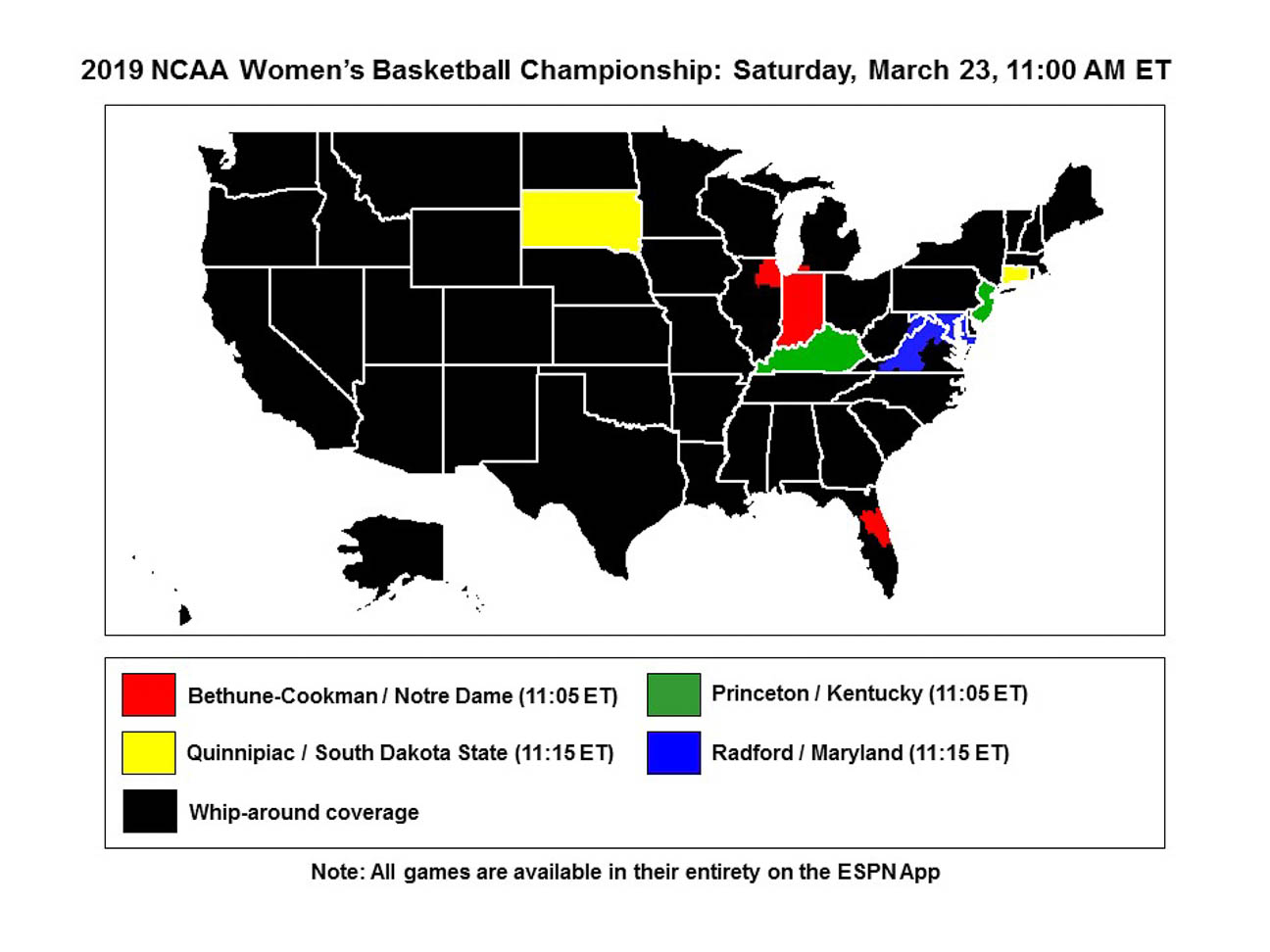 RED: No. 16 Bethune-Cookman vs. No. 1 Notre Dame (Channels — DTV 788, Dish Channel 144)

YELLOW: No. 11 Quinnipiac vs. No. 6 South Dakota State (Channels — DTV 790, Dish Channel 146)

GREEN: No. 11 Princeton vs. No. 6 Kentucky (Channels — DTV 789, Dish Channel 145)

BLUE: No. 14 Radford vs. No. 3 Maryland (Channels — DTV 791, Dish Channel 147)
1 p.m. ET: ESPN2/ESPN App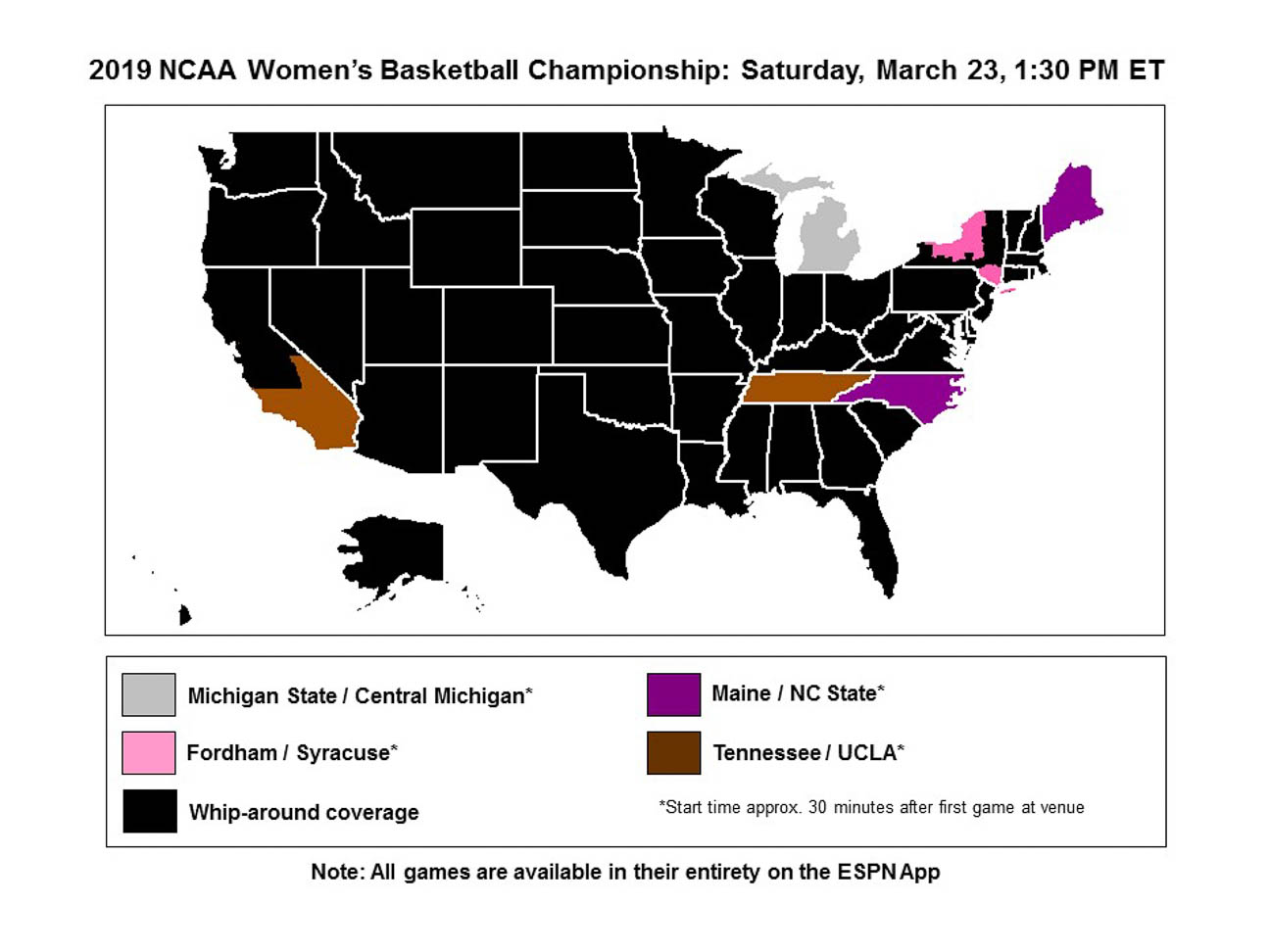 SILVER: No. 9 Michigan State vs. No. 8 Central Michigan (Channels — DTV 788, Dish Channel 144)

PINK: No. 14 Fordham vs. No. 3 Syracuse (Channels — DTV 790, Dish Channel 146)

PURPLE: No. 14 Maine vs. No. 3 NC State (Channels — DTV 789, Dish Channel 145)

BROWN: No. 11 Tennessee vs. No. 11 UCLA (Channels — DTV 791, Dish Channel 147)
3:30 p.m. ET: ESPN2/ESPN App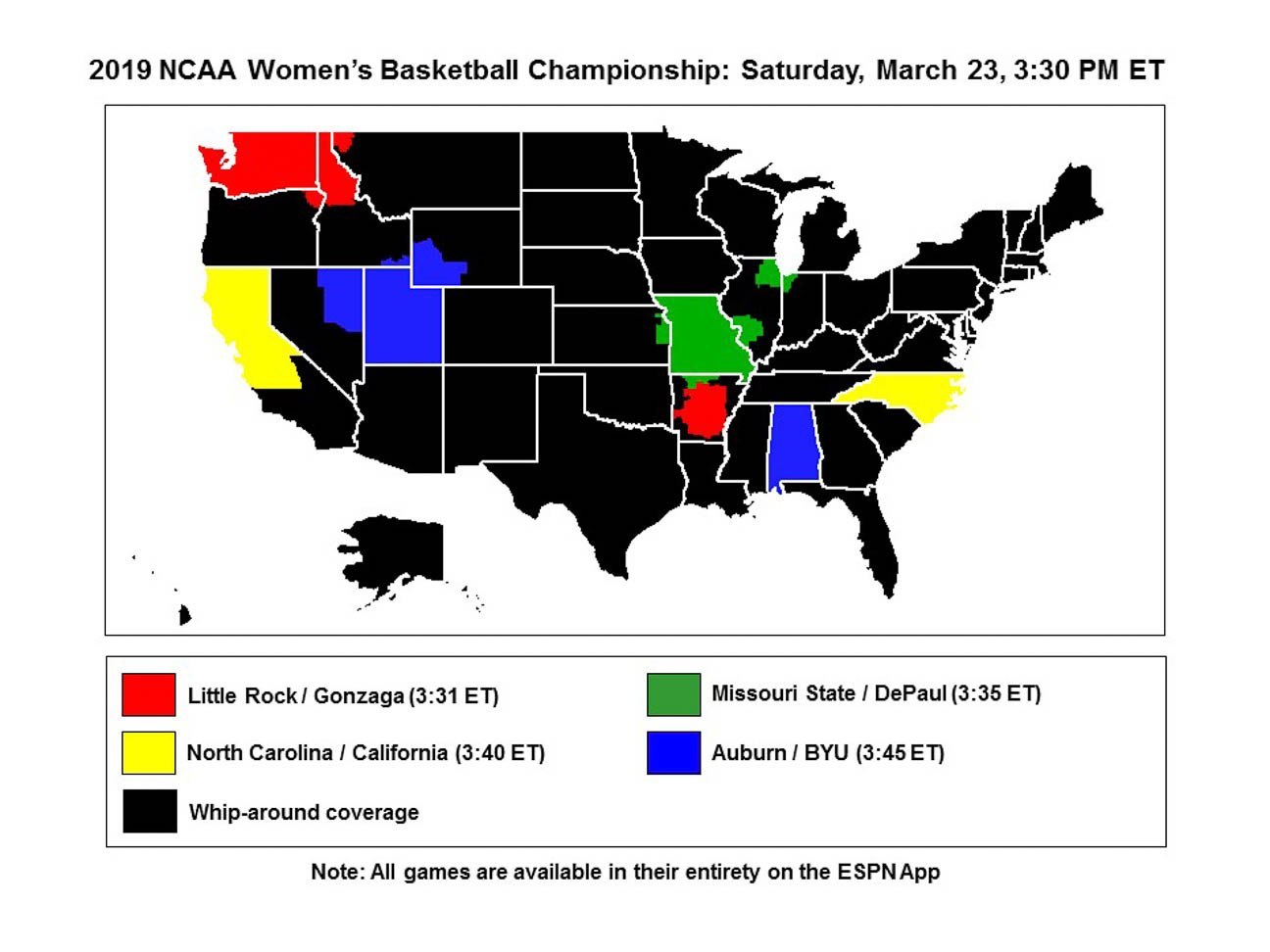 RED: No. 12 Little Rock vs. No. 5 Gonzaga (Channels — DTV 788, Dish Channel 144)

YELLOW: No. 9 North Carolina vs. No. 8 California (Channels — DTV 790, Dish Channel 146)

GREEN: No. 11 Missouri State vs. No. 6 DePaul (Channels — DTV 789, Dish Channel 145)

BLUE: No. 10 Auburn vs. No. 7 BYU (Channels — DTV 791, Dish Channel 147)
5:30 p.m. ET: ESPN2/ESPN App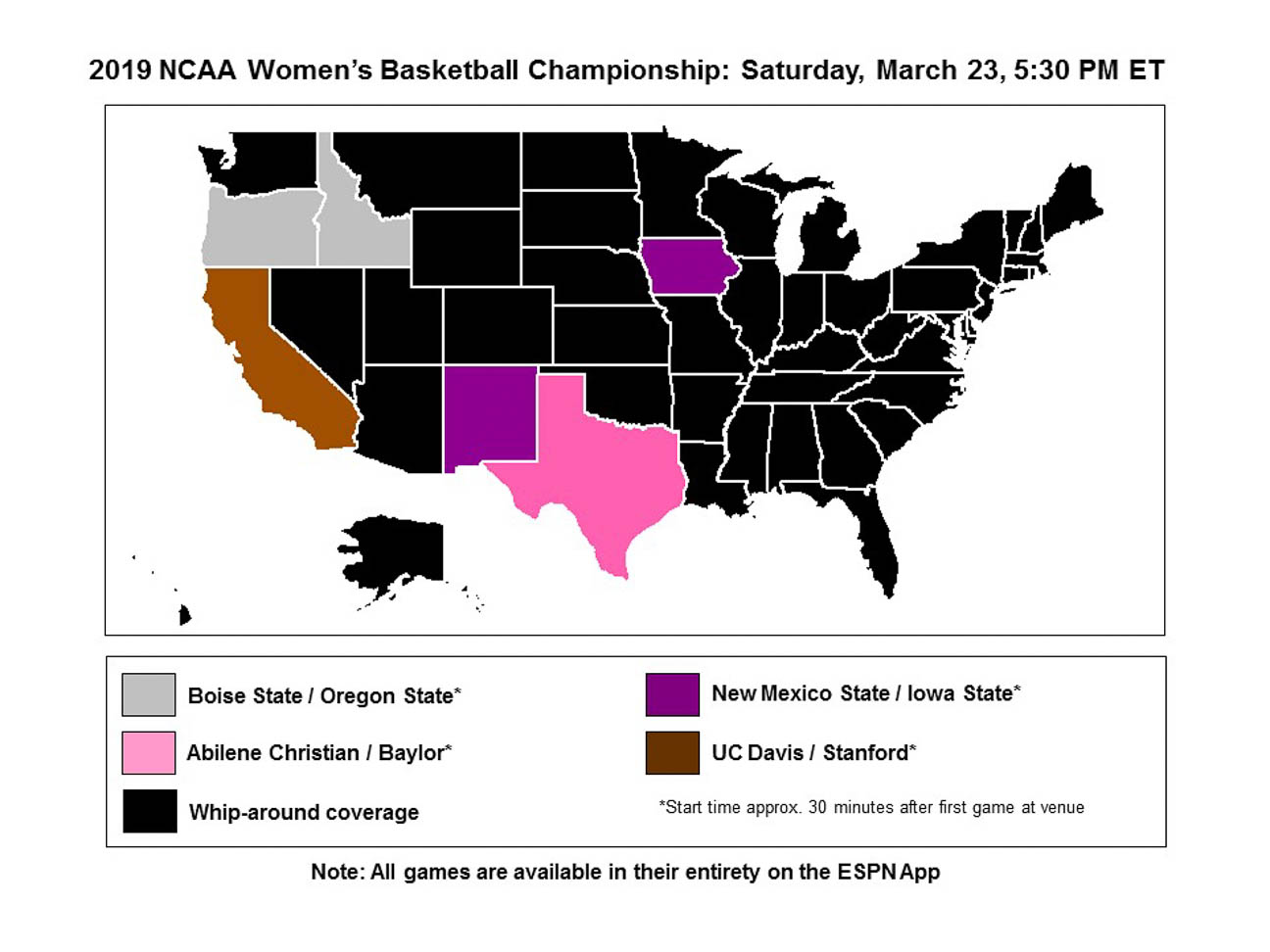 SILVER: No. 13 Boise State vs. No. 4 Oregon State (Channels — DTV 788, Dish Channel 144)

PINK: No. 16 Abilene Christian vs. No. 1 Baylor (Channels — DTV 790, Dish Channel 146)

PURPLE: No. 14 New Mexico State vs. No. 3 Iowa State (Channels — DTV 789, Dish Channel 145)

BROWN: No. 15 UC Davis vs. No. 2 Stanford (Channels — DTV 791, Dish Channel 147)
Sunday, March 24: Second round
Noon ET: ESPN2/ESPN App
No. 8 Michigan vs. No. 1 Louisville
2 p.m. ET: ESPN2/ESPN App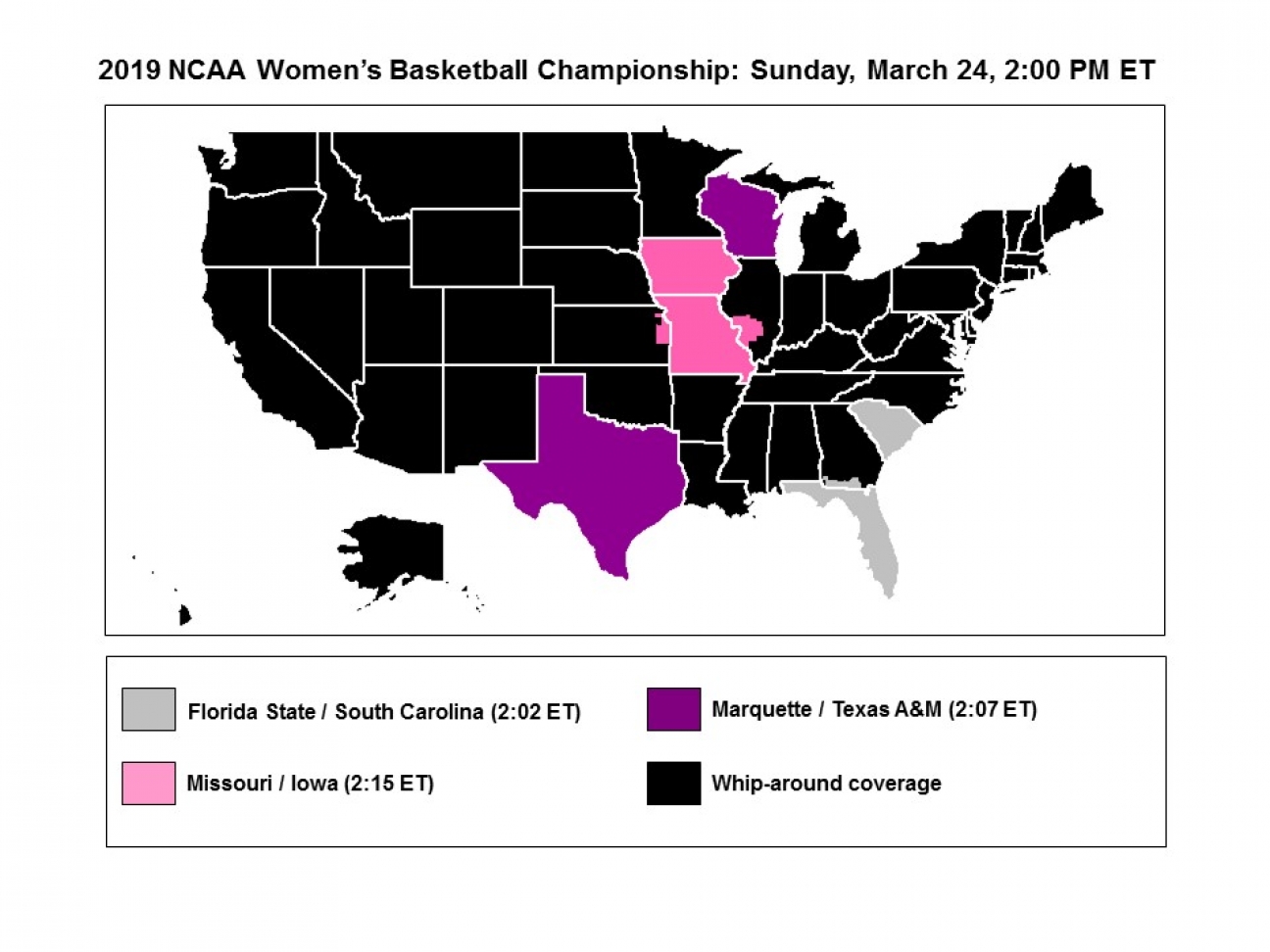 SILVER: No. 5 Florida State vs. No. 4 South Carolina

PINK: No. 7 Missouri vs. No. 2 Iowa

PURPLE: No. 5 Marquette vs. No. 4 Texas A&M
7 p.m. ET
No. 10 Buffalo vs. No. 2 UConn (ESPN/ESPN App)

No. 5 Arizona State vs. No. 4 Miami (ESPN2/ESPN App)
9 p.m. ET
No. 9 Clemson vs. No. 1 Mississippi State (ESPN/ESPN App)

No. 10 Indiana vs. No. 2 Oregon (ESPN2/ESPN App)
Source: Read Full Article