Daniel Ricciardo clears the air after Formula One clash
Daniel Ricciardo feared he had been "stitched up" by Red Bull in qualifying for the Austrian Grand Prix but mustered a smile after talking it through with team boss Christian Horner.
The Australian, out of contract at the end of the season but now expected to sign a new deal, had a testy exchange over the radio after having to run ahead of teammate Max Verstappen in the final shoot-out on Saturday.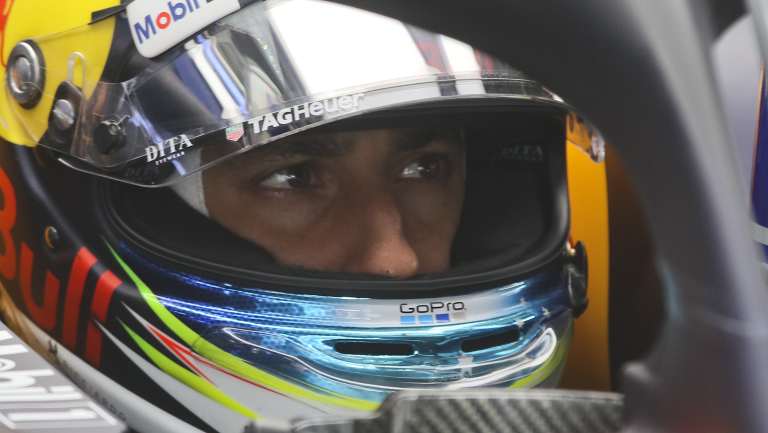 Australian driver Daniel Ricciardo.
That meant Ricciardo was giving the 20-year-old Dutch driver, who is seen by many as a future world champion, the benefit of a "tow" while the Australian's car took the aerodynamic hit.
Ricciardo, already a double race winner this season, slowed in a bid to get Verstappen to go past but the youngster maintained position instead, with the team urging both men to hurry up.
"I'm not too impressed to be honest," the Australian told Sky Sports television after qualifying seventh – three behind Verstappen – at Red Bull's home circuit.
"We had three runs and I was just punching a hole for everyone. I'm not that happy. That's all."
He later told reporters that he had cleared the air in another sense and understood the position, grinning at the media crowd assembled in the team hospitality and pulling out his phone to film the scene.
"I either won or I said something," he joked.
Asked whether he had thought at the time that he was being "stitched up", Ricciardo said: "During the heat of it all, I thought so.
"I've had a few discussions since with Christian, with my engineer," he added.
"(I) probably should have just talked about it more beforehand. I had concerns and I spoke a little bit with my engineer about it, but I guess as a team it wasn't discussed," he said of the strategy.
"But in my mind, in the car, I'm just like, 'It's obvious what's happening, isn't it? Give me a run where I'm getting a tow instead of giving everyone else a tow'. It was probably miscommunication."
Meanwhile, Valtteri Bottas  seized his first pole position of the season, with Mercedes teammate and world championship leader Lewis Hamilton having to settle for second.
Bottas has had four second places but is yet to win this year.
Ferrari's Sebastian Vettel, 14 points behind Hamilton after eight races, qualified third but faced a trip to the stewards for allegedly blocking Renault's Carlos Sainz.
"I can guarantee nobody will be more hungry for the win than me," said Bottas, whose position at the reigning champions has yet to be confirmed for 2019 even though he is expected to be retained.
"The whole weekend we've been making good progress with the set-up. We've been working to get the car well balanced with the new bits. We did and the car felt so good," said the Finn.
Reuters 
Source: Read Full Article