Erin Osborne ton inspires ACT Meteors triumph
All season the ACT Meteors have pledged to make an impact. If anyone wasn't sure how to do it, Erin Osborne has shown the way.
Three games in, Osborne's stunning maiden WNCL century means the Meteors can tick off that objective. Perhaps the next one should be dare to dream.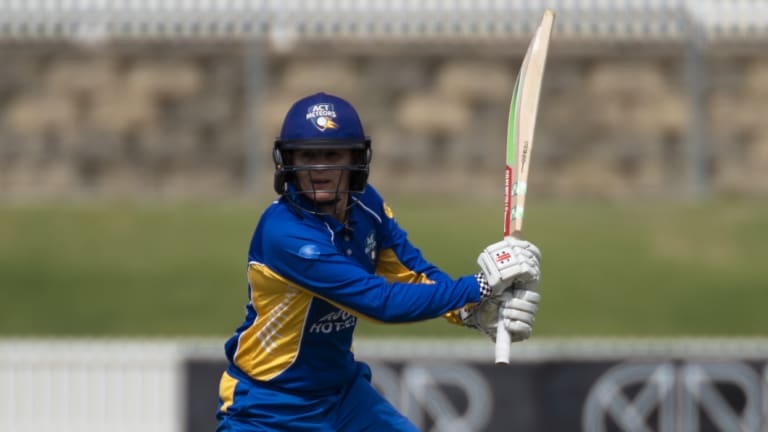 Erin Osborne on her way to a century.Credit:Lawrence Atkin
Dare to dream of a clean sweep on their home turf at Manuka Oval. Dare to dream of a maiden WNCL final appearance. Dare to dream of a drought-breaking championship.
Meteors captain Osborne scored a memorable 106 to orchestrate the ACT's stunning 48-run win over Victoria to move into the top two on the WNCL ladder at Manuka Oval on Friday.
The pre-season chatter about accepting nothing less than the best is more than just words to fill newspaper columns or television grabs – this Meteors outfit is a genuine title contender.
Osborne's brilliant 124-ball ton complemented Claire Koski's opening blitz (76 from 78) to help the Meteors to an imposing total of 5-277 in David Drew's first game in charge following a mid-season coaching change.
Sam Bates (2-34) claimed two early scalps to leave the visitors teetering at 2-0 in the second over and ultimately the Vics couldn't recover, folding for 229 in reply to an Osborne onslaught.
"It was fantastic. It's [Osborne's] first WNCL hundred, and to do it on her home ground is just amazing," Drew said.
"Obviously she had a bit of help there with Kos scoring 70-odd as well, it's very pleasing. She's been working on a few things and it's good that those sort of things come to fruition.
"We've obviously had a long period to work on things, Oz has worked on a few things and they've come to fruition.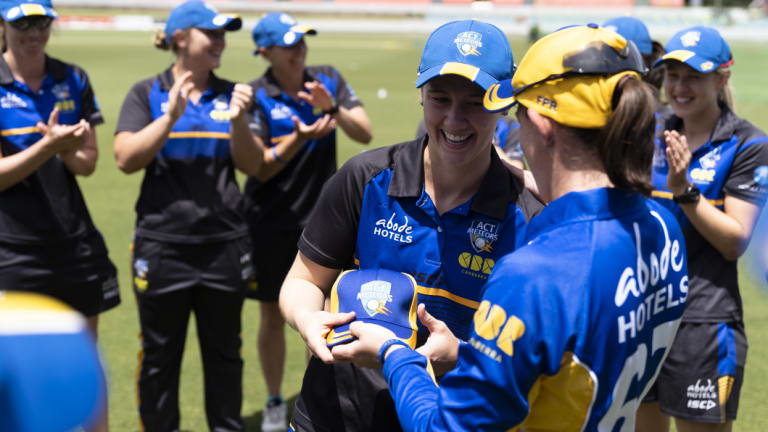 Anna Lanning is presented with her ACT Meteors cap by captain Erin Osborne.Credit:Lawrence Atkin
"She scored the hundred which is great, and got the team to a really competitive total as well which is great."
The 2018-19 WNCL season is shaping up to be one of the most hotly contested in recent memory, and the NSW Breakers' remarkable record of 19 titles in 22 years suggests that isn't a mark too difficult to achieve.
But two losses in their opening three games has the Breakers locked in a seven-team scramble to secure a spot in the final at the halfway point of the season.
Upsets were the order of the day as the WNCL resumed for the first time since September, with NSW falling to the Western Fury by 32 runs and Tasmania toppling Queensland by 10 runs.
But the tight nature of the competition means the ACT's impressive start to the season will mean little for the Meteors if they fail to back it up against the ladder-leading Western Fury at Manuka Oval on Sunday.
If one win can see a side leap from seventh to second, one loss is potentially all that stands between being a contender and a pretender.
"Anyone can beat anyone at any given time, so we just need to make sure we're doing things right and then we'll concentrate on what we have to do on Sunday," Drew said.
ACT METEORS 5-277 (Erin Osborne 106, Claire Koski 76; Rhiann O'Donnell 2-49, Annabel Sutherland 1-45) bt VICTORIA 229 (Makinley Blows 50, Annabel Sutherland 46; Sam Bates 2-34, Angela Reakes 2-39) at Manuka Oval.
Source: Read Full Article