'I compare it to an international': England stars set for Sydney derby
As zoology student Helen Housby prepares for next Sunday's Sydney derby between her NSW Swifts and the Giants, she knows the law of the jungle she's read about in her university textbooks could quite easily be applied to Super Netball.
The English superstar, who famously broke Australian hearts when her late goal won England the 2018 Commonwealth Games gold medal, conceded the cut-throat nature of elite netball meant only the strongest survive.
Great Britons: England stars Jo Harten (Giants) and Helen Housby (Swifts) will go head-to-head in the Sydney derby to kick off their Super Netball campaigns.Credit:Narelle Spangher
"The way netball is moving, it's becoming more cut-throat," said the 24-year-old, now into her third year with the Swifts. "If you look at the Suncorp Super Netball, there are only 10 spots for girls to get contracts. I know it's a hard comparison, but AFL teams have 40 to 50 guys in their squads.
"We have 10 girls, and it can be brutal. Last year one of our teammates, Claire [O'Brien], suffered a pretty bad injury [a ruptured right Achilles tendon at training] and that took her out for the season. In turn, she didn't get a contract for this year.
"The competitiveness is cut-throat, but that's also healthy because you need to be pushed to be the very best player you can possibly be. Netball is like any sport, you have to work hard for whatever it is you want to get."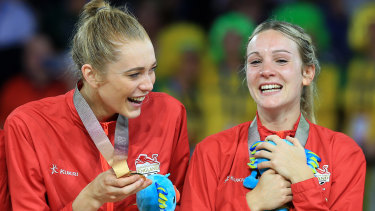 Golden girls: Helen Housby (left) and Natalie Haythornthwaite celebrate England's gold medal at the Commonwealth Games.Credit:PA
One player who will push Housby to perform at her very best in next Sunday's Sydney derby is her England teammate and friend Jo Harten. While the record books show the Giants enjoy a 3-1 head-to-head record against the Swifts, Harten says the rivalry as very real.
"Julie Fitzgerald, our coach, obviously used to coach the Swifts," Harten said. "Our captain, Kim Green, led them as well. There's history amongst teams, but I think it's really important to have those rivalries in netball.
"When the Swans and Giants match up [in the AFL], you know it's going to be a tough game and no one wants to give an inch.
"We want to show [netball] for what it is, and that's literally disregard for your body. If you can get the ball, you get it any which way you can. It really is a game of 60 minutes blood, sweat and tears … shake hands and move on to the next game afterwards.
"But you want to crawl out of bed the next day … you want to feel like you've put in maximum effort for the team."
Harten soul: Jo Harten in action for the Giants last season.Credit:AAP
Housby said previous experience suggests the season opener will be "loud" and "intense". She described playing against their arch-rivals – especially because the Giants strengthened their squad by recruiting Australian captain Caitlin Bassett – as the perfect way to start the season.
"We know how intense the derby is going to be," she said. "I'm just looking forward to getting out and taking the challenge on.
"I compare it to an international. The level of intensity in this league is incredible; every weekend it feels like you're playing against a different country. I think the international game has lifted so much because of the number of international players who have come out here. Apart from the intensity, you're working against the best in the world."
The commitment Housby and Harten have to their Sydney team means their friendship will be put on hold for at least an hour.
"She's a game changer for them," said Harten of Housby, the player whose Commonwealth Games magic inspired 130,000 people in England to take up the sport.
"Helen is the spearhead of their attacking unit and we know she's a threat. It doesn't take an English player to see that, the Aussies – everyone – are all aware of how good she is."
Housby, however, made it clear that netball's derby day won't be a time for nostalgia.
"Whenever I play against anyone, I'm going to be intense; I want to win," she said. "Although, it's a bizarre feeling going up against Jo … a different feeling. However, once the whistle goes, I'm playing in a Swifts uniform, she's in a Giants outfit and it's all guns blazing.
"She's a great player. Anytime you watch her play she always stands out. She has good game smarts, she reads the play well, her shooting is incredible from long distances. My attitude towards her as a player doesn't change because she's in a Giants uniform. What it means is the challenge is to beat them."
And that's the law of the jungle.
Source: Read Full Article