Love assists Mensah to lead Canberra FC against Campbelltown City
Soccer took him from Ghana to Finland, but it was love that brought him to Canberra.
If it wasn't for a few injuries, Michael Mensah would be in the Canberra FC dugout yelling encouragement as an assistant coach.
Instead the 37-year-old is an important focal point in their bid for an incredible fourth trophy this season.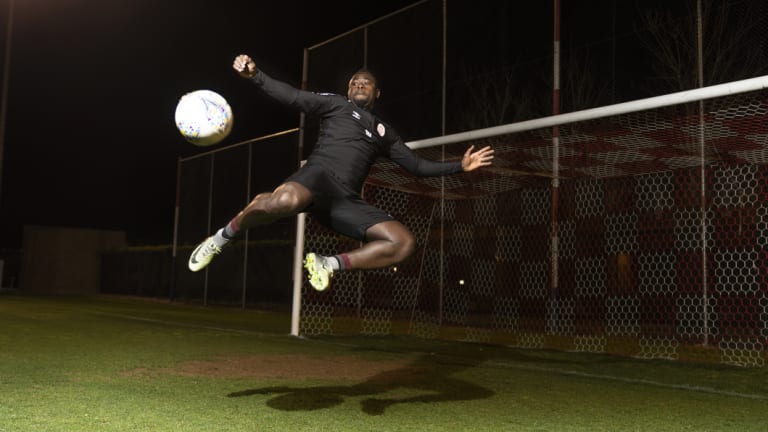 A long road, and love, have led Michael Mensah to Canberra FC.
Canberra FC face Adelaide club Campbelltown City in the national premier league elimination final at Deakin Stadium on Saturday, having already won the grand final, the league title and the Canberra leg of the FFA Cup.
If they win through to the second round of the national final series, which pits them against league title winners from around Australia, they'll be the first Canberra team to win a game since the concept began in 2013.
Mensah's strength up front will play an important role if FC are going to create history.
He's played professionally as a striker, moving to Europe to play for Finnish club Rakuunat and then also playing in Sweden, Denmark and Norway.
Mensah then moved to Vietnam, where he played for Thanh Hoa.
That's where he met his wife, who was from Queanbeyan and the reason he ended up playing for Canberra FC.
"Playing in Europe is the best. It's more like your full-time job. You eat and you breathe and you sleep football," Mensah said.
"I was born in Ghana. I left Ghana when I was 19. I was in Finland from 2001-2005 and then I left for Sweden, Norway, Denmark, and then I went home for a year to cool off.
"When you play in Europe you only get to rest for one month … but you still have your personal training to do, so there's no stopping."
He'd remodelled himself as a defender, but when Paul Macor took over the coaching reins at the start of the season he felt Mensah would get limited opportunities to play at the back.
So he asked him to join his coaching ranks.
Mensah not only worked with the senior team, but also the under-20s, but as the season went along an opportunity opened up on the pitch.
The boots were back on and he was back in attack.
"We got some injuries at the back end of the season and I said to Michael, 'We've got to start getting you fit'," Macor said.
"And it all started in the [Canberra] final of the FFA Cup when he came on in the last 20 minutes and he just blitzed it."
Canberra FC faces a tough task against the South Australian premiers.
They're coached by Joe Mullen, who played more than 300 games as a striker for Adelaide City in the National Soccer League – the pre-cursor to the A-League.
Since taking over Campbelltown, they've won three championships as well as this year's premiership.
"I don't know if the team wants to win or just wants to be happy playing, because it's been a very profitable season winning three trophies," Mensah said.
"If we are into it we will win … but we are representing Canberra and fingers crossed for the win."
Click or touch here to vote for your favourite Canberra sportsperson of the year and give your school the chance to win, or visit www.cbrsportawards.com.au
NATIONAL PREMIER LEAGUE ELIMINATION FINAL
Saturday: Canberra FC v Campbelltown City at Deakin Stadium, 5pm.
Source: Read Full Article