Pope counts his blessings for chance to work with O'Keefe and Lyon
Lloyd Pope simply wanted to make his Big Bash debut – now he has the chance to join Australian spinners Nathan Lyon and Stephen O'Keefe in a blockbuster semi-final.
The 19-year-old achieved his Twenty20 dream before Christmas, and now hopes to feature in his seventh BBL game on Friday night when the Sixers take on the Melbourne Renegades down south.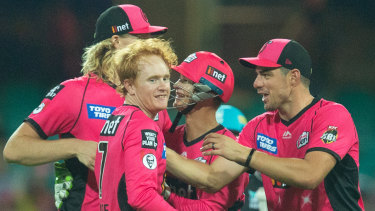 Learning curve: Lloyd Pope has only picked up two wickets in this campaign but is enjoying the tutelage of two formidable spinners.Credit:AAP
The biggest bonus for the flame-haired leggie who shot to fame with his 8-32 against England in an under-19 World Cup just over 12 months ago has been the chance to work with SOK and the GOAT.
Lyon is a late yet welcome addition for the Sixers in the BBL finals while O'Keefe has taken 19 wickets with a classy economy rate of 6.65 an over, which is extra impressive given the number of overs he bowls during the power play.
Pope has picked up just the two wickets but has been far from overawed when tossed the ball, including the opening over against a pumped-up Marcus Stoinis at the MCG on Sunday.
He will not flinch when staring down at Renegades trio Aaron Finch, Marcus Harris and Dan Christian.
"SOK and Nathan have given me some insights in T20 that I haven't thought about much before, and it's definitely helped my bowling,'' Pope said.
"Even with having Ben [Manenti] there and bouncing ideas off him, we have a good spinners' group.
"The difference between T20 cricket and one-day cricket is quite big. Your length and pace has to be quite different in T20. I've been working hard on that and changing a few things, just to try and get that right.
Back in the action: Nathan Lyon bowls against the Stars.Credit:AAP
"SOK has been really helpful with that. That's why he's been so successful with his change of pace – he always manages to hit that really tough length where you can't go back or forward to him and hit him for six.''
Pope was more than comfortable being tonked around the ground, just as he was by Stoinis, who found the boundary four times in his first over on the weekend.
Some of the world's best have given up a truckload of runs, and Pope knows ''you just look to the next time and how you can do better and keep the runs down''.
Despite being given the chance to live in Sydney over the summer and spend time with some of the finest bowlers in the country, Pope said he would remain loyal to South Australia, despite his state contract about to expire.
Meanwhile, the Sixers confirmed Tom Curran inked a fresh three-year deal with the franchise, as reported by the Herald on Tuesday.
Joe Denly, another Englishman who played with the Sixers at the start of the summer, said of bowling all-rounder Curran: "No one works harder on their game than Tom. I think he's only going to get better, which is great for the Sydney Sixers and great for England.''
Source: Read Full Article