Ricciardo crashes again as Red Bull duo seek atonement
Given that Formula One has just registered a trademark for the "shoey", Daniel Ricciardo's ritual of necking a shoe-ful of champagne after every podium finish, the Australian is now threatening to glug the grand cru straight from his race helmet instead. The "helmety", he calls it. The creation is unlikely, if only for hygiene reasons, to be coming to a bar near you soon.
Rather than tinkering with his drinks menu, he would be better advised refining his driving, after an embarrassing crash with team-mate Max Verstappen in Baku last month led both to offer fulsome apologies to Red Bull's 800 staff.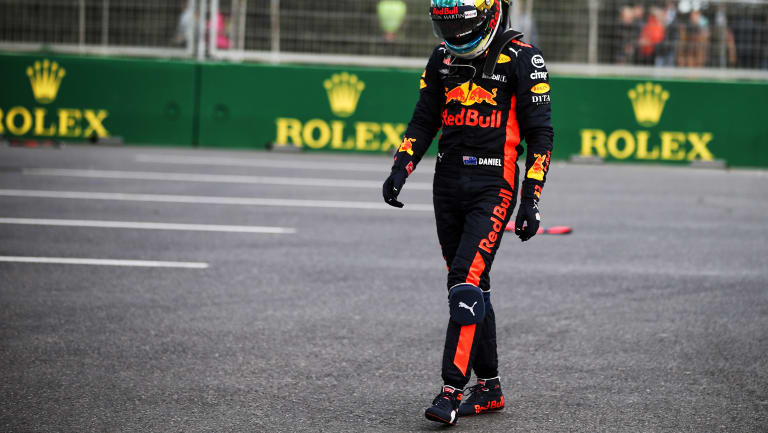 Crashing out: Daniel Ricciardo.
Alas, the road to atonement began less than auspiciously yesterday, as Ricciardo ploughed another of Adrian Newey's precious machines straight into the nearest wall.
On watching the collision in Azerbaijan, Newey, the design genius retained by Red Bull on an estimated £6 million a year, tossed his ear defenders aside and stalked off in disgust. This time, chief engineer Paul Monaghan looked a picture of chagrin in the Barcelona garage, as he contemplated another emergency rebuild.
But it is Ricciardo's duelling with Verstappen – or "Ver-smashen", as the mercurial Dutch prodigy is increasingly known – that forms Red Bull's greatest headache as F1's European summer begins.
The two drivers were rebuked by Christian Horner in a meeting at the team principal's Milton Keynes office and have been warned that they face the closest scrutiny. While this team have made it an article of faith to let their drivers tussle wheel-to-wheel, a litany of misjudgments, with Verstappen failing to complete any of the first four races, has tested their patience.
"In many cases," said Horner, straining for diplomacy, "it has looked like Max is overeager."
Ricciardo has hardly escaped blame, since he rear-ended Verstappen's car in Baku at a time when they were running fourth and fifth, throwing away 22 championship points. He did little to redeem himself yesterday, faltering amid strong winds to career off at Turn Four, damaging the front wing and suspension. While there is little doubt that he and Verstappen constitute the most electrifying duo on the grid, both are under pressure to temper their rushes of blood.
"If it got to the point where there was a banging of wheels again, -especially if the car was faster behind, then you would expect the team to say, 'Let's swap cars and release one of them,'" Ricciardo said. "There's no guarantee, but that was one of the things we talked about."
For all their scrapes and skirmishes, Ricciardo and Verstappen, who mark their two-year anniversary as team-mates this weekend, have maintained a plausible impression of liking each other. There has been little of the toxic atmosphere that existed between Lewis Hamilton and Nico Rosberg in their last days together at Mercedes.
"After what happened in Baku, we looked at each other and said, 'This is not good," said Verstappen, who savoured his maiden victory here at the Spanish Grand Prix in 2016. "But we immediately shook hands and agreed it could not happen again. We like to race hard and we will keep doing so, but perhaps next time with a couple of millimetres' more margin."
While Ricciardo has the more -luminous CV, with six wins to his adversary's two, it is Verstappen around whom Red Bull are building their future. Come next year, Ricciardo is expected to have left -either for Mercedes or Ferrari, where the honouring of his father Joe's Italian heritage would be complicated by a reunion with Sebastian Vettel, whom he left in his wake at Red Bull in 2014.
By contrast, Verstappen, 20, has been tied down by the team until the end of 2020.
Helmut Marko, Red Bull's sporting director and the direct conduit to owner Dietrich Mateschitz, is warier than most of another contretemps on track. "We will let them continue racing, but we will tell the race engineers that they have to intervene if it threatens to get out of hand," the Austrian said. "There is no bad blood." For now, at least.
The Telegraph, London
Source: Read Full Article