Soyuz failure: International Space Station has six months' supplies
Moscow: The crew aboard the International Space Station (ISS) has enough fuel, oxygen, water and food to last at least six months, Vladimir Solovyov, flight director of the Russian segment of the ISS said on Sunday.
Russia has temporarily suspended all manned space launches after two astronauts made a dramatic emergency landing in Kazakhstan on Thursday due to the failure of the Soyuz rocket carrying them to the orbital ISS.
"There are enough reserves on the ISS which provide the living environment. We estimate the reserves are sufficient for half a year, until the summer of next year," Russian news agency RIA quoted Solovyov as saying.
The three astronauts currently aboard the space station – a German, a Russian and an American – were due to return to Earth in December, but may now be stuck there longer.
The Russian Space Agency said it still planned to go ahead with the next manned flight in December, although the plans could change depending on the results of a commission set up to probe the incident.
Interfax reported on Saturday that the next flight could take place as early as November 28.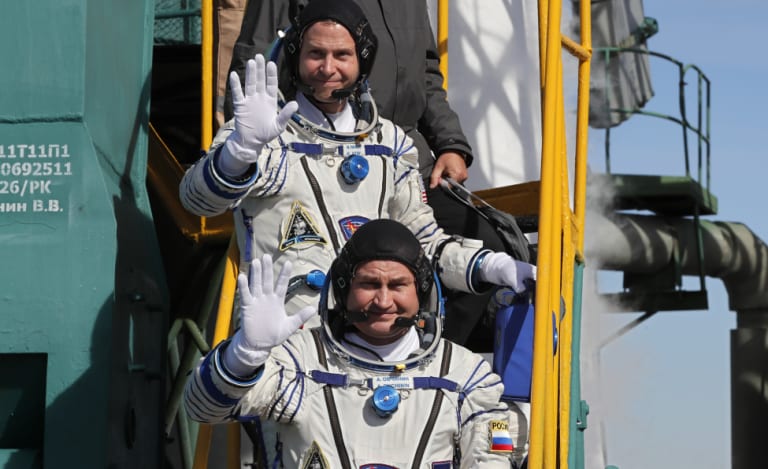 Russian cosmonaut Alexey Ovchinin (front) and US astronaut Nick Hague prior to launch.Credit:AP
NASA Administrator Jim Bridenstine said on Friday he expected future launches to go ahead as schedued.
"I fully anticipate that we will fly again on a Soyuz rocket, and I have no reason to believe at this point that it will not be on schedule," he said.
"No changes have been made. The investigation is underway."
Russian space launches were after the booster malfunctioned about two minutes from liftoff  with NASA's Tyler 'Nick' Hague and Russian cosmonaut Alexey Ovchinin on board. Both men landed safely on the steppes of Kazakhstan after jettisoning away in their capsule.
Russian rockets are current the only way to reach the orbiting laboratory, but Bridenstine said the rocket failure – Russia's first such incident in the post-Soviet era – had not tarnished his view of the venerable Soyuz rockets.
"Not every mission that fails ends up so successful," he said.
Roscosmos, the Russian space agency that oversees the Soyux program, has promised to share all relevant information with NASA, which pays up to $US82 million ($115 million) for every seat to the space station.
Reuters, Washington Post
Source: Read Full Article