Sydney man takes first spot in line for new iPhone for third time
Apple fans in Australia were the first in the world to get their hands on the latest iPhones after they were released on Friday morning.
The new XS and XS Max – retailing for as much as $2369 for a handset with 512GB of storage – were launched in Australia and 29 other countries on Friday.
Mazen Kourouche pre-ordered the phone but still decided to spend the night outside the shop to ensure he was at the front of the line.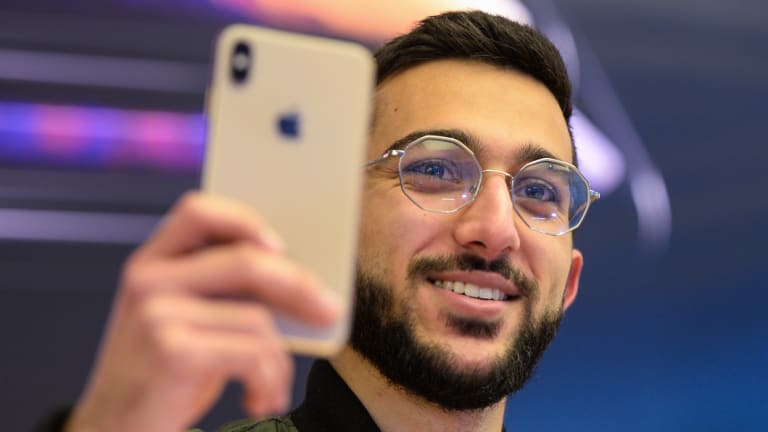 Mr Kourouche only queued up for one night this time.
He was part of a small crowd of mainly tech reviewers and international entrepreneurs queuing in Sydney to get in early.
"This is the third time [being] number one in the line," Mr Kourouche said.
It made him one of the first consumers in the world to get their hands on the new phone, as Apple's Australian stores were the first to open globally due to the time zone.
British duo Lucy Hutchinson and James Griffith, co-founders of Mous, a company that sells mobile phone cases, flew into Australia on Thursday night and made a beeline for Apple's George Street store to make sure their new iPhone accessories were a snug fit.
Sydney student Teddy Lee and Mazen Kourouche (right) hold up their prizes after being first in line for new iPhones.
"It's quite a scary moment for us finding out exactly what the iPhone is like," they told AAP.
"Before we send out our phone cases to everyone who has pre-ordered we want to just check them ourselves so that's why we're in Australia. If it's all OK we'll hit the big 'ship' button."
It was a subdued scene compared with previous iPhone releases, when people frantically queued for days and weeks to acquire the latest device.
It made being first in line a bit easier for Mr Kourouche this time.
A small crowd of Apple fans queued early on Friday to get the new iPhone.
Last year, the YouTube tech reviewer says he queued outside for a mammoth 11 days to get his hands on the iPhone 8 model.
"Each year there is a different reason to line up," Mr Kourouche said.
"For the iPhone 8, I had a couple of my mates helping me out … because I lined up for 11 days.
"But the iPhone X and the iPhone XS I pre-ordered so that was a lot easier. But I still lined up the night before to make sure I got it first.
Mr Kourouche said he lined up to show his audience what the new phone looked like.
"I just want to get it first so that I can be the first to unbox it and then straight away get that up on the internet.
"That's what I'm going to do right now. Then I'm going to go back and do a full-on review. Right now it's just hands-on unboxing.
"It's a great experience being first – even just being in the queue in the first place."
Mr Kourouche said he was most excited about the bigger screen on the XS Max, and also the Apple Watch.
The Apple Watch Series 4, with a heavy focus on health monitoring, was also launched on Friday.
The watch is capable of taking electrocardiograms and delivering that information to the wearer's doctor.
However it remains unclear when an app for that will be available to Australian users.
With AAP
Source: Read Full Article