Hurricane Michael makes landfall on Florida Panhandle as 'extremely dangerous' Category 4 storm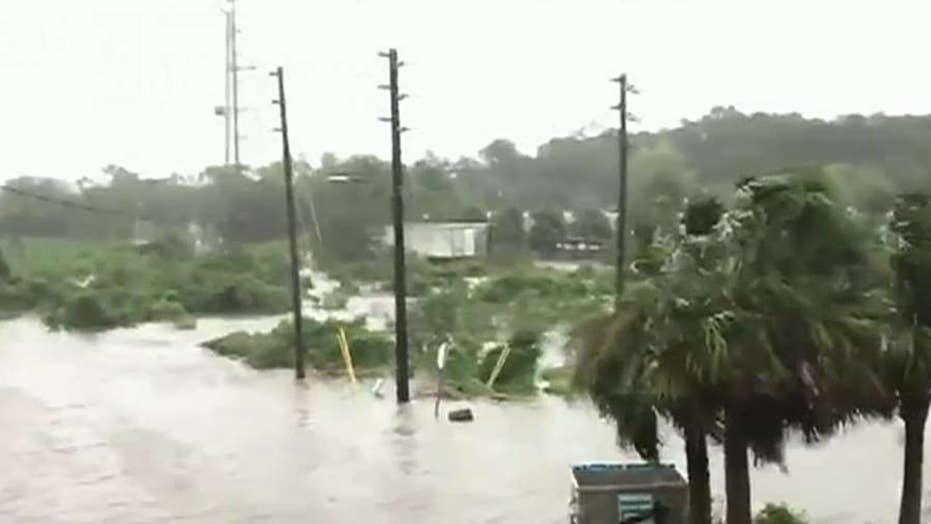 Apalachicola, Florida mayor talks Hurricane Michael impact
Hurricane Michael makes landfall in the Florida Panhandle region; the mayor of Apalachicola discusses assessing the damage on 'Your World.'
At least one person in Florida was killed by a fallen tree during Hurricane Michael on Wednesday, according to local officials.
A spokeswoman for the Gadsden County Sheriff's Office told Fox News that the office received a report that an unidentified man in the Panhandle became trapped after a fallen tree ripped through his home's roof.
Hurricane Michael made landfall shortly before 2 p.m. ET northwest of Mexico Beach and just outside Panama City, National Hurricane Center (NHC) Director Ken Graham told Fox News' Shepard Smith.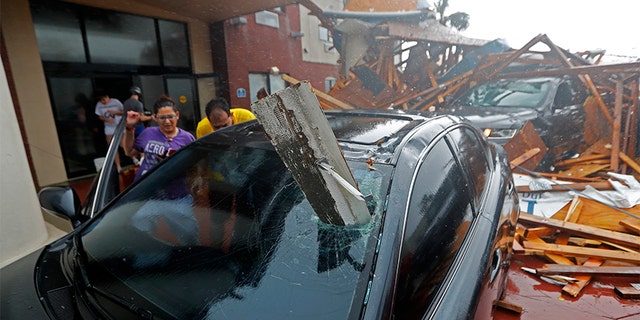 A woman checks on her vehicle as Hurricane Michael passes through, after the hotel canopy had just collapsed, in Panama City Beach on Wednesday.
Since then, the storm has pushed inland over he Panhandle, and the eye is currently coursing through southwestern Georgia, according to an 8 p.m. advisory from the NHC.
The hurricane, called a Category 4 when it came ashore, was downgraded to a Category 1 storm with maximum sustained winds of 90 mph and is moving northeast at 17 mph, the agency said. "Damaging winds" continued to blow through parts of Florida and Georgia, while flooding remained a threat.
"On the forecast track, the core of Michael will move across southwestern and central Georgia tonight, and move through east-central Georgia Thursday morning," the advisory said. "Michael will then move northeastward across the southeastern United States through late Thursday, and then move off the Mid-Atlantic coast by early Friday."
Michael is forecast to turn into a tropical storm by Thursday morning, the NHC said.
More than 375,000 people up and down the Gulf Coast were warned to evacuate, and the hurricane's leading edge sent storm surge into neighborhoods as it approached.
As Michael neared, heavy waves pounded the shoreline in Panama City Beach, which caused a building under construction to collapse.
In nearby Apalachicola, storm surge sent water pouring into city neighborhoods and covering roadways.
The Walton County Sheriff's Office shared a photo on Twitter of a boat getting rocked in the waves and urged extreme caution to residents, warning them "not" to "take any chances" during the "unforgiving" hurricane.
"Michael is upon us, it is time to seek refuge. Once you are sheltered, STAY PUT," Florida Gov. Rick Scott tweeted Wednesday morning. "Do not try to leave until the storm has passed. Multiple state and federal resources are staged and ready to respond as soon as it is safe.
After the storm made landfall, Scott requested that President Trump issue a Major Disaster Declaration for Florida. Trump on Tuesday approved a pre-landfall emergency declaration.
The governor also tweeted photos of supplies ready to be disbursed to those affected by Hurricane Michael.
More than 388,000 accounts in Florida had lost power as a result of the storm, according to a report tweeted by the state's Division of Emergency Management. Scott wrote that utility company personnel was at the ready and restoring power was "a top priority."
"Utility companies have nearly 19,000 personnel staged to begin power restoration," he tweeted. "Getting power back on is absolutely critical to our recovery and response efforts- this is a top priority."
HURRICANE MICHAEL: SAFETY TIPS FOR PETS
The National Weather Service (NWS) urged residents to avoid the temptation to "explore the damage done by #Michael."
"Winds might be calming down and the rain stoopping, but significant danger remains," the tweet said. "Downed power lines can kill."
Diane Farris, 57, and her son joined about 1,100 people crammed into a shelter in Panama City meant for about half as many. Neither she nor her son had any way to communicate because their lone cellphone got wet and quit working, according to the Associated Press.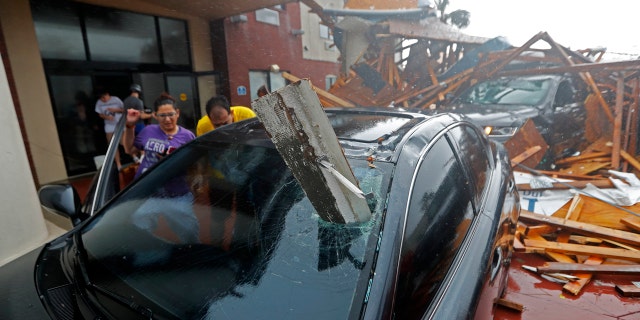 A woman checks on her vehicle as Hurricane Michael passes through, after the hotel canopy had just collapsed, in Panama City Beach, Fla.
(AP Photo/Gerald Herbert)
"I'm worried about my daughter and grandbaby. I don't know where they are. You know, that's hard," she told the AP.
More than 5,000 evacuees sought shelter in Tallahassee, which is about 25 miles from the coast but is covered by live oak and pine trees that can fall and cause power outages even in smaller storms.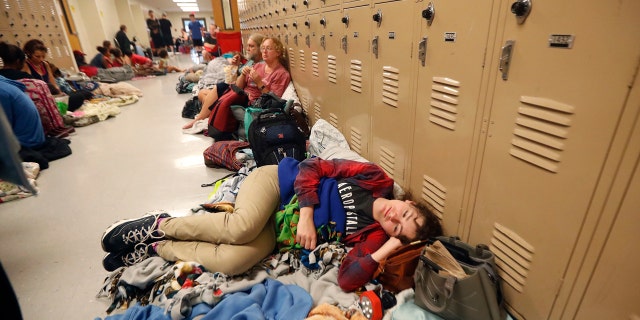 Emily Hindle lies on the floor at an evacuation shelter set up at Rutherford High School, in advance of Hurricane Michael.
(AP Photo/Gerald Herbert)
Tyndall Air Force base, situated on a peninsula just south of Panama City, "took a direct hit from Hurricane Michael" and "sustained extensive damage," a Facebook post from the base said. No injuries were reported.
The home of the 325th Fighter Wing and some 600 military families appeared squarely targeted for the worst of the storm's fury, and leaders declared HURCON 1 status, ordering out all but essential personnel. The base's aircraft, which include F-22 Raptors, were flown hundreds of miles away as a precaution. Forecasters predicted 9 to 14 feet of water at Tyndall. The evacuation order was to continue "until further notice," the base said.
The strength of Hurricane Michael tore off building roofs, downed trees and powerlines and "caused significant structural damage," the base said, adding that it was immediately clear what condition the runway was in.
HURRICANE MICHAEL HOUSEHOLD HACKS GO VIRAL AHEAD OF MAJOR STORM
Evacuations spanned 22 counties from the Panhandle into north-central Florida. But civilians don't have to follow orders, and authorities feared that many people ignored the warnings to get out.
Hurricane Michael to put storm-proof structures to the test
High-rise buildings in Panama City Beach, Florida, built to withstand high winds; Jeff Flock reports from the ground on the conditions.
"We've told those who stayed to have their life jackets on when the storm comes," Tress Dameron, Franklin County emergency management coordinator, told The News Herald in Panama City.
Meanwhile, Trump was briefed on Hurricane Michael as it closed in on the Florida Panhandle, and was warned of the power of the storm as he meets with his Homeland Security Secretary and the Administrator of the Federal Emergency Management Agency, Brock Long.
Long described storm as a "Gulf Coast hurricane of the worst kind," which he said will be similar in strength to "an EF3 tornado making landfall."
Trump said he spoke with Scott on Tuesday and says the federal government is coordinating with all of the states that could be impacted.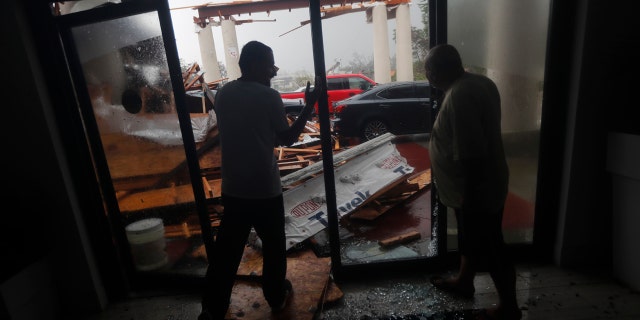 .Hotel employees look at a canopy that just collapsed, as Hurricane Michael passes through in Panama City Beach
(AP Photo/Gerald Herbert)
After lashing the coast of Florida, rainfall up to 12 inches is possible and may cause flash-flooding inland, the NHC said. But unlike Hurricane Florence, Michael will accelerate Wednesday night and Thursday, preventing any long-term flooding from rainfall, according to Fox News Senior Meteorologist Janice Dean.
"The Carolinas will, unfortunately, get more rain on top of the flooding damage they had with Hurricane Florence," she said.
Isolated tornadoes are also possible from North Florida through Georgia and southern South Carolina as the storm continues its path.
The National Weather Service's office on Twitter issued a tornado watch until 2 a.m. ET for areas in both Florida and Georgia.
Fox News' Lucas Tomlinson, Nicole Darrah, Lacy Heather and The Associated Press contributed to this report.
Source: Read Full Article