Jasmine Sanders Just Wore the Most Insane Braid On the Met Gala Red Carpet
Golden Barbie aka model Jasmine Sanders just hit the Met Gala red carpet wearing the most insane braid we've seen…ever? To celebrate the Heavenly Bodies: Fashion and the Catholic Imagination theme, Sanders debuted an ultra-long blonde braid with real (!) red roses pinned throughout. Just take a closer look below.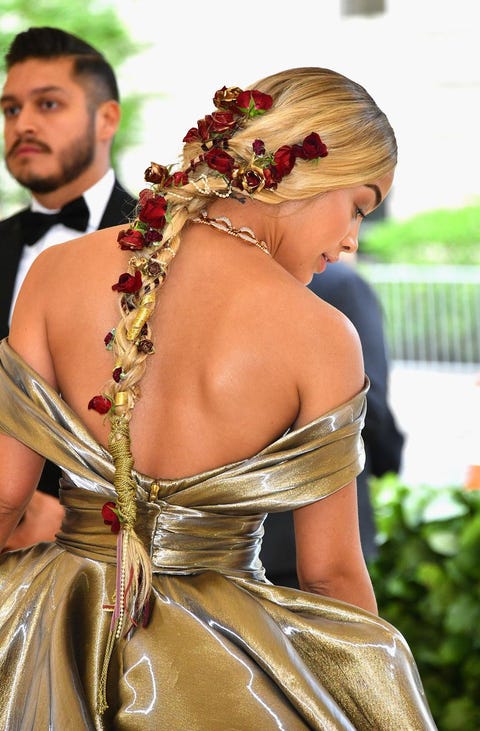 Hairstylist Renda Attia was behind Sanders's breathtaking braid, while H&M was the designer behind her golden gown. This is the model's first time on the Met Gala red carpet and she did not disappoint. The braid was center-parted and plaited down the center of her back. Small red roses were pinned everywhere down the braid, while pink and red velvet ribbon were wrapped around various sections of hair. When you look closely, you can also see that gold ribbon and tiny pearls strung on gold wire were wrapped around section of hair too. There was a lot going on in the hair look—and it will probably take Sanders four hours to unravel—but the end result is nothing short of jaw-dropping.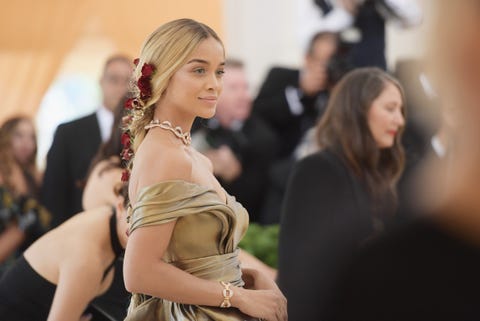 "I was so excited when I got the call that I almost cried!" Sanders told Refinery29. "I had to calm down, take a few deep breaths and let everything sink in. It's always been my dream to attend the Met Gala." She noted that the golden dress will be quite a different style than the one she usually wears for her nearly 3 million Instagram followers. "Although I tend to go for more comfortable looks, this night is all about the glam and the fashion, and it's really a time to shine," she said.
Source: Read Full Article