Savannah Guthrie's rollercoaster health battles that have kept her away from Today
Savannah Guthrie has had quite a few hurdles concerning her health come her way in the past year. The star is currently battling with a bout of COVID-19, but it's not the first or second time she has had to step away from the Today Show because of it.
This is Savannah's third time testing positive, and not too long ago, she also had to miss one of her very favorite traditions because of the flu.
Back in January of 2022, she got COVID-19, which famously happened right after her co-star Hoda Kotb also contracted it, leaving the two spending far more time apart than they had planned.
WATCH: Al Roker and Savannah Guthrie wish a friend of Today happy birthday
MORE: All we know about Hoda Kotb's Today Show replacement, Tom Llamas
Just when Hoda recovered and went back on the Today Show, Savannah fell ill, and left the show before being able to reunite with her co-star.
It is not unlike their situation now, after on Tuesday, Savannah was rushed out of NBC studios after she tested positive again, right as the show is down one host already, Hoda, who has been away for over a week as she deals with a family health matter.
MORE: Savannah Guthrie surprises fans as she finds way around promise to quit Instagram
It hasn't been the luckiest couple of months when it comes to the Today host's health and her commitments to the longtime show.
Savannah had to take time away from Today for the third time
Back in November, she was forced to miss the annual Rockefeller Tree Lighting Ceremony, which was meant to be hosted by Mario Lopez, instead of Al Roker, who was also dealing with his own health crisis, alongside Savannah, Hoda, and Craig Melvin back on November 30.
DISCOVER: T.J. Holmes can't contain himself as Amy Robach rocks tiny bikini in Mexico
DISCOVER: Hoda Kotb's Today absence continues – where is the Today with Jenna and Hoda star?
At the time, she took to Instagram to share the unfortunate news with her fans, sharing a photo as proof of her high fever.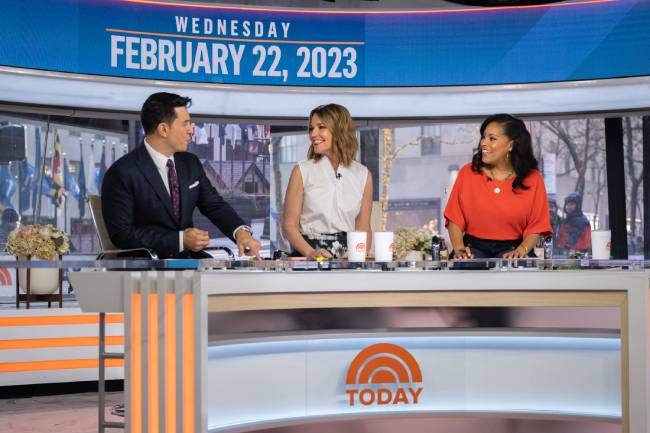 Hoda was being temporarily replaced by Sheinelle Jones, though now the show is missing two of their hosts
The snapshot sees her resting and wrapped in blankets as she holds up to the camera a thermometer, which indicates she has a temperature of over 101º.
In her caption, she wrote: "UGH – flu or something like it since Monday. I'm so sad to miss the tree lighting and TODAY." The longtime host added: "Hopefully it passes soon! Miss everyone."
Read more HELLO! US stories here
Like this story? Sign up to our newsletter to get other stories like this delivered straight to your inbox.
Source: Read Full Article