Unisex beauty is officially a thing
Unisex everything is everywhere on the fashion and beauty fronts. Designers are previewing men's and women's collections together; department stores have hopped on the bandwagon with English department store John Lewis removing gender labels from its children's clothing in a bid to reduce "gender stereotypes". New labels say, "Girls & Boys" or "Boys & Girls" and will be put on all of John Lewis's own-brand kidswear.
Meanwhile, fashion celebrities, such as Olivia Palermo, have been wearing their significant other's scents for years.
Model Johannes Huebl and his wife, fashion Influencer and model, Olivia Palermo illustrate that male scents can work easily as well for women.
The way forward is about embracing individuality and this is apparent in the beauty world too. Australia is leading the charge with a Melbourne company Botany Essentials that makes "gender neutral" organic products winning the Pure Global Beauty Award for Best New Skin Care Product 2018 and Best Organic Skin Care Manufacturer 2018 in the Lux Awards defeating some of the largest beauty brands in the world.
Founder Celestine Hade proudly states, "They are simple products suitable for men and women and all our range is based on Australian native extracts (including Finger lime caviar) which are nourishing and moisturising."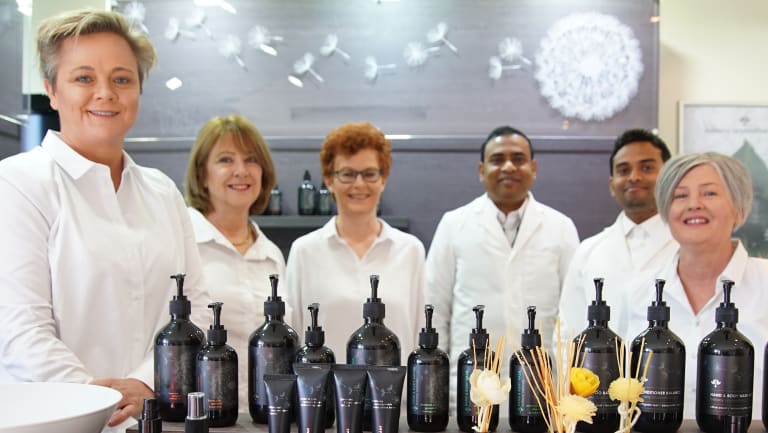 Celestine Hade with the team at their Australian manufacturing plant.
Our favourite from the range Botany Essentials Hydrating Mist with gardenia quadong and witch hazel.
Blaq is also an Australian unisex brand that is growing apace. Founder Ryan Channing (Ian Thorpe's partner) is on a roll with his unique take on wipes, masks and even a teeth-whitening option. Watch this space. Our favourite in the range is the depuffing Blaq Hydrogel Eye Mask with activated charcoal.
Asos has also jumped on the bandwagon with the launch of its Face+Body line that sits across both the men's and women's category beauty and grooming category.
Eight beauty buys to borrow from the girls and the boys
One of our favourite finds is Lipstick Queen Girls Will Be Boys lipstick that is sheer with just a hint of bitten lips. The packaging is next level.
Maison Margiela Replica Dancing on the Moon has vanilla, white Jasmine and musk that is described as a "gender anonymous" scent. In my book, if you like a scent just wear it; it doesn't matter who it's assigned to.
While we are on the fragrance trail, Guerlain Vetiver has to be one of my all time favourites. It is the perfectly weighted combination of fresh citrus and Haitian vetiver root and a hint of pepper and nutmeg. It's one of my top ten. I am in good company as Elle Macpherson is also a devotee. Keep an eye out for Guerlain's latest offering Lui has been caste as "the perfume for a new gender order" by the beauty house with its spicy carnation, benzoin and leather notes.
On the home front, the luxe cult hair care brand Mr Smith was developed by the founder in an attempt (a very successful one I might add) to develop products that would suit him and his mates. And all the rest of us as it turns out.
Erno Laszlo Sea Mud Deep Cleansing Bar is a sexy black soap that everyone should own.
Grown Alchemist Facial Kit This is a great all-round sharing kit for cleansing, toning and hydrating.
Resurrection Aromatique Hand Wash is a delicious blend of orange, rosemary and lavender that cleans hands without drying them out. This is a must have.
SK11 Signs Eye Mask. Okay, so this is an oldie but such a goody. There are 14 masks, so divide by two and you have a weeks worth of caring and sharing, plus fresh de-puffed eyes. What more could you ask for?
Source: Read Full Article