The 2018 Emmy Hosts Were Just Announced & I'm Seriously Pumped
Live from Hollywood… it's the 70th Primetime Emmy Awards! OK, it doesn't have the same catchy ring to it that the iconic Saturday Night Live opening does, but it will have to do considering this year's emcees. Who's hosting the 2018 Emmys, you might be wondering? Colin Jost and Michael Che — SNL's current Weekend Update anchors — will be sharing the esteemed duty for the September 17 broadcast on NBC.
"NBC is thrilled to be the home of this year's Emmy Awards and with Colin and Michael in the driver's seat as hosts, along with surprise appearances by other cast members of Saturday Night Live, I think we are in for one of the funniest awards shows in a long time," NBC Entertainment chairman Robert Greenblatt said in a statement on Thursday, April 26.
"We're proud of our deep comedy roster at NBC, and Michael and Colin — along with the return of king of comedy producer Lorne Michaels — will make this the must-see comedy event of the year," Paul Telegdy, President of Alternative and Reality Group at NBC Entertainment, added.
"We're proud to be the first duo hosting the Emmys since Jenna Elfman and David Hyde Pierce, and somehow that's a real fact," Jost and Che remarked in a joint statement. It's true — the actors formerly known as Dharma and Niles teamed up for the gig back in 1999.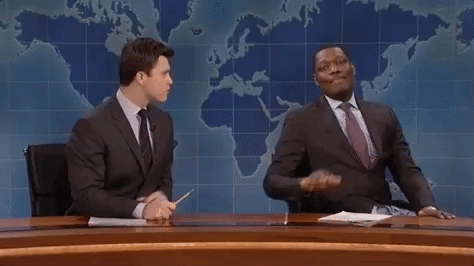 Michael Che and Colin Jost follow in the footsteps of a long list of legendary performers like Garry Shandling, Johnny Carson, and Joan Rivers who have lent their comedic skills to headlining the Emmys telecast. Stephen Colbert did the job in 2017 and Jimmy Kimmel hosted in 2016. Andy Samberg, a former face of SNL, was master of ceremonies back in 2015. Multiple hosts took the stage back in 2008 when reality TV competition personalities Tom Bergeron, Heidi Klum, Howie Mandel, Jeff Probst, and Ryan Seacrest banded together for the first and (unsurprisingly) last time.
Che and Jost have hosted SNL's Weekend Update as a duo since 2014. Prior to their joint tenure in those signature swivel chairs, Colin hosted alongside fellow cast member Cecily Strong. Michael joined SNL in 2013 as a writer and it was announced in December of last year that he and Colin were named co-head writers for the long-running late-night show. Colin has been an SNL writer since 2005 (yup — he was a recent Harvard grad when he landed the gig) and while he left the co-head position in 2015, he resumed the role in 2017. Both guys have their own history with the Emmys — Colin Jost has received seven nominations in the past, while Michael Che has received two. Of course, there's a major possibility that they both will be nominated on the same night they're hosting the awards show.
Last year's Emmys were dominated by wins from both Big Little Lies and The Handmaid's Tale, as the critically-acclaimed series picked up five trophies each. Unfortunately, there are no new BLL episodes to contend with (*counts down to 2019 while searching for new sneak peek set pics*), though The Handmaid's Tale second season will be eligible for repeated victory. And lest you forget: Game of Thrones is back in the running this time around.
Michael and Colin have an entire summer to prep for TV's biggest night after SNL closes up shop for hiatus in May, unless NBC decides to go ahead and do Weekend Update Summer Edition again. Season 43 has only three episodes to go — Donald Glover hosts on May 5, Amy Schumer hosts May 12, and Tina Fey returns to her old sketch comedy stomping grounds on May 21.
Good luck, guys! The 70th Primetime Emmy Awards will air on Monday, September 17, 2018 on NBC. That's the news. Good night, and have a pleasant tomorrow.

Source: Read Full Article