The First Trailer For 'Arrested Development' Season 5 Is Here & As Ridiculous As Ever
It's time to jump back in the stair-car for another adventure with the dysfunctional Bluth family. After five years off the air, Arrested Development is finally back with for its fifth season, which Netflix just revealed will premiere much sooner than fans may have thought. Netflix also just released the Arrested Development Season 5 trailer, which gives us our first look at what the new season will be all about. The trailer reveals that the new season will be taking on politics, and reunite the family for a major award.
Just last week, showrunner Mitch Hurwitz teased that Arrested Development fans could expect the new season very soon, along with releasing a more ensemble-focused remix of the controversial Season 4. Now, we finally know when Season 5 will premiere: Tuesday, May 29. Yep — it is less than a month away!
And along with that exciting premiere date news, Netflix also gifted fans with our first look at Arrested Development Season 5. The new trailer reveals that the season will revolve around a fake award for "Family of the Year" that the Bluths will be giving to themselves, which is an attempt to aid in Lindsay Bluth's run for U.S. Congress. The trailer is also filled with smaller new details, such as Buster's new robotic hand and Maeby's new grey wig. Check out the full Arrested Development Season 5 trailer below:
Netflix included even more new details about Arrested Development Season 5 in a press release that accompanied the trailer. The release re-emphasizes a central plot point from the Season 4 finale that Jason Bateman previously revealed would be central to the new season: Where did Lucille Austero disappear to? The full press release, per Splitsider, is shared below:
The release directs fans to a surprisingly extensive (despite its mid-90s webpage appearance) campaign site for the Bluth's Family of the Year award, including a video of each family member detailing why they deserve the made-up award.
The site also includes silly biographies for each member of the Bluth family, the option to sign up for an email list, and an itinerary of places where fans can find Bluth stair-cars and never-nude meet-ups in real life. One Reddit user actually already spotted one of the stair-cars on Monday morning, before the promotional event was even officially announced.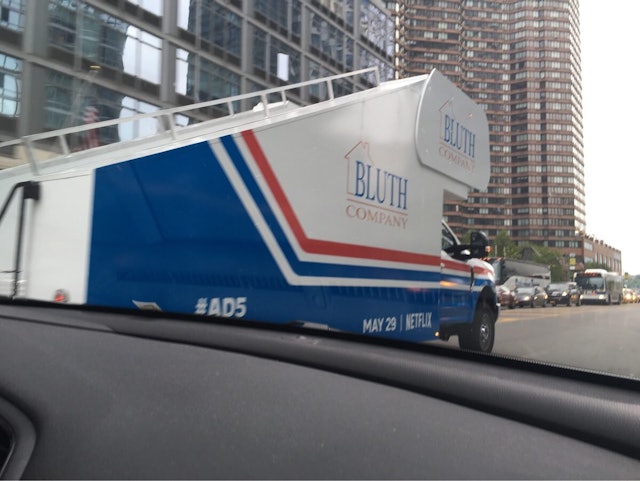 With this focus on campaigning and the reveal that Lindsay is running for Congress, it is safe to assume that Season 5 of Arrested Development will deal pretty heavily in politics. Although we got a ton of information about the season from the trailer, press release, and campaign website, much of the new run of episodes is still a mystery for fans. Luckily, we do not have much longer to wait to find out everything that the Bluths have been up to since we last checked in five years ago, back when the first Netflix season of the series aired in 2013.
Season 5 of Arrested Development will be released on Netflix on Tuesday, May 29.
Source: Read Full Article