Former NBA Star Andrew Bogut Doubles Down on Kendall Jenner Slut-Shaming Tweet After Backlash
After catching heat with his sexist remarks about the 'Keeping Up with the Kardashians' alum, the Australian native takes an extra dig at the model with his fake apology.
AceShowbiz –Andrew Bogut doesn't shy away from showing his dislike towards Kendall Jenner. The former basketball player has been slammed online for his apparent dig at the model. But instead of recanting his misogynistic remarks, he doubled down on his comments.
On Friday, June 24, Andrew tweeted, "With the 2022 @NBA draft completion yesterday, one big name has yet to find a home. Which team will snap up @KendallJenner??" He added, "Solid talent, versatile. ?? marks around team culture + habit of endless self promotion. Doctors will need to do medical as body has been banged up."
The 37-year-old athlete swiftly caught backlash for his sexist comments, with one user writing, "This is an awful way to speak about a woman." A second critic said, "Such a gross remark," while another tweeted, "This is disgusting come on."
Noticing the criticism, Andrew doubled down on his remarks on Tuesday, June 28. "I would like to formally apologize for this tweet. My scout take forgot to include the elite level of rebounding. I will do better in the future," he wrote, referencing her recent breakup from Devin Booker and assumption that she solely dates basketball players.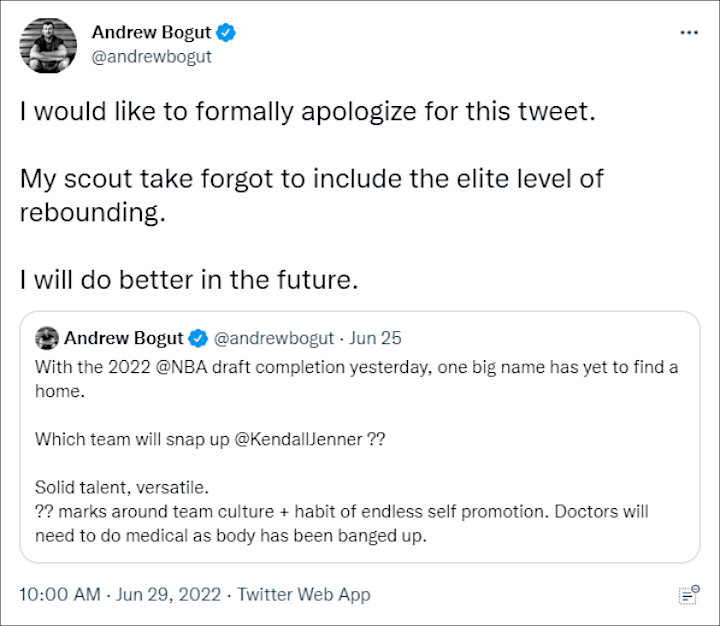 Andrew Bogut doubled down on his sexist remarks about Kendall Jenner.
Needless to say, Kendall's fans further came at him. "@KendallJenner must have turned you down or either you are just wanting some attention," one person mocked the former NBA star. Another called him out, "Disgusting human being – although with comments like that I think calling you a human being is way off the mark – nobody deserves to be talked about in that way – you should be ashamed of yourself." Another added, "What the hell is wrong with you?"
Kendall has not responded to Andrew's remarks, but she previously slammed the notion that she "only dates basketball players." During the "Keeping Up with the Kardashians" reunion in June 2021, she said, "No, I don't actually only date basketball players, if anyone's ever done their research." She stressed though, "I'm not ashamed that I have a type, and I'm also a genuine basketball fan. So, that just kind of has happened."
Source: Read Full Article