Here's Where The Challenge: Double Agents<\/em> Filmed Amid the Pandemic
Fans of The Challenge, rejoice! The newest season of the popular MTV franchise is back, and while Double Agents might feature some familiar reality show figures competing for a share of a million dollars, production was faced with a vastly different set of travel restrictions and health protocols than ever before.
But MTV wasn't about to let an entire season go to waste, because let's face it—people need a dose of reality TV now more than ever. So, in an effort to salvage the season, producers went up north for Season 36. Here's how the show used their filming location to adapt to the pandemic.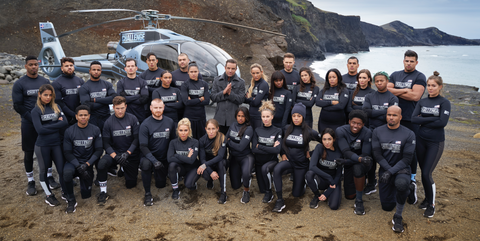 Unlike previous seasons, the show only filmed in one location: Iceland.
Fans of the show are familiar with the contestants moving to different locations throughout the season. Unlike previous seasons, though, the producers had the daunting task of choosing a unique location that was also safe amid the pandemic. The result? After scouting multiple locations over Zoom, the show set its roots in Iceland, which provided a visually stunning topography—where else would you find both glaciers and black sand beaches?—for both challenges and a home.
"Traditionally, I scout a couple of months in advance, so I'll go to multiple countries and check what they have on offer," showrunner Emer Harkin told Variety about the struggle to locate the perfect challenge arena. "That was simply not possible this time. Being able to do that virtually was really, really eye-opening [but] it's also quite daunting because you can never underestimate the advantage of having boots on the ground and really seeing and feeling a location."
The show created a safety bubble by "owning" a hotel.
On top of finding a unique location, the producers were also tasked with creating a space home for cast and crew during the season. Harkin explained to Variety that arm bands were used to restrict people from specific areas and producers also employed a medical team to administer multiple COVID tests a week.
Contestant (and long-time show competitor) Aneesa Ferreira confirmed Harkin's words in an interview with TVLine, telling the publication, "[cast members] were tested three times a week, our temperatures were taken twice a day, and all of production wore masks and shields, so everybody was safe."
Producers also built some leisure spaces in the bubble.
The show couldn't just be all work and no play. While previous seasons allowed contestants to let off steam at nearby nightclubs, the show took matters into their own hands to make sure cast members could still have fun while also being protected. So producers did the next best thing and created their very own makeshift nightclub, specifically for the cast to mingle in safely.
Source: Read Full Article