Hoda Kotb and Jenna Bush Hager butt heads during divisive conversation on Today
Following a very sad and challenging week, Hoda Kotb and Jenna Bush Hager brought some light-hearted jest to their Today show with a conversation about food.
On Friday, during a pre-recorded show, the co-hosts became very animated as they discussed burger toppings ahead of the Memorial Day weekend.
MORE: Hoda Kotb hosts Today alone as she delivers heartrending statement
The pair butted heads as they couldn't agree on anything. Hoda was left horrified when she asked Jenna whether she prefers dill or sweet pickles – and she opted for the latter.
WATCH: Hoda Kotb's family life – all the details
"Sweet? Who does sweet?" she asked as her co-host exclaimed: "I do sweet!" and had a frustrated expression on her face.
Hoda immediately asked the audience to weigh in as Jenna defended herself.
Next up, was the question of mayo and while Jenna said: "No thank you," Hoda revealed she needs a dash of sauce.
MORE: Hoda Kotb talks difficult career goodbyes with Today co-star
MORE: Hoda Kotb shares fears about being an older mom: 'It's scary'
It was then Jenna's turn to quiz Hoda as the mom-of-two revealed she likes her bun "soft and mushy" and straight out of the packet instead of toasted as Jenna prefers.
Hoda and Jenna had a big hamburger debate
The pair – who sported a whole host of bemused expressions during the interaction – argued but ultimately got to indulge in their perfect burger when it was placed in front of them on-air.
The clip was shared on Today with Hoda & Jenna's Instagram feed as fans then had their say too.
MORE: Jenna Bush Hager – a former teacher – shares message about heartbreaking Texas school shooting
MORE: Hoda Kotb shares heartfelt statement about co-star's future on Today
"Mustard and dill pickles for me," wrote one, while another added: Chili, slaw, onions and mustard," and a third commented: "How could you do sweet? Dill all the way."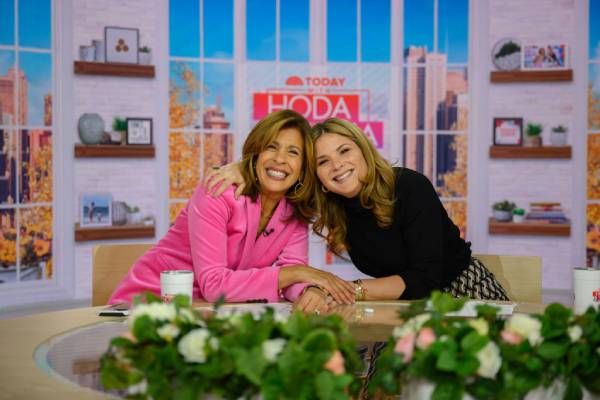 The friends and co-stars had a light-hearted conversation following a difficult week
The exchange comes at the end of an upsetting week as the pair reported on the Texas school shooting.
The news was certainly not forgotten and fans also referred to it in their comments, but pointed out that Friday's show was likely recorded before the tragic event.
Read more HELLO! US stories here
Source: Read Full Article