Inside Carmen Electra's Dating History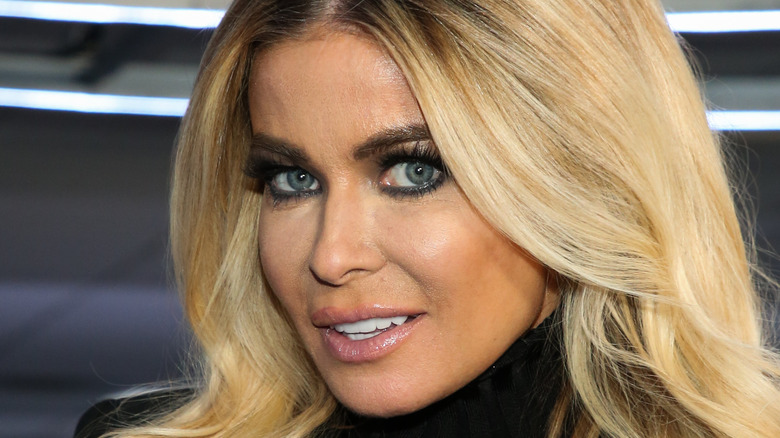 Carmen Electra shot on the scene in the '90s and became one of the most beautiful women in Hollywood. The former "Baywatch" star, whose real name is Tara Leigh Patrick, had millions of admirers across the globe and many of them were celebrities in their own right. The actress who has appeared in multiple movies, including "Date Movie," "Starsky and Hutch," and "Bedtime Stories." She's even appeared on television shows like "Singled Out," "Monk" and "Summerland" (via IMDb).
Electra's good looks and sex appeal have garnered her plenty of fame and admiration. However, while she's known for rocking skimpy bathing suits on the beach and starring in comedy spoof films, the actress and former Playboy model has also gained attention for her interesting love life. Electra has been romantically linked to many famous faces over the years, including rock stars, athletes, actors, and more (via Ranker). She's also caught recognition for her two marriages and her reality television show over the years.
Carmen Electra was discovered by Prince, who she later dated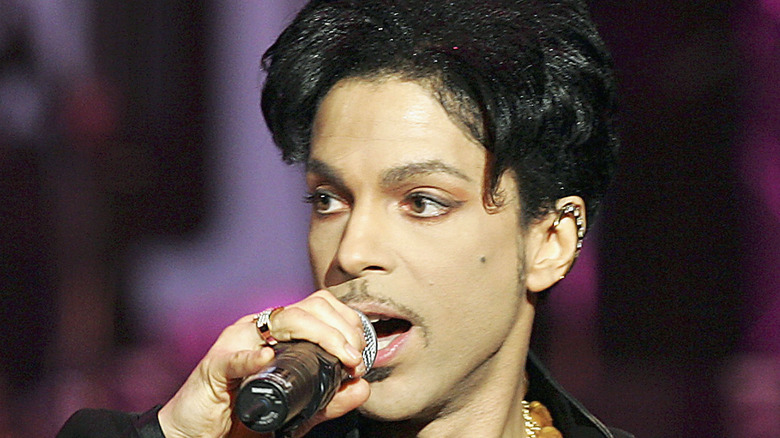 Carmen Electra was an aspiring singer and dancer in the early 1990s, and an encounter with iconic musician Prince changed her life, per E! Online. The actress met Prince when she auditioned for an all-girl band that he was putting together. Electra wasn't chosen for a spot in the group. However, she did catch Prince's eye and he later called her in hopes of helping her in her career. He even gave her the name Carmen. "I received a call from Prince saying I think you should be your own artist and not back up anyone else. I'm going to write you a song and if you like it, you can record it. The name of the song was 'Carmen on Top.' My name is Tara, so I was confused. I loved the song. I loved it, but he said, 'You're not a Tara. You're not Tara. You're Carmen,'" Electra admitted.
Electra gave the singer control of her image and career, which she said was something she appreciated. "He controlled everything, but I loved that about him. How I dressed, the music, hairstyles. He was genius at all that," she stated. The pair briefly dated, but called it quits when they couldn't agree on where to live. "I told him I wanted to live in L.A. and he spent as much time here as he did in Minnesota. He wanted me to move back to Minnesota and I said no. I broke it off with him and stayed in L.A.," Electra said.
Carmen Electra married Dennis Rodman in Vegas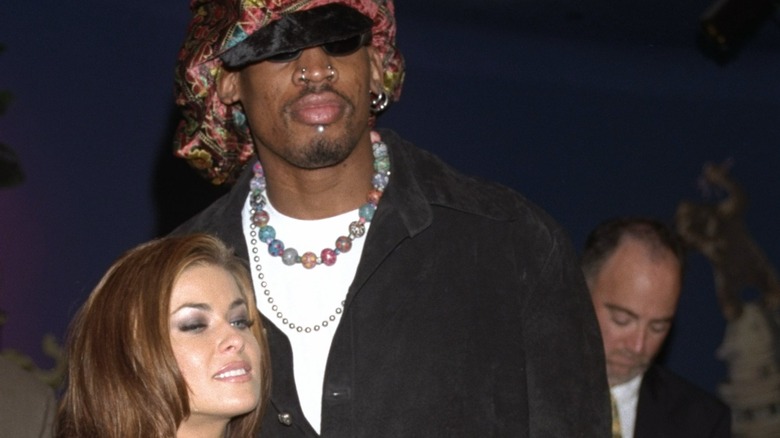 Carmen Electra shocked many fans when she began dating Chicago Bulls player Dennis Rodman in 1998. The couple met and quickly hit it off, per Republic World. "We exchanged numbers and he would call and call and call," Electra said, per The Chicago Tribune. "I wouldn't respond. Finally, one day I picked up the phone and he invited me to come hang out with him and I went for it. I went in. Dennis was considered the bad boy of basketball," Electra said, "and I like bad boys."
Electra and Rodman spent nine months together before stunning the world by getting married in the Little Chapel of the Flowers in Las Vegas, Nevada. Although the pair had been in a serious relationship at the time, their marriage was short-lived and they filed for an annulment just nine days after tying the knot. The couple's former romance was revisited in the 2020 documentary "The Last Dance." The doc detailed the time that Michael Jordan spent with the championship Chicago Bulls. The team, which included Rodman, ruled the NBA in the 1990s. Electra appeared in the documentary to recount her time around Rodman and the team during their iconic championship run.
Carmen Electra married Dave Navarro in 2003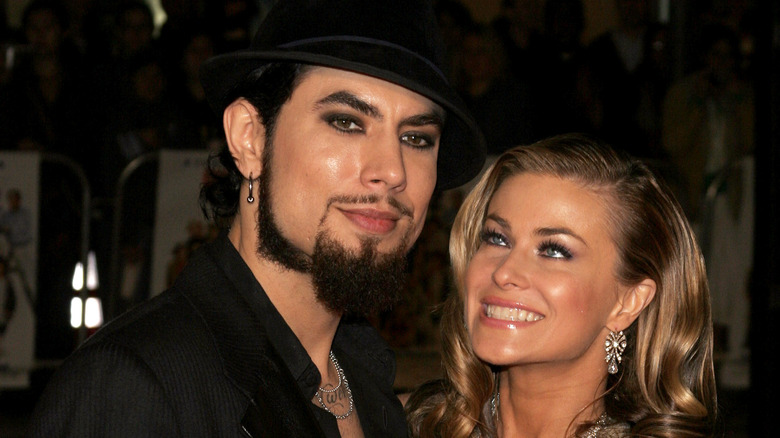 Carmen Electra met Jane's Addiction rocker Dave Navarro in the early 2000s. The couple captured media attention and the interest of fans when they opted to star on a reality TV series about their lives together. Viewers watched the pair plan their epic wedding in the MTV series "'Til Death Do Us Part: Carmen & Dave" (via TV Guide). The couple officially tied the knot in 2003, but their marriage didn't stand the test of time. The couple called it quits three years later in 2006.
Despite their divorce, Electra and Navarro have remained very close friends. In 2017, the actress told E! News that she and her ex-husband still have a lot of love for each other. "We're still really good friends. I just posted a shot on Instagram because we just ran into each other at the same hotel. We have a connection and it's undeniable and I'll love him forever," Electra declared.
Carmen Electra's been linked to many other celebrities over the years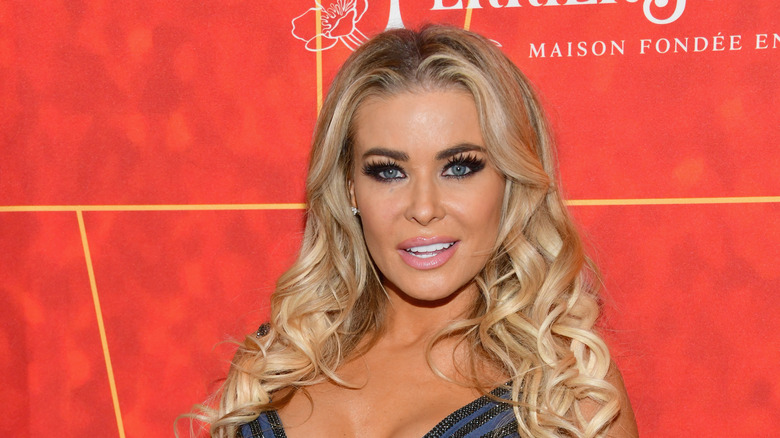 According to Ranker, Carmen Electra is no stranger to high-profile relationships. In addition to her romances with Prince, Dennis Rodman, and Dave Navarro, the former "Baywatch" beauty has also been linked to many other big names in Hollywood. Following her split from Rodman, Electra was rumored to be dating fellow "Baywatch" star Pamela Anderson's ex-husband Tommy Lee. She also reportedly had a fling with Limp Bizkit singer Fred Durst. In 2001, Electra was linked to "Fast and The Furious" actor Vin Diesel as well as Sugar Ray singer Mark McGrath.
After her divorce from Navarro in 2006, Electra was also connected to comedy actor David Spade. That same year, Electra met actor Colin Farrell at the Playboy Mansion and the two were rumored to have a fling. She was also rumored to be dating iconic rocker Joan Jett at the time. Electra was said to briefly date former "American Idol" judge Simon Cowell back in 2012. The following year she was said to have had flings with both singer Max George and Olympic swimmer Ryan Lochte. Although Electra's dating history is long and complicated, the model's love life has mostly been quiet in the eyes of the media over the past decade.
Source: Read Full Article