This Is the Jewelry Meghan Markle is Most Likely to Wear at the Royal Wedding
With May 19th fast approaching, odds are Meghan Markle has already given some thought to what she'll pair with her wedding dress–from a potential tiara, to the jewelry she'll accessorize with.
Per her style in the past, it's likely Markle will not opt for anything bold–she typically prefers daintier pieces, stackable rings and (like her engagement ring) yellow gold. And given that Markle's dress remains a mystery, although we do have some speculations and suspicions, thoughts on what tiara she'll don for the day (if any) and which earrings she'll opt for run the gamut, from over-the-top and demure.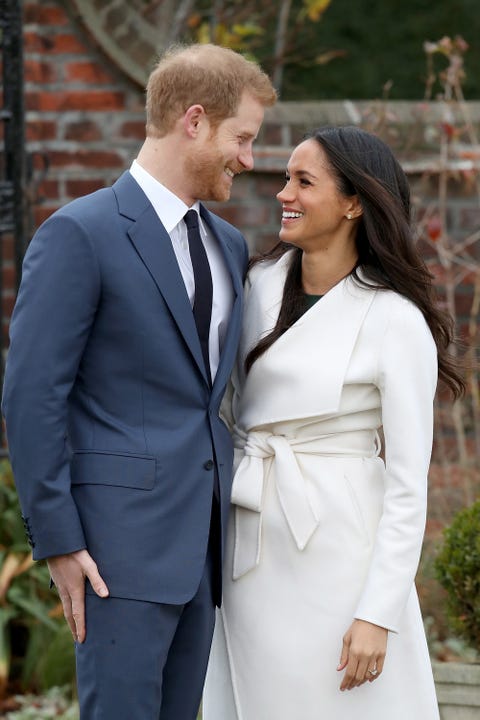 Typically, royal wedding gowns require a level of coverage that leaves little room for necklaces and bold cuffs. Per Catherine and Pippa, Markle will likely opt for subtle (yet jaw-dropping) earrings–the question is, what will they look like and who will she purchase them from? Will they be simple and sweet like Pippa's? Or, slightly more glamorous yet traditional like Kate's?
Kate famously wore the Queen's Cartier Halo tiara for her wedding as her something borrowed, and designed earrings for her gown with Robinson Pelham, a favorite jeweler of the royal family. Pippa Middleton also crafted her wedding day jewels with the brand, while Harry opted to visit Cleave & Company when designing Meghan's engagement ring. Given the couple's connection with Cleave, it's likely that Meghan will turn to them for her wedding day jewels as well, should speculation that the Queen will loan her a tiara for the day be confirmed.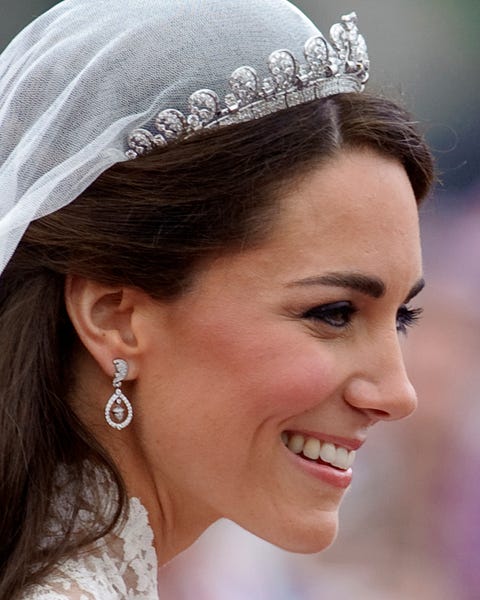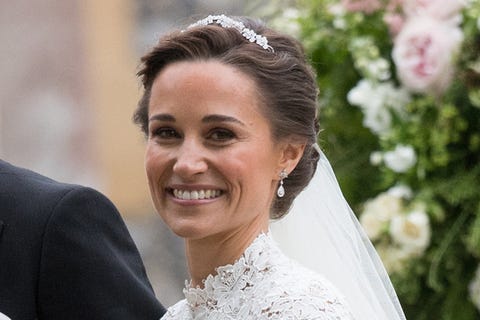 Meghan's no stranger to shopping for jewelry, and has worn the Canadian-based Maison Birks since her Suits days. The actress purchased seven pieces from the brand, including the Plaisirs de Birks Yellow Gold and Opal Earrings she wore for her engagement announcement, and their Snowflake Round Jacket Earrings, which she wore to the Queen's Christmas lunch at Buckingham Palace and to church in Sandringham on Christmas Day. Eva Hartling, the vice president of Maison Birks, spoke to People on what she thinks Meghan will likely wear on her big day. " I'm sure it is going to be refined and elegant…It will probably involve a simple pair of earrings that will bring out her natural beauty, she won't overdo it."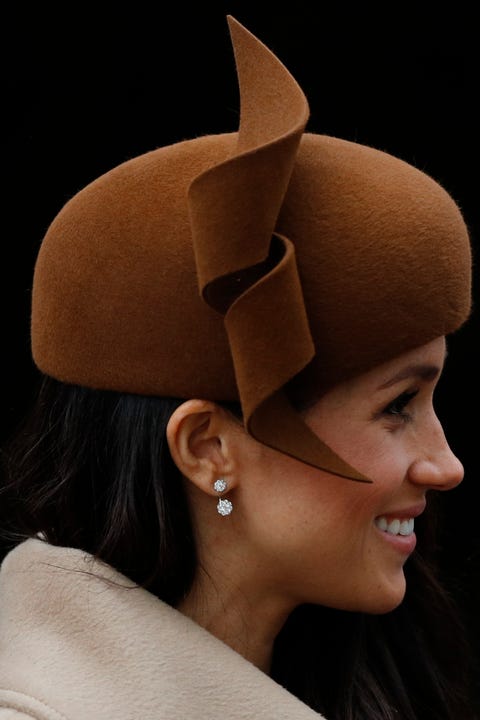 Like much of Markle's wardrobe, Birks tows the line between Markle's affinity for Canadian brands (due to her Canadian stylist, Jessica Mulroney, and her time spent in Toronto while filming Suits) and her new English roots. The jewelry house was founded in the United Kingdom in 1879, and even received a royal warrant from the Duke of Windsor in 1935. While the warrant is no longer in place due to the brand's move to North America, Queen Elizabeth, Princess Margaret and Princess Grace of Monaco have all worn pieces from the brand in the past, making it a perfect label for Markle to get behind.
While Birks' pieces are a little less formal than what Meghan will require for the aisle, her style choices when shopping the brand point to her choosing jewelry that is simple and elegant, and slightly more modern than we'd expect to see at a royal affair. After we take in Markle's choice of gown and tiara on May 19th, we'll be turning our attention to her inevitably sophisticated and stunning jewelry choices.
Want more royals? Now you can watch all of the best episodes from Bazaar's Royal Watch—right here on Prime Video.
Source: Read Full Article