Kanye West's Twitter Controversy Explained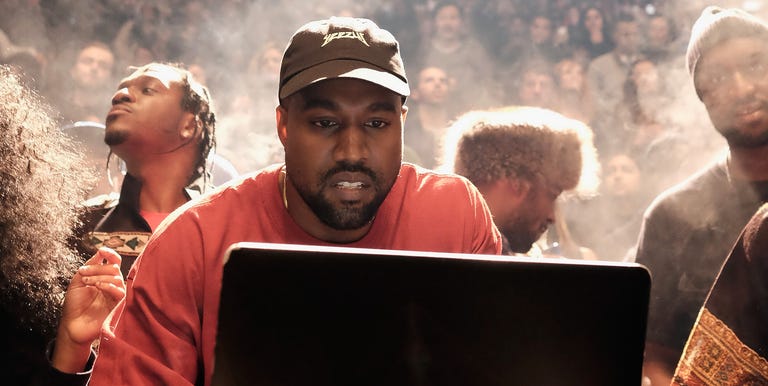 If you follow Kanye West on Twitter, chances are his tweets have been flooding your feed—and everyone else on your timeline has been speculating about them. He's made a return to Twitter in the past two weeks, and his tweets have even gotten the attention of the President.
Since his tweets keep coming, fast and furious, it can be tough to keep up. Here's a guide to what he's been talking about, and how his tweets have been received. (Because not everybody is happy about them.)
Kanye Makes His Return
West officially returned to Twitter on April 13, and got a welcome back from CEO Jack Dorsey. The tweet that brought him back after a one-year hiatus has since been deleted, though.
By April 15, he started tweeting constantly. He shouted out Lamar Odom, Khloe Kardashian's ex-husband:
He started to discuss philosophy and capitalism, which would be a running theme of his Twitter sprees:
He also revealed he planned to get his son's name, Saint, tattooed on his neck:
Kanye Writes a Philosophy Book in Real Time
He took April 16 off, but on April 17, West tweeted advice about business, philosophy, and being creative. This continued through the next day. Here are a few samples of his tweets from those two days.
West then noted that he is writing a book in real time through Twitter, but he refuses to set limits to how long it will be or what it will include.
Kanye Teases New Music, and Sneakers
On April 19 (exhausted yet?), Kanye got fans excited by revealing he has multiple new music projects in the works. He said he is releasing an album on June 1, featuring seven songs.
He added he's releasing an album with Kid Cudi on June 8, in a group called Kids See Ghost. He also teased projects he produced with Teyana Taylor coming out June 22, and Pusha T coming out May 25. Later on, he also said he produced a Nas album, which will come out June 15, and after that, he called on A$AP Rocky, Lil Uzi Vert, and Travis Scott to release tracks he worked on with them.
He also posted photos of his Yeezy designs. Those photos continued through April 20.
Kanye Endorses Controversial Conservatives
West continued to wax poetic over the next few days, talking about his businesses and sharing previews of concept art for his upcoming albums. But he received a good deal of backlash after endorsing conservatives.
"I love the way Candace Owens thinks," West tweeted on April 21. Essence notes that Owens, who runs the Red Black Pill YouTube page, has called President Trump the "savior" of the free world, called Black Lives Matters activists "victims," and has hung out with Trump's daughter-in-law, Lara.
Owens responded enthusiastically, asking West to arrange a meeting. "I will never forget this moment in my life," she wrote. "I listen to Kanye West music every single day. Everything I do and all that I say is all right there in his music."
Two days later, West tweeted videos from Dilbert creator Scott Adams, who has become a prominent figure among the alt-right. His videos were about how West may lead people to a "golden age" where people "break out of their mental prisons" and think differently. BuzzFeed notes that Adams has been controversial for appearing on Alex Jones' InfoWars, opining on men's rights, and once questioning the death toll in the Holocaust.
Kanye Shakes Up His Team, and Slams the Media
On April 25, West announced he had fired his longtime manager, Scooter Braun, because he "can't be managed," and that he "got rid of my last lawyer" because he wouldn't work full-time for him. He also predicted that Yeezy would become a $1 billion business, and is "a unicorn on its way to being a decacorn."
He also called out TMZ, People magazine, Hot 97, and The Shade Room for their coverage of his tweets.
And so did Kris Jenner.
Kanye Shows Off His House, and Kim Objects
Twitter commentators compared Kanye's rightward turn to being in "the sunken place" from Jordan Peele's movie, Get Out. In response, he tweeted photos from inside his house, joking, "Does this look like the sunken place?"
Peele joked that he suddenly is inspired to write a sequel.
Kim Kardashian responded to the tweets, joking that now her husband has to let her film Keeping Up with the Kardashians in the house.
Kanye Brings Up Trump, and Trump Responds
If West didn't get people's attention before now, he certainly did when he brought up his support for President Trump. "You don't have to agree with Trump but the mob can't make me not love him," he wrote. "We are both dragon energy. He is my brother." He also showed off his "Make America Great Again" hat, which Trump signed.
Trump retweeted West, thanking him for the support.
Kim Kardashian and Other Celebrities Respond
The backlash was so strong that Kardashian called West and made him clarify what he meant. "I don't agree with everything Trump does," he wrote. "I don't agree 100% with anyone but myself."
But Kardashian ended up speaking out in her husband's defense, saying you might not like his political opinions and philosophies, but that doesn't mean you should assume he's dealing with mental illness.
Chance the Rapper also sided with West, saying, "Black people don't have to be Democrats."
But not everyone supported him. John Legend allegedly texted West, urging him to change his stance. West promptly tweeted the conversation:
Chrissy Teigen, who is married to Legend, checked in with Kardashian to make sure their dinner plans were still on. "Yes, but maybe no phones," Kim joked in response.
Source: Read Full Article