Kim Kardashian Just Broke Her Silence on Tristan Thompson's Cheating Scandal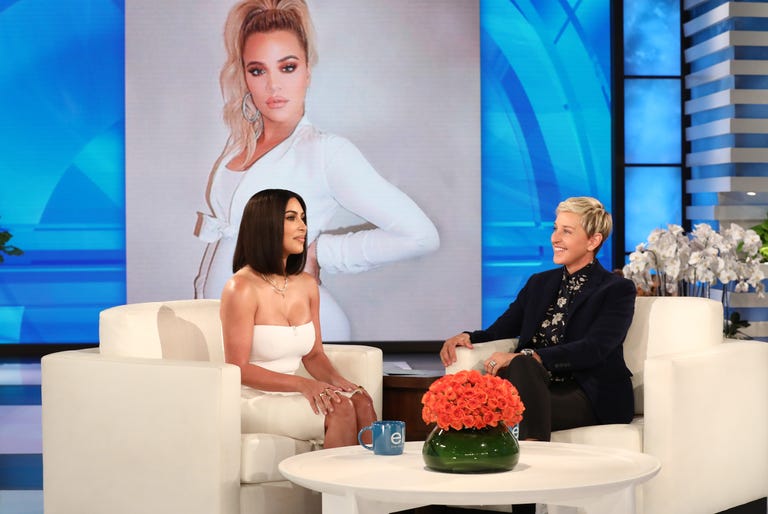 Kim Kardashian just broke her silence on Tristan Thompson's cheating scandal. In a preview of her appearance on the Ellen Degeneres Show, Kim said the whole thing is "really sad."
Ellen asked Kim point blank if she had opinions about the fact that Khloé's boyfriend Tristan was accused of cheating two days before their baby was born. "Poor Khloé," Kim started by saying. She then elaborated and said "Like, I don't even know how to describe it besides it's just so f*cked up."
Since the rumors (and video) emerged, the family has kept silent on the scandal. Kris, for example, has commented on how happy she is to be a grandmother to True, but nothing about Tristan.
Kim explained to Ellen that her and her family are all still fully supporting Khloé. "We really were rooting for Khloé. And we still are," she said. "She's so strong and she's doing the best that she can. It's a really sad situation, all over."
In terms of spilling the dish, though, Kim isn't necessarily interested, and she said it's because there are children in the situation.
"I kind of made this rule with my brother [Rob Kardashian] — if there's a baby involved, I'm going to keep it cute and keep it classy and not talk too bad," she explains. "Well, I'm going to try not to say anything so negative because one day, True is going to see this and you know, it's so messed up."
You can watch the sneak preview clip here, but the whole interview airs on Ellen Monday.
Follow Emma on Instagram.
Source: Read Full Article