Kylie Jenner Just Went Makeup-Free in an Adorable Video of Stormi Smiling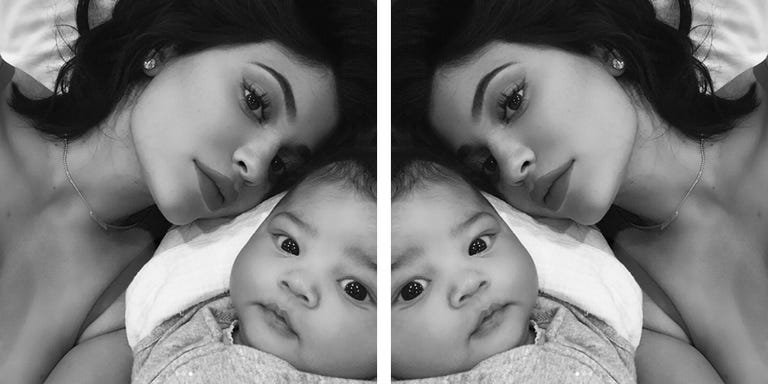 After keeping her pregnancy on the DL for nine months, Kylie Jenner is slowly but surely taking back her throne as an Instagram, Snapchat, social media queen. Only now, post-hiding, it's even better because she has an adorably chubby-cheeked mini-me to show off on every platform.
Ahead, a running tab of all the mother-daughter selfies, sleeping Snapchats and meet-the-family outtakes we've seen of baby Stormi since her birth.
April 23, 2018: Smiley Stormi
Kylie lounged sans makeup with a giggly Stormi on her chest. Her little smile is too cute!
April 5, 2018: Sleepy stroller date
Kylie shared photos of her and Travis Scott's sleepy two-month-old, all bundled up in her stroller. Those cheeks!
April 1, 2018: Baby's first Easter
Jenner and baby daddy Travis Scott spend some quality time with their baby girl on Easter Sunday. Their little girl, who officially turned two months old on this date, looks adorable in her father's arms.
March 23, 2018: First mother-daughter selfies with Stormi
Baby's first selfies—and baby Stormi looks like a tiny influencer in-training, smizing next to mama Kylie (who's also serving looks) in a series of overhead shots posted on Instagram.
March 17, 2018: Stormi sleeps like an angel
Plush pink hooded onesies are adorable by nature, but tiny Stormi makes the outfit even cuter, dozing off as Kylie captures her on Snapchat video, captioning the clip: "an angel…" fittingly typed in baby pint font.
March 14, 2018: Stormi's so sleepy
Possibly her favorite sleeping ensemble, just a few days prior, Kylie shared a filtered shot of baby Stormi in a deep sleep, sprawled out, dressed in the same pink knit sleepsack.
March 12, 2018: Meeting her great-grandma
Though we know Kylie has a very strict visiting policy for Stormi, we have evidence that she has let select close friends and family members meet her daughter. Most recently, Kylie shared an adorable Instagram overhead photo of her daughter being cradled by her great-grandmother (Kylie grandmother, and Kris Jenner's mother), Mary Jo "M.J." Houghton. "I mean..does it get any better than this?" Kylie captioned the sweet family moment.
March 10, 2018: Stormi and Jordyn
And of course, Kylie's best friend Jordyn Woods got a private intro with Stormi. Kylie shared a short Snapchat video of Woods rocking a sleepy baby Stormi, captioning the clip, "Can they get any cuter?"
March 5, 2018: Stormi naps
Babies need a lot of sleep, and Kylie's photo depiction of her less than two-month-old daughter shows that Stormi's no exception. In early March, the mom shared a Snapchat of her baby girl fast asleep, adding some pink heart emojis dancing over her head.
March 3, 2018: Those cheeks, though!!
Travis Scott has even gotten in on the baby portrait action, unable to keep his adorable daughter off his Instagram feed. "Our little rager !!!!" the new father wrote next to a straight-on cubby-cheeked snap of little baby Stormi, with emoji flames added for effect.
March 1, 2018: Stormi turns one-month-old
On Stormi's one-month birthday, Kylie commemorated the occasion by sharing a full-length mother-daughter shot on Instagram. "My angel baby is one month old today," the Life of Kylie star wrote next to the comfy cozy outtake where she cradles Stormi in her arms.
March 1, 2018: Showing some "Daddy" love
Scott also celebrated Stormi's one month with a close-up Snapchat photo of her sweet little onesie. "My lil mama 1 month today her favorite unit of course," he captioned the photo.
February 25, 2018: Teeny tiny baby feet
Jenner fawned over her daughter's little toes in an adorable video of her tiny baby feet. Kylie's manicured hand makes a cameo, of course.
February 6, 2018: The big reveal
Kylie shared the first photo of Stormi on Instagram, showing off her daughter's tiny hand clasped around her finger. "Stormi webster," the mom captioned the image, giving fans a first peek at the newborn and also revealing her full name to the world.
Source: Read Full Article