Loki's Weirdest Marvel Cameo Yet Raises Lots of Questions
Loki episode 5 spoilers follow.
Following last week's gag-worthy post-credits scene, episode five followed up on its promise with a Loki bonanza full of weird and wonderful variants. Each of the four Lokis we met at the end of episode four went on to play important roles in this week's adventure, including Young Loki, who we discover actually managed to kill his version of Thor.
Before we're given a chance to recover from that news, the camera then pans down to follow Loki's new posse down into their secret bunker. But on the way, something rather curious happens.
First of all, we see a version of Thor's hammer, Mjölnir, buried deep down in the dirt. As if that weren't worrying enough, we're then given the briefest glimpse of a small animal trapped in a jar. But it's not just any animal. It's a frog, and it's wearing something surprisingly familiar too…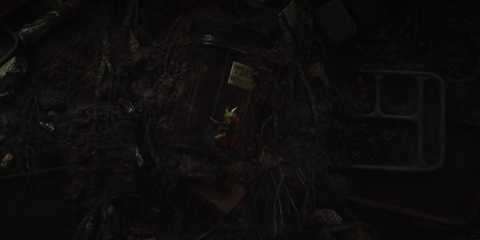 Yep, just one week after this show introduced an alligator version of Loki, Marvel has only gone and made Frog Thor canon in the MCU. Throg, as he's otherwise known, first appeared in Thor #364–365, which is most likely why his jar here is labelled T-365.
In that first comic-book story, Loki transformed Thor into a frog, but that didn't stop him from fighting a few rats in Central Park to protect the other frogs that live there. Thor was joined on this quest by a frog named Puddlegulp, who we can only presume was a big fan of dirty rain water.
Thor eventually regained his godly physique, but before he hopped away, the God of Thunder discovered that Puddlegulp wasn't actually a frog at all. It turns out that Thor's new ally once lived as a man before he was transformed by an angry fortune-teller. In another unexpected twist, Puddlegulp didn't want to become human again, because, I mean, have you looked at the world recently?
Impressed by Puddlegulp's resolve, Thor gave him a sliver of Mjölnir which transformed into Frogjolnir, a tiny hammer that imbues this little frog with the power of Thor. Throg! It all makes sense now. Since then, Throg has teamed up with other super-powered animals and even the Asgardians of the Galaxy, but this is our first glimpse of the mighty amphibian in the MCU.
Knowing that is all well and good, but we still have a few questions. First off, is Loki's Throg actually a Thor variant or is it really Puddlegulp? Given that the letter T is used to identify this jar, we're guessing this particular frog is indeed an alternate version of Thor. Back in Thor: Dark World, Loki even mentions that he once turned his brother into a frog, so this new specimen probably hails from a timeline where Thor wasn't changed back into a human.
But then the question remains: How did Throg end up here in the first place? Yes, it's obvious that the TVA pruned him at some point, otherwise there's no way he could visit the end of time itself. But how did he end up in a jar deep underground? Although pruned variants do drop in at random locations throughout this void, there's no way this jar directly appeared here or there would be soil in the jar too. And come to think of it, how can Throg even survive down there without any air?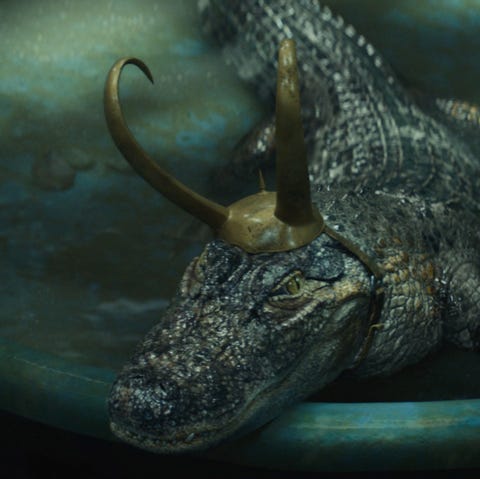 Related: Loki star Sophia Di Martino shares her favourite fan theory
Well, Infinity War established that Thor can survive in space even when he's unconscious, which means that he doesn't need air to breathe. If Throg does also possess the powers of Thor, then he presumably doesn't need oxygen either (although we're sure he loves some good old-fashioned H2O).
So in theory, Throg could survive trapped underground for a very long time. And that might actually be for the best given that Alioth is consuming every variant he sees up above. Whether Throg did magically appear down below or whether a Loki variant trapped him underground remains to be seen. But either way, we toad-ally have faith that the power of Frogjolnir will emerge triumphant and set him free.
Loki streams exclusively every Wednesday on Disney+.
Source: Read Full Article