Meghan Markle's Friend Jessica Mulroney Just Posted A Cryptic Post
Meghan Markle's (former?) friend Jessica Mulroney got pretty cryptic once again on Instagram on June 27 with a post some fans are speculating may potentially be aimed at the Duchess of Sussex.
Meghan and Mulroney were famously close for many years, and the two regularly appeared on each other's Instagram feeds before the former deleted her account when things got serious with her now husband, Prince Harry. However, things appeared to take a turn between Meghan and her once best friend around June 2020 after the latter faced some serious criticism.
The stylist and TV personality was infamously called out on social media by Sasha Exeter. Exeter claimed in a lengthy Instagram video that Mulroney "took offence" to one of her posts about the Black Lives Matter Movement following the death of George Floyd. She said Mulroney had engaged in "very problematic behaviours and antics" and even claimed she had sent her "a threat in writing" while using her "white privilege."
As a result, Mulroney issued a public apology on Instagram, though both ABC and CTV cut ties with her as a result of the scandal. CTV pulled her show, "I Do, Redo" from the schedules, while her contributor role on ABC's "Good Morning America" came to an end (via Vanity Fair).
Read on for why Mulroney is back in the headlines for her social media activity.
Jessica Mulroney posted about 'losing friends'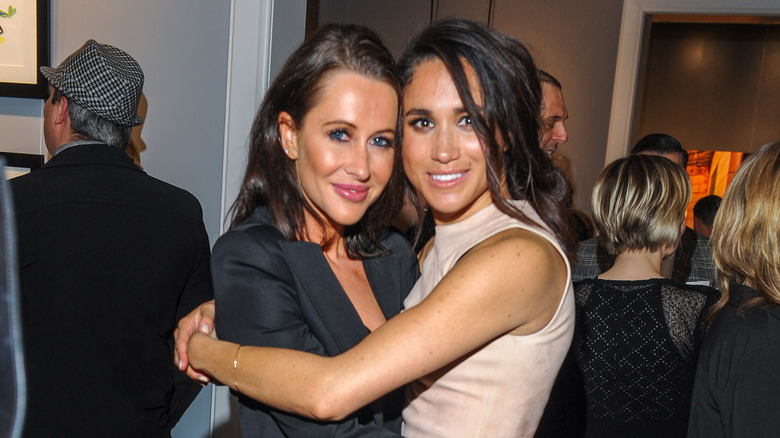 Jessica Mulroney shared a cryptic quote about friendship to Instagram Stories on June 27. It read (via Daily Mail), "Life changes. You lose love. You lose friends. You lose pieces of yourself that you never imagined would be gone. And then, without even realizing it, these pieces come back. New love enters. Better friends come along. And a stronger, wiser you, is staring back in the mirror."
Mulroney's post seemed particularly telling as it's been widely speculated after her incident with Sasha Exeter that Meghan may have cut off her former close friend. An Us Weekly source claimed in June 2020 that Meghan considered "the relationship to be done" while another alleged to Page Six "their friendship is definitely not what it was."
Mulroney deleted Instagram posts featuring the former "Suits" actor in September 2020 (per Vanity Fair) while Meghan stayed quiet in public about her friend. However, that same month, Mulroney claimed in another Instagram Story (via People) that she and Meghan "are family" while calling her "the kindest friend" who'd "checked up on [her] everyday."
Things still seemed to be good in March when Mulroney defended Meghan on Instagram amid bullying allegations. Meghan even sent Mulroney flowers later that month (per Us Weekly). However, April saw Mulroney leave Meghan out of a post about friendship (via the Mirror), which got people talking once again.
As for where they stand now? Well, that seems to be anyone's guess after Mulroney's cryptic post.
Source: Read Full Article