Michelle Obama Hung Out with Beyonce's Mom in the Front Row of Her Paris Concert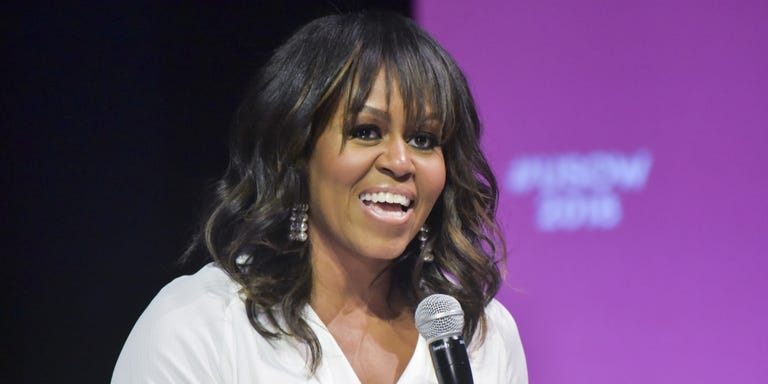 While in Paris, Michelle Obama attended Beyonce and Jay-Z's On The Run II tour show at Stade de France. At one point, she even stood right up against the stage with Beyonce's mom, Tina Knowles. Just your average Sunday night.
Michelle Obama and Mama T ❤
A post shared by B Σ Y Θ N C Σ | FANPAGE (@yoncesince81) on
The former first lady was accompanied by her youngest daughter Sasha (who recently hung out with Cardi B) for the show. They were spotted mixed in the crowd together before Michelle moved to the very front row, where she was basically on stage with The Carters.
For those who want to say #SashaObama don't look like #MichelleObama or #BarackObama ? COME AGAIN!!!!!! #PettysKids #PettysNation
A post shared by Queen ?♏ (@pettysnation) on
The always chic Mrs. Obama dressed in an all white outfit complete with shorts and nude espadrilles. Fans watched as she danced and sang along throughout the concert, reports TMZ.
In one clip, you can see her bopping to the beat and waving her hands in the air to JAY-Z's "On To The Next One." At one point, Jay waved to his first lady fan.
Ms. Tina & Michelle Obama. OTR II. Paris, France.
A post shared by Beyonce & Jay Z (@beyonce.jayz) on
Over the years, Michelle and Bey have never shied away from showing their mutual love for each other. In 2009, The Obamas chose Beyoncé to sing their first dance song at Barack's inauguration celebration—a cover of Etta James' "At Last."
For his second inauguration they chose Beyoncé again, this time to sing the national anthem.
Beyoncé wrote an open letter to Michelle in 2012, saying, "I'm very grateful for everything she's doing for our country and for women around the world. Michelle is the ultimate example of a truly strong African American woman….No matter the pressure of being under the microscope she is humble, loving and sincere."
Michelle also told Stephen Colbert on The Late Show that if she had one person to be stuck on an island with, it would be Beyoncé. "She's a special friend," the then-FLOTUS said. Same.
In 2017, Michelle dressed up in Beyonce's Formation outfit, along 18 other members of the singer's inner circle as a message to the singer on her 36th birthday. Bey posted a collage of all the photos on her website.
We just can't get enough of this duo.
Source: Read Full Article