Private Sydney: Right-wing poster girl says 'not guilty'
She is the poster girl for right-wing politics in this country, calls former prime ministers Tony Abbott and John Howard friends, is a regular guest panellist on ABC's The Drum, is a board director of the Australia Council and is the executive associate of the impressively titled conservative think-tank The Ramsay Centre for Western Civilisation. But there is one thing Rebecca Weisser is adamant she is not: an assailant.
Weisser has entered a plea of not guilty to a charge of common assault following an alleged incident involving residents at the Kirribilli apartment building that she calls home with her husband, fellow conservative commentator Nick Cater.
Right-wing commentator Rebecca Weisser has entered a plea of not guilty to her common assault charge.
The matter is listed at Manly Local Court and due for mention next Tuesday.
Weisser declined to elaborate on the charge when PS called, though given her and her partner's often controversial views, she is used to unflattering headlines.
Weisser and Cater have hosted many of their like-minded pals for drinks, parties and get-togethers at the harbour-front flat they bought for more than $1.3 million back in 2009.
A former opinion editor with Rupert Murdoch's The Australian, Weisser has certainly had an illustrious career since she graduated with a first class honours degree in arts from the Australian National University.
She joined the Department of Foreign Affairs and Trade in 1990 as a career diplomat and had postings to Vanuatu and Mexico.
Rebecca Weisser and her husband, Nick Cater.
In 1998 she joined Qantas' public affairs department, where she worked for three years, and subsequently moved to the Australian Catholic University, where she managed the university's communications department.
Weisser still lists herself as a "contributor" to The Australian and The Spectator Australia.
Interestingly, last year, The Spectator Australia had to cough up $573,000 in costs and damages to settle a defamation action that resulted from Weisser's husband's journalism back in 2015, when Cater wrote about Queensland's 2011 Grantham floods headlined: "Dam Busters! How Cater and [Alan] Jones burst Grantham's wall of lies".
The story wrongly blamed Toowoomba's wealthy Wagner family, which owned a local quarry, for the deaths of 12 people during the floods. The Wagners were cleared of any wrongdoing in an official inquiry into the floods.
But Cater's troubles with the Wagners are not over, with another defamation action due to begin next week in the Queensland Supreme Court, the family suing for $2.5 million in damages over comments Cater and Jones made on 2GB and 4BC about the floods.
'Aussie' John's daughter to tie the knot
With preparations rivalling next month's royal wedding, heiress Deborah Symond's wedding on Hamilton Island on Friday was certainly fit for a modern Sydney society princess.
The daughter of "Aussie" John Symond tied the knot with her long-time beau and fellow Sydney society offspring Ned O'Neil, son of superyacht broker and Rose Bay Marina owner Dennis O'Neil.
Ned O'Neil and Deborah Symond were due to wed on Friday.
Symond, who has launched her own fashion label and become a popular fixture on the Sydney cocktail circuit, wore a spectacular $200,000 Christian Dior haute couture gown, which was specially made for her in Paris over the past year, requiring several stays at the Paris Ritz (as you do) for fittings before Friday's big "reveal".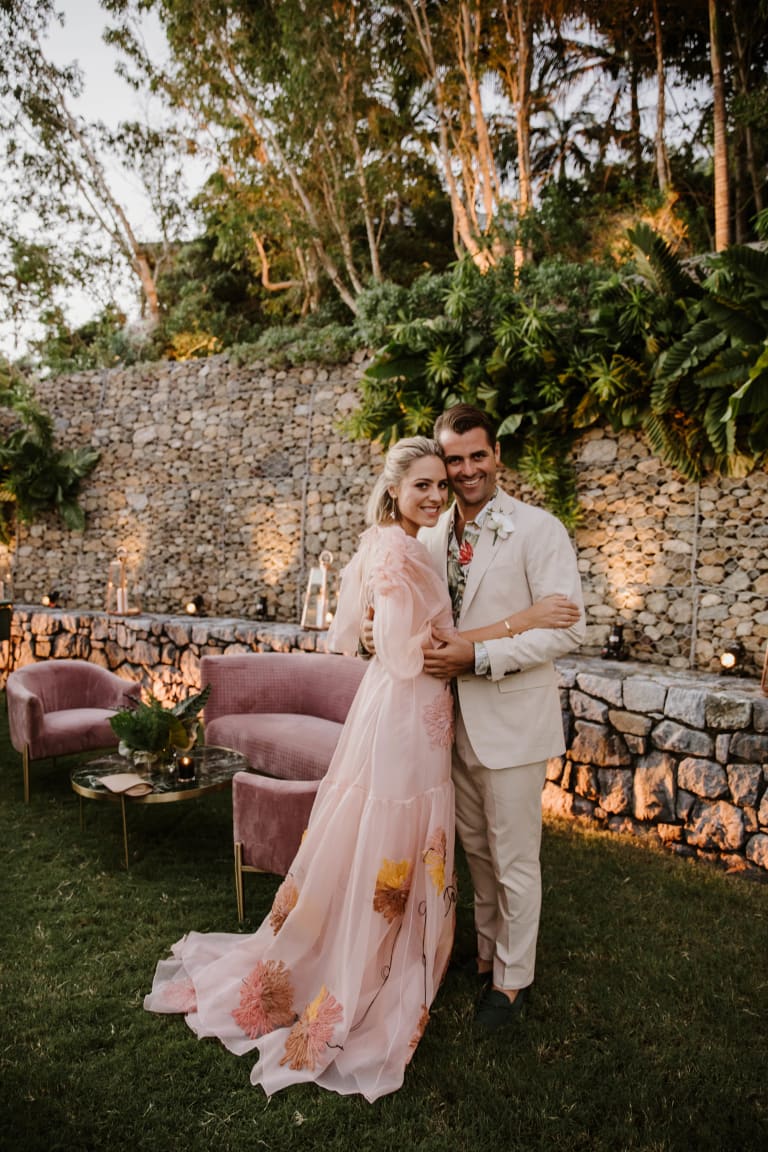 Deborah Symond and fiance Ned O'Neil at Thursday night's pre-wedding dinner on Hamilton Island.
Some 120 guests were flown to Hamilton Island, where the Symond family had taken over the entire, exclusive Qualia resort for the festivities.
O'Neil told PS before the wedding: "It's wonderful to have family and friends with us to enjoy what is the happiest day of my life.
"I am marrying the love of my life and I am the happiest man on earth to be able to share the rest of it with Deb."
The couple met 10 years ago through family friends, with John Symond and Denis O'Neil old chums.
Symond will have five bridesmaids, including girlfriends Pip Ganderton, Nicky Oatley, Kirsten Wenban, Elani Miles and new sister-in-law Poppy O'Neil.
O'Neil's groomsmen include brothers Jake and Toby, new brother-in-law Stephen Symond and friends Rowan Rundle and Tom Dusseldorp.
Not so lucky
How different things could have been for Lucky Gattellari, one of the key figures in the murder of Michael McGurk who is now residing at Her Majesty's pleasure.
Rather than wearing a bulletproof vest, as he did during his appearances in the Ron Medich trial, at one time Gattellari was wearing a rather fetching Qantas waistcoat as he embarked on a post-boxing career as a flight steward.
Former Australian featherweight champion Lucky Gattellari as a Qantas flight steward.
PS has trawled through the archives to unearth a few gems of a happier time in Gattellari's life: a happy young chap posing for publicity photos, having graduated with Qantas' trolley dolly class of 1975.
It was quite a career change for the former Australian featherweight champion, who appeared to be enjoying his days pouring champagne and serving crudites.
Having left school in year 8, Qantas flight steward was one of the various careers Gattellari would pursue over the years, though it was the one he probably should have stuck with.
Former boxing champion Lucky Gattellari after being sentenced over his role in the 2009 murder of Michael McGurk.
Gattellari received a 60 per cent sentence discount in return for giving evidence against his former mate Medich. He was originally sentenced to seven-and-a-half years after pleading guilty to accessory before the fact to McGurk's murder and was due for release this month, but now has a parole hearing on May 29.
Gattellari is expected to argue for his release so he can mount a legal case over new charges accusing him of conspiring to extort $15 million from Medich to change his evidence.
A life of arming doors and cross-checking sounds so much simpler.
'I'm in a lot of pain'
She was the original Bondi bikini babe, but things have not been going quite so smashingly for Annalise Braakensiek in recent times.
Annalise Braakensiek severely burnt her arm after catching alight from a flickering candle in her home.
Not only did she severely burn her arm after catching alight from a flickering candle in her home, only to avert an even greater disaster by dousing herself in water over the kitchen sink as flames threatened to ignite her trademark blonde locks, but the swimwear model has also been nursing a broken heart.
"I'm in a lot of pain," Braakensiek told PS, referring to her burnt arm, which she is hoping will soon heal but requires multiple visits to hospital each week for cleaning.
Meanwhile PS has confirmed that Braakensiek's former husband of more than a decade, Danny Goldberg, has parted ways with the model, who continues to pose in bikinis for a living at the age of 45 and is the envy of many women half her age.
Danny Goldberg and Annalise Braakensiek in happier times.
Braakensiek told PS she was focusing on her work, her pet dog Frankie and moving forward with her life.
She has been more vocal on social media, where she expressed her raw emotions on Instagram, sharing with her 37,000 followers recently: "I don't know if a broken heart mends or learns to live in pieces."
Braakensiek told PS this week: "Our marriage ended its course after 16 amazing years together. We still have a lot of love for each other and will remain good friends."
Friends say Braakensiek and Goldberg's relationship had simply "run out of steam".
Ita's time is up at Ten
Last week, PS revealed that Ita Buttrose had been snubbed by her overlords at Channel Ten and would not be covering next month's royal wedding in London.
Sarah Harris, Joe Hildebrand, Denise Drysdale, Ita Buttrose and Jessica Rowe from Studio 10.
On Wednesday, she quit the struggling morning chat show Studio 10, of which she was one of the big names originally hired under the one-time breakfast television wunderkind, the long-departed Adam Boland.
Ita Buttrose was one of the few people at the network who flew business class on Channel Ten's dime.
Buttrose was feted within Ten as the grand doyenne of the network and compared to American broadcasting icon Barbara Walters. Buttrose also negotiated a lucrative contract with Ten and was one of the few people at the network who flew business class on the company dime.
But unlike Jessica Rowe, whose recent departure was treated like a state funeral on Studio 10, Buttrose's exit was a more low-key affair. Even her farewell cake had to be recycled, having already been presented to her the day before it was returned to the fridge, presumably untouched, only to be used again on the show.
Buttrose's co-host Denise "Ding Dong" Drysdale was noticeably silent on wishing Buttrose adieu, as was Rowe, the trio at the centre of an almighty feud that erupted at Christmas time when Drysdale was accused of pelting Buttrose with brussel sprouts on set.
On Thursday, Drysdale went on breakfast radio to declare: ""Oh, I've got a big bag of brussel sprouts and nothing to do with them."
Ita responded the next day by revealing it was a whole bowl of brussel sprouts, and that Drysdale should be grateful to her for getting her the gig on Studio 10 in the first place.
Source: Read Full Article