Rupert's recovery: Call it a comeback for Rupert Murdoch
Lachlan Murdoch and his father, Rupert.
Nearly four months after he took a tumble on son Lachlan Murdoch's superyacht and had to be airlifted to hospital, only to be bedridden for months, the 87-year-old mogul enlisted the help of the original television "superbitch", Joan Collins, to help navigate his return to the spotlight.
It was on comparatively spritely 84-year-old Collins' Instagram feed that the first evidence of Murdoch's recovery emerged after he suffered a compression fracture of the back, along with unconfirmed reports he also suffered a heavy blow to his head.
Accompanying a photo of Collins dining with Murdoch and his fourth wife, Jerry Hall, at West Hollywood eatery Craig's last week, Collins wrote on her Instagram feed, and clearly with the very best of intentions: "Delightful dinner with the Murdochs, celebrating Rupert's recovery from back injury."
She also included a wide smiley mouth and thumbs up emoji with her missive, no doubt for her less literate followers, of which judging by the comments she has a few.
Soon enough her many fans filled Collins' Instagram feed with a torrent of indignation, decrying her choice of dining companion and labelling Murdoch everything from "the Devil" to several other four-letter words not fit for a family column like PS.
Other diners in the restaurant have spoken to PS about the outing, revealing that it appeared Murdoch was "clinging" on to his wife's arm as they departed, bound for his limo waiting outside and no doubt thankful for a steady hand to guide him.
Rupert Murdoch and Jerry Hall.
Murdoch had also opted for a pair of decidedly more comfy cushioned joggers on his feet, but given he was bedridden just weeks ago, his recovery appears impressive, especially for a man of his years, and comes as rumours had swirled that his condition was much worse than what the public had been told.
Apparently Murdoch, Collins, the 61-year-old Hall and Collins' ever attentive husband, Percy Gibson, 53, are old chums. Back in January 2016, social media maven Collins tweeted that she predicted Rupert and Jerry would marry. Apparently Hall's "glow" had given it away.
C'est la vie for Ita
It's one of the plum hosting gigs on television this year, but long before Meghan Markle walks down the aisle at Windsor, back in Sydney there are bound to be tears as some of the biggest names in Australian broadcasting jostle for prime position.
Prince Harry and Meghan Markle will marry in May.
Channel Nine was the first network to announce its grand vision for covering Markle's wedding with Prince Harry next month, revealing it would team up with its British and American affiliates to cover the event, with Nine reporters at specific sites around Windsor and Today co-hosts Georgie Gardner and Karl Stefanovic leading the coverage.
On the ground, Nine will have Allison Langdon, Lizzie Pearl, Laura Turner, Michael Best and Seb Costello.
Stefanovic was in London with his former co-host Lisa Wilkinson back in 2011 for the Duke and Duchess of Cambridge's wedding. Now Ten is understood to be sending Wilkinson, which will certainly set the stage for some interesting competition with her old chums at Nine.
Today hosts Karl Stefanovic and Georgie Gardner will lead coverage of the royal wedding.
With Ten now owned by American broadcast giant CBS, it remains to be seen how many locals from the network will make it to London, given CBS will have far greater resources to cover the event.
Meanwhile, PS hears there has already been disappointment at Ten, most noticeably around Ita Buttrose, the star panellist on the struggling Studio 10.  Insiders say she had been expecting to go to London to cover the wedding but has since been told by her superiors that she won't be needed, with Ten's showbiz reporter Angela Bishop getting the plum gig.
When PS asked Buttrose if something had changed leading to her staying put, she said "haven't a clue".
Buttrose would certainly have something to offer viewers, given she was in London covering Prince Charles' wedding to Diana in 1981, fronting Channel Seven's coverage of Prince Andrew and Sarah Ferguson's wedding in 1986 with Terry Willesee and again in 2011 when she hosted Nine's A Current Affair's coverage of Prince William and Kate's big day.
Ita Buttrose won't be attending the royal wedding for Channel Ten.
But not again in 2018? Buttrose responded, somewhat sagely: "C'est la vie".
Meanwhile, Seven has been keeping its royal wedding cards very close to its chest, with the only name bubbling to the surface being Melissa Doyle, who was also in London for the 2011 wedding of Wills and Kate.
Given that it is essentially a private wedding, with fewer concessions for media to cover it than at Prince William's state wedding, when the world's press was allowed inside Westminster Abbey, the pressure is on for networks to come up with enough material to fill the hours of live airtime to satisfy the huge demand expected in Australia, with the couple's celebrity status now in the stratosphere.
Kitty bares her claws in Hollyweird way
If ever there was a celebrity made for Hollyweird it has to be Susan Hannaford, who for generations was known as dear, sweet little Kitty from the hit soapie The Sullivans.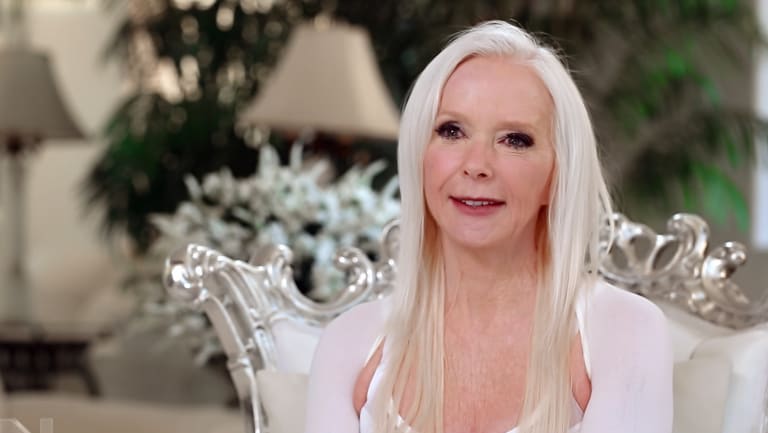 Susan Hannaford played Kitty Sullivan in The Sullivans.
Now 64, Hannaford has become something of a tabloid magazine's dream, rediscovered by both Woman's Day and New Idea after spending years lost in the celebrity wilderness.
In March court documents revealed that Hannaford was being sued for scamming businessmen out of tens of thousands of dollars.
Now Channel Seven's Sunday Night has tracked her down in Los Angeles, where she is living in a vast multimillion-dollar mansion with her two grandchildren, Bella and Dante, whom the former actor claims she has adopted from her daughter, Marquessa.
Susan Hannaford has become something of a tabloid magazine's dream.
Sunday Night reporter Matt Doran managed to get inside the house, named Palazzo Beverly Hills, for a rare interview, though the bleached blonde in micro shorts, stripper heels and Lady Gaga shredded top matching her little grand-daughter's outfit bears little resemblance to the girl next door that Australians remember as Kitty Sullivan.
"It was off the scale bizarre. We arrived to be greeted by Susan in hotpants. I asked if she wanted to change before we started rolling and she said 'no, I'm good to go'," Doran told PS.
"She also filled the house with celebrity chefs, and her Maltese terrier, Hero, was having its nails done and hair blowdried … even the butler got changed to re-emerge as the gardener, only to later change again to polish Susan's Hummer."
Hannaford ends up storming out of their interview after Doran asks her if she has "a problem with the truth". But sorting fact from fiction has long been a challenge when it comes to the Hannaford story.
PS can confirm that she did have a frock shop in Double Bay at the height of 1980s fashion pouffery, claiming at one point that her dresses were being worn by Farrah Fawcett, Cher, Zsa Zsa Gabor and Monaco's princesses Stephanie and Caroline.
Susan Hannaford's extravagant Beverley Hills mansion.
But things did not end well for her financially in Australia, with her luxury home being sold mortgagee in possession long after she left these shores for life in LA.
In the early 1990s she offered to design costumes for American soapie The Bold and the Beautiful, but as for her much-reported recurring role, any trace of it appears to have been lost, like sands through the hourglass.
She did end up on Chances for a while in the early 1990s, a show best remembered for its jiggling bottoms.
Back in 1995 Hannaford was telling the local papers that her career was about to be resurrected with a recurring role on the hit US sitcom Seinfeld, but PS can find no evidence of it ever happening.
Eddie's wedding a family affair
It's an impressive roll-call of guests at Sunrise star Edwina Bartholomew's wedding on Saturday.
Among those in attendance at the picturesque property at Capertee Valley between Lithgow and Mudgee are Billy Connolly, Ewan McGregor, Susan Boyle, Annie Lennox, Tilda Swinton and Shirley Manson.
But they might not look like the faces you would expect, since they are the names given by Bartholomew and her husband to be, digital media specialist Neil Varcoe, to their herd of Scottish Highland cattle on their 100-acre property.
Bartholomew told PS: "Neil and I have been together for seven years and have collected so many wonderful people around us in that time. We can't wait to bring everyone together in one spot, celebrating with us as husband and wife.
Sunrise reporter Edwina Bartholomew with her partner Neil Varcoe are tying the knot.
"It's a family wedding. We have planned the whole thing ourselves. Our friend is making the cake, we have other mates running around like blue-arsed flies picking up vases, flowers, signs and stationery."
The pair met as a couple of cub reporters at 2GB. Varcoe proposed last April at the property where they'll be married. They purchased it two years ago and have spent the time since then renovating the 1890s sandstone cottage and getting to know farming life.
All eyes on Coachella
PS can remember when music festivals consisted of a steamy tent by a mud pool, but these days it's all about America's Coachella festival, although, to be frank, they just don't do festivals like they used to.
While Uncle James continues his treatment at a Boston mental health facility, Francesca Packer and her mother, Gretel Packer, were busy enjoying their VIP access to behind-the-scenes action at Coachella. No shots of Mum in the moshpit, and nor do we know if the pair ventured to Boston to check in on James, who PS understands has been having a "few good days" of late.
But what to make of the busload of "beauty bloggers" from Sydney who had their own rock star bus, complete with their own branding splashed across the side, who have been busy posting highly art-directed selfies in the name of eyeliner? One of them was famous for having a video on her to apply eyeliner "going viral". God help us.
Source: Read Full Article