The Times: Duchess Meghan should totally get a NuCalm sponsorship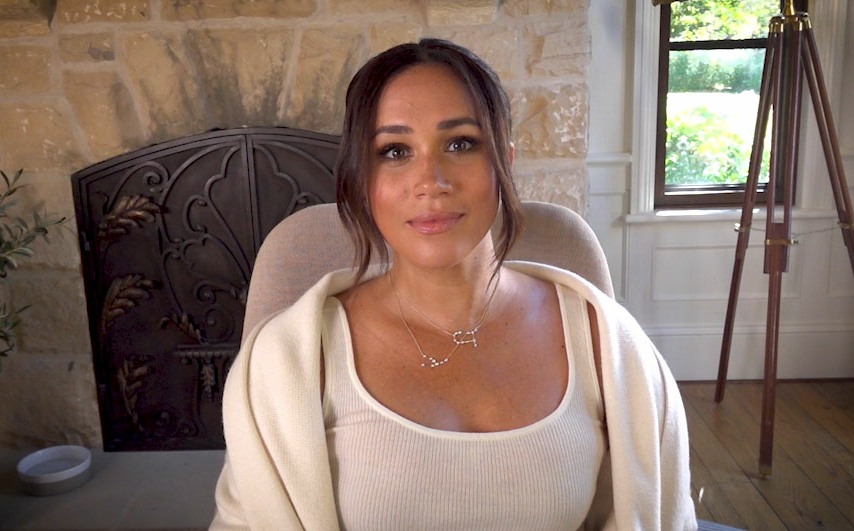 The Duchess of Sussex was photographed in Montecito last week, wearing a great outfit and a NuCalm patch/disc. Comments were split between wanting to talk about California weather and whether it's cold enough in Montecito to warrant a coat and shawl in August versus wanting to talk about this NuCalm disc. So, I honestly thought the disc was just, like, a sticker with some kind of pseudoscience literally and figuratively attached to it. I didn't realize it was a whole-ass APP and there are signals being sent to the disc from a person's phone. All of this and more was discussed in the Times of London, and they suggest that Meghan is soft-launching her a collaboration with NuCalm.
When the Duchess of Sussex stepped out last week wearing a $1,650 MaxMara coat, $1,380 Chanel goatskin slingback shoes and a $1,225 Hermès shawl, one element of her wardrobe appeared a comparative snip: her $4 NuCalm patch. Worn on her inner left wrist (three fingers' length from its edge and under no circumstances to be placed on the right, per the site's instructions), the blue disc promises to reduce stress using "neuroacoustics".

Connected to a smartphone app that, its creators claim, "effectively turns your mobile device into a remote control for your brain," the product's intention is to slow function from higher beta frequencies — or "brainwaves" associated with alertness and stress — to lower alpha waves. Users put headphones on and choose from one of the app's four programs: Edge, Peak, Sleepsuite or Core, which use music to "naturally guide your brain to different frequency states on demand" via "complex physics, mathematics, and algorithms built into a software that lies beneath music".

Its website says that it is clinically proven to create a "physiological state change in your brain and body"; tantamount not to a revolution, a gentle voice purrs in one video, but "an evolution in the way we take care of ourselves". Since patenting its technology in 2009, NuCalm has received attention from Gwyneth Paltrow's Goop website and the American uber-guru Tony Robbins's website, while the Chicago Blackhawks hockey team have used it to enhance performance.

NuCalm says that more than two million general anaesthetics that would have been given in the dentist's chair have been forgone in lieu of the app and a pair of headphones — although it appears to have been explored in only a small amount of published research. The patches — which can't be worn for longer than a day, or be re-used — cost $80 for 20, and app plans begin at $29.99 for the first month, then $59.99 thereafter.

]Perhaps the Sussexes'] next turn will be as ambassadors for wellness wearables, an industry due to be worth £98 billion by 2028. It certainly speaks to their Silicon Valley-style mental health-first priorities — not to mention the lucrative opportunities that might come with (assuming the duchess's outing this week wasn't already artfully staged #sponsoredcontent).

NuCalm isn't the Sussexes' first foray into this sort of thing; Meghan has invested in Clevr Blends, which sells mushroom-based coffee powders that pledge "mind-clearing" and "mood-lifting", while Prince Harry was spotted with an Oura ring on a royal tour of Australia in 2018. The device, which works as a sleep tracker-cum-stress-slasher, counts fans including (inevitably) Paltrow, Will Smith, Jennifer Aniston and Lance Armstrong. "Not since Sam carried Frodo on his back up that smoldering mountain has a ring caused so much commotion," wrote the US website Vox at the time of what is essentially a finger Fitbit. The ring costs from$299, plus at least $5.99 a month for its smartphone-connected plans. Think copper bracelets and magnets, but for the smartphone age.
[From The Times]
The Times also correctly points out that this can't be blamed on "California woo-woo" because the Windsors have always fussed around with alternative therapies and holistic medicine, especially King Charles. Charles probably has a NuCalm patch himself. While I'm a skeptic about NuCalm, I will say this – with issues like anxiety, whatever works for you is fine. So much of it is mental, so if this patch is a placebo which makes you feel better, go for it. If there's some actual science to it, even better. I also think it would be smart for Harry and Meghan to actual get paid by one of these companies – The Times is right, it's a HUGE industry and obviously, Meghan and Harry have shown that they can sell these products.
— Page Six (@PageSix) August 12, 2023
— NuCalm (@NuCalm) June 9, 2023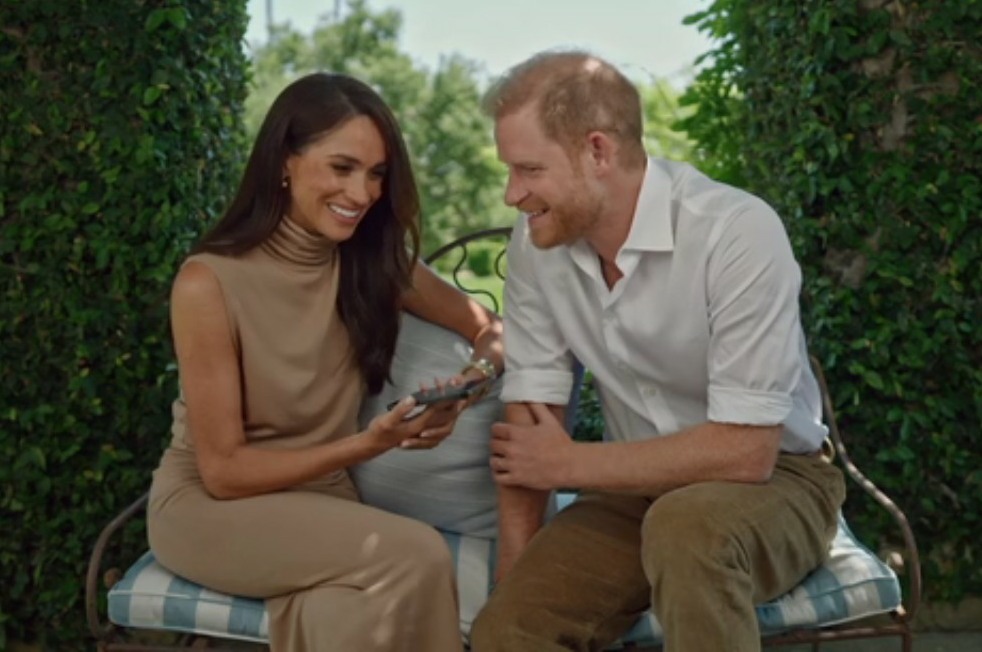 Photos courtesy of Archwell and Vimeo.
Source: Read Full Article