This Throwback Pic Of Prince William & Kate Middleton Is So Sweet & I'm Emotional
If you're anything like me, you've been waiting for Prince Harry to pop the big question to a lucky lady since the last royal wedding in 2011. And now it's finally happened, as Prince Harry's wedding to Meghan Markle is fast approaching on May 19, 2018. That wedding date is officially three weeks away — but in the meantime everyone can reminisce on this throwback royal wedding photo of Kate Middleton and Prince William to get excited about the big day.
If you're anything like me, you freaked out when Prince Harry and his bride-to-be announced their engagement in November 2017. I've been waiting for Harry to find the right girl to marry for the longest time, so when I learned that he chose Markle to be his partner for life (an American girl at that) I literally jumped for joy. I'm excited because I love weddings more than life itself, and British royal weddings are the crème de la crème of nuptial celebrations. I still own a copy of Princess Diana's wedding on VHS, so you know my love of royal weddings is real.
But while the world waits for Markle to walk down the aisle as she officially becomes a member of the British royal family, on April 29 Kensington Palace's official Twitter account decided to share this adorable throwback picture from the Duke and Duchess of Cambridge's wedding day on their seven year anniversary. And the picture is seriously getting me even more excited for Prince Harry to do the same with his future wife.
Can you believe it's been seven years since the world has seen a British royal wedding? I remember staying up all night and not sleeping at all out of sheer excitement for Prince William's wedding to his college sweetheart. William and Middleton met in 2001, and after a somewhat tumultuous relationship they finally tied the knot on April 29, 2011. It was truly a wedding for the ages. After they married they officially were given the title of the Duke and Duchess of Cambridge.
Since their vows, Kate and William have celebrated seven years as man and wife together and share three children — the latest of whom was just born a couple of days ago on April 23.
I was super excited when Middleton and William got married, but I'm even more excited to see Prince Harry do the same with Markle. Prince Harry was definitely my royal crush for as long as I can remember, and I still can't believe that he's getting married. Being graced with not one, but two extremely significant British royal weddings in just a few years just seems unfair. But I'm not gonna ask too many questions, and I'll just keep enjoying the ride.
Markle and Prince Harry announced their engagement and graced the world with their engagement photos in December 2017. Since then I've been highly anticipating their wedding, and I think I know almost every little detail about the big day that's been shared with the world since. And I'm convinced that Markle and Prince Harry have intercepted my dreams and used my ideal wedding plans to craft their own. They're using wild flowers for the ceremony, they've crafted their own official wedding beer for the reception, and they're probably the most important thing that's happening in 2018 — so basically, my own ideal wedding.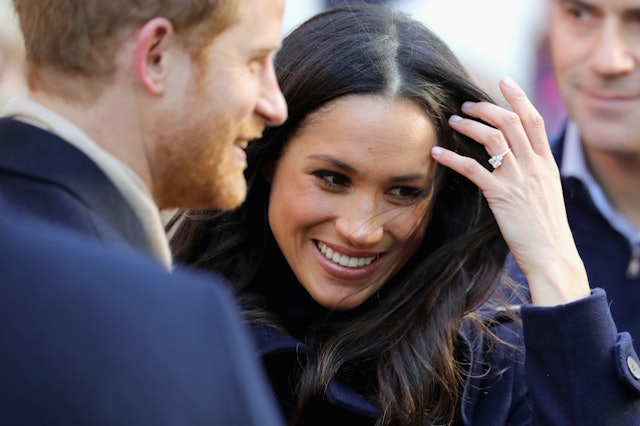 But while the world waits for the May 19 wedding date, Kensington Palace was nice enough to share this throwback picture from the last royal wedding to get everyone excited for the upcoming big day. I didn't think I could be more excited for Prince Harry's wedding, but this picture managed to exceed my excitement expectations. Consider me very hyped.
Source: Read Full Article