15 Expensive Purchases Fans Forgot Were Recently Made By WWE Stars
Maintaining a healthy lifestyle outside of the ring isn't the easiest for WWE Superstars. They chose a career which entails constant travelling – Superstars under contract with the WWE are lucky to be home two days a week given the grueling schedules. For that reason, life outside of the company isn't the easiest, especially when it comes to the everyday things us Average Joes get to do with our spare time.
However, Superstars of today manage to not only find the time to spend with loved ones, but also, drop some of their hard earned cash on the things they really like. As you'll see in this article, most of those things don't come cheap. From stunning vintage cars to beautiful homes, these are pricey purchases made most recently by members of McMahon's roster. Judging by these items, Vince isn't cheaping out on how much he gives his in-ring workers.
Those included on this list feature Baron Corbin, Triple & Stephanie, Corey Graves and The Viper Randy Orton. We'll also include a plethora of others and their expensive purchases that were recently made public. Enjoy the article folks and like always, be sure to share it with a friend. Without further ado, here are 15 expensive purchases you didn't know were recently made by WWE stars. Let's begin!
15

Braun Strowman – Toyota Supra

When @adamscherr99 wanted to stop by and see if he fit in one of our #Toyota #Supras we didn't know what to expect….. we're happy to say we were able to shoehorn this #TheMonsterAmongMen and Adam aka #WWE #BraunStrowman is now the proud owner of this #2JZ #MKIV #Supra, we have a feeling we'll be seeing it back soon for an equally #Monster power upgrade!

A post shared by Titan Motorsports (@titanmotorsports) on

You can bet that Braun Strowman has a couple of extra bucks these days… For years, the WWE has searched for a big man that they can market as a massive babyface star, enter the Monster Among Men Braun Strowman. He got recruited by the WWE through Strongman competitions, not only was the dude powerful but he oozed with charisma. As a member of the Wyatt family early on in his career, that charisma and persona was kept hidden, however fast forward to a feud with Roman Reigns and that all changed. He's now one of the top faces within the company and it showed during the recent PPV event in Saudi Arabia when he became the winner of the inaugural 50-man Royal Rumble.

In terms of his personal life, Strowman is as humble as they come. He's a genuine dude with the fans and he's also all about the family life. In terms of expensive purchases, one took place a couple of months ago.

Braun visited Titian Motorsports jokingly as he wanted to see if he could fit in a Toyota Supra. Not only did he fit, but he bought the car.

It must be hilarious to see Strowman come out of such a small car, though it does hold some serious power.
14

Corey Graves – 68 Mercury Cougar

Sitting in my new baby, parked in front of my baby's new baby. So many metaphorical babies. @basilroseboutique #68 #mercury #cougar

A post shared by Stay Down Inc. (@wwegraves) on

Life can be scary at times, just ask Corey Graves who seems to be working a job he was destined for. Graves was recruited by the WWE back in 2011. Interestingly enough, the company hired his brother by accident for a couple of months. It was a bittersweet moment for the color commentator as he earned his dream job, but his brother Sam Adonis, was out the door. His in-ring career was nothing special, though he was just starting to scratch the surface. Numerous concussion problems ended his in-ring stint, however Hunter wisely decided to put him at the commentary booth. The decision continues to pay off as many think of Corey as the top voice in the entire company. Out of the ring, he loves tattoos and old-school cars.

Less than a year ago, Graves unveiled his stunning new ride, a '68 Mercury Cougar. The ride looks to be in mint condition; it's a purchase that old-school car enthusiasts are likely salivating at.

It's not all about cars and tats outside of the ring for Corey though, he's also a proud father of three children, and has been married to Amy Schneider since 2009. Balancing three kids, and multiple commentating gigs on both Raw and SmackDown might not be the easiest for the 34 year old, but at least he's spoiling himself every now and then.
13

The Miz & Maryse – New Mansion
Although most of us laugh when we think about The Miz's Diva Search hosting duties (due to the fact that he had an epic botch when telling us which number we had to call in order to cast our votes), it was a significant moment for him personally, as he met his future wife Maryse for the first time. Fast forward to now and Miz has become one of the most respected faces in the entire company and he has his own reality show alongside his wife. Perhaps not even The Miz himself could have pictured such a fantastic future scenario. He's back on Tuesday nights with SmackDown Live, though he might be even busier out of the ring these days.
On March 27th, 2018, Miz and Maryse had their first child, a baby girl named Monroe Sky Mizanin. Ironically, that wasn't the biggest dent in their wallets…
Just prior to the birth of their child, the couple moved to the great state of Austin, Texas, purchasing a mammoth-sized home. They moved from the LA area and judging by the photos of their new mansion, the house likely didn't come cheap. We got a sneak peek at the residence; it looks more like a castle than a house…
12

Natalya – Buys New Home For Her Parents

My whole career … there was ONE thing I really wanted to do and I never lost sight of it. And today I got to do that for my parents. It's the best feeling … makes every tear, bruise, heartache, heartbreak, sleepless night …. SO worth it. Welcome home. (Plus… I owe my parents everything….) ??

A post shared by natbynature (@natbynature) on

When you think about the most respected performers on the entire WWE roster, Natalya is surely right up there. She has lots of experience, making her indie debut way back in 2007. Yes, she has been with the WWE for quite some time, however, here's a little known fact about Nattie: it also took some time to get there. While Nattie continued to turn heads in the ring, the WWE was still behind hiring Diva-like talents. Finally, in 2007, she was hired to the developmental brand. A decade later she continues on in the ring and remarkably, her performances continue to stay consistent, not to mention she looks even younger nowadays. You can expect big things from Nattie, with a possible future feud against Ronda Rousey. In terms of her personal life, things haven't been as smooth. Her father Jim Neidhart struggled with some personal demons following the end of his in-ring career. Not to mention the scare that took place with her husband, Tyson Kidd.

In true Nattie fashion, she fulfilled a life-long dream less than a year ago, purchasing her parents a home. It's a moment she'll never forget and one both her mom and her dad must be so grateful for.

In terms of expensive purchases on this list, it doesn't get any better than this one.
11

Baron Corbin – Buys Big Show & The Undertaker's Property
Oh, how things changed for Baron Corbin (looking at his life less than a decade ago)! He was trying to go pro with his football career. He was a member of the Colts and Cardinals, though he couldn't withstand a full-time gig in the league. Things changed for the better as the company opened up the Performance Center with the intent on turning athletes into WWE Superstars. Corbin has become the poster boy for that mentality, he's now an upper-card player with the Raw show and Vince continues to push him like a big deal. Without a doubt, he'll be WWE Champion one day, whether we like it or not. As you'll see in this article, he's also making a lot of money these days, with two expensive purchases (the other you'll see a little later in the article).
This purchase is certainly unique as Corbin revealed during Talk Is Jericho that he bought the home of Big Show which was also formerly owned by The Deadman, The Undertaker.
Corbin raved about the home claiming it was built for the needs of a big man. The stunning property also has a breathtaking view in the backyard of a beautiful body of water. The Lone Wolf's life isn't too shabby outside of the ring…
10

AJ Styles – Xbox One X

Time to get this bad boy up and running. #XboxOneX

A post shared by AJ Styles (@ajstylesp1) on

He started his wrestling career way back in 1998. He made a quick pit-stop with the WWE but he served as nothing more than an enhancement talent purpose. Wisely, Styles decided to earn his stripes outside of the WWE and his stock grew with TNA Wrestling. However, a massive career move saw AJ opt to leave the company and join New Japan; his work reached its peak at the time becoming the heel leader of The Bullet Club. He caught the WWE's attention while overseas and in 2016, he shocked all of us entering the Royal Rumble. The current WWE Champion, AJ continues on as the top performer in the entire company.

He might be just as "phenomenal" outside of the ring. AJ's a proud family man as the father of four children. He's also been married to the same woman his entire professional wrestling career, Wendy Jones. The two are high school sweethearts and have only been with one another. Along with the family life, AJ's a big-time gamer. Some of you have likely seen images of Styles playing his portable Xbox.

He also loves to play while backstage with the likes of The New Day. Styles recently upped his video game love, purchasing the Xbox One X.

He made the claim that he doesn't like to share any devices with his children so instead, he buys them a separate console.
9

Zack Ryder – Rare Unreleased Hasbro Body Slam Collectibles

I am addicted to wrestling figures! I just received these UNRELEASED Hasbro Body Slam Wrestlers! These were supposed to be released in 1992. Hasbro purchased Tonka and gained the designs of the Wrestling Buddies line. That's why these look so similar to them. Special body slam feature provides instant rebound for these 7 1/2 inch high figures!

A post shared by ZACK RYDER (@zryder85) on

One of the most under-utilized wrestlers in the WWE has to be Zack Ryder. The guy literally went from being a nobody to the crowd chanting his name despite the fact that he wasn't even on the card. That was due to Ryder and Ryder alone as he made a name for himself on social media thanks to his Z! Series on YouTube. With the company since 2005, we appreciate the longevity, however most would agree that he deserves more than just being known as a forgotten member of a lackluster tag team alongside former partner Mojo Rawley. We hope that once he recovers from his current injury, he'll return with a significant program or at the very least, a revamped persona.

With the company for over a decade, he must have at least saved up a significant amount of coin. One of his favorite hobbies outside of the ring is purchasing old school pro wrestling collectibles. He's shown off some of his greatest purchases, one of which you see in the photo above. Ryder received unreleased Hasbro wrestlers that never went public. They were supposed to go public way back in 1992.

One can only imagine how much the items can be sold for nowadays. Other wrestling figure enthusiast Curt Hawkins, must be envious of his friend's purchase.
Featured Today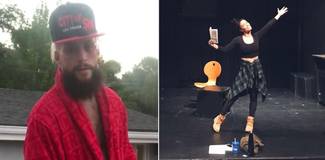 8 Recently Released WWE Stars That Are Thriving (And 8 That Aren't)

10 Wresters Who've Made Multiple Enemies Backstage (And 10 Who Everyone Loves)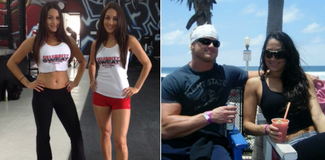 15 Photos Of Nikki Bella (Before She Started Dating John Cena)

8

Randy Orton – Patriotic Wall Safe
Father Bob Orton, wanted no part in his son joining the business due to the rigorous life wrestlers had to endure back in the day. Instead, he was pushed towards military school. Randy was kicked out and before he knew it, he was a man without a plan. Randy kept consistent that he wanted to become a pro wrestler and eventually, his father granted him that wish. It's a decision that surely was the correct one looking at Orton's WWE journey. With the company since 2001, the 38 year old is still going strong and he's arguably still one of the best talents in the entire company.
Out of the ring, things seem to be even better for The Viper. Following his divorce to Samantha Speno, Randy found love again with his new wife Kimberly Kessler. Orton has completely changed, he's now as humble as ever and a tremendous father to his step-children and beautiful baby girl, Brooklyn Rose Orton.
In terms of expensive purchases, the days of buying fast cars seem to be in the past. Instead, he loves to spoil his family. He also made an interesting purchase just a month ago, showing off his new patriotic wall safe.
Orton gave props to the company which means he likely got a hefty discount; one would assume it's an expensive piece.
7

Kevin Owens – Trip To The Disney's Art Of Animation Resort

? Art of Animation ? If you have kids (or are a kid at heart) stay here. Such a great themed resort!! That last pic though ??

A post shared by Karina Leila (@karinaleilasteen) on

Wrestling is all that KO knows. He began as a 16 year old wrestling in smaller local promotions in the Montreal area; Kevin was also pumping gas at the time to pay the bills. His career really took off once he left the local scene, taking his talent to the US and overseas. He had tremendous skills and that was obvious. However, the one thing holding him back was his look, KO does not appear to have the image of a prototypical WWE guy. Thanks to Triple H, however, he was given the chance to shine though Hunter didn't guarantee anything, not even a promotion to the main roster. Leave it to Kevin to win the NXT Title and within months, start a main roster feud with John Cena.

Out of the ring, the 33 year old is nothing like his gimmick. He's a candidate for 'father of the year', in truth. He loves to spoil his children and lovely wife Karina Elias, taking them on numerous trips. The most recent one was at the Disney Art Of Animation Studio.

His wife posted about the experience via her Instagram account and the family had a tremendous time. Of course, such an experience didn't come cheap, Kevin's come a long way since his gas attendant days…
6

Ronda Rousey – New Dog (Chunk Browne)

#Ballgrin is Chunk's favorite too

A post shared by rondarousey (@rondarousey) on

In 2018, you can argue Ronda Rousey became the biggest signing in modern day WWE history. Her debut generated so much buzz and she did not disappoint one bit. Ronda put on the top match of the night at WrestleMania 34, teaming up with Kurt Angle to take on Stephanie McMahon and Triple H. Many are calling her in-ring debut the greatest of all-time… now that's some heavy praise. She joined the company out of a love for the sports and entertainment form, Rousey didn't do it for the money. With a net worth of $12 million, Rousey has a safe amount of cash saved up, not to mention she could have easily worked another film or a UFC bout instead.

In terms of her personal life, the 31 year old resides out of Venice, California, which isn't the quietest area especially with lots of paparazzi around. However, she likes the private life and just relaxing inside of her house. A recent purchase that made total sense saw her purchase a new family pet, a cute dog she named Chunk Browne. Rousey showed off her new pet via Instagram posting a photo of Chunk alongside her favorite collectible she kept since her childhood days, a toy of her favorite wrestler Hulk Hogan.
5

Seth Rollins – Expanding His Company Black & Brave

With so many very cool and exciting things coming up this summer, I wanted to use this picture to kickstart @blackandbravewrestling week here on my social media. The photo is an awesome reminder that as we get ready to kick off on @vanswarpedtour today in Seattle, no one gets where they're going without help. Huge thanks to everyone who has believed in this brand from the start. Special thanks to @mbrave13, @bobbyschubenski and @wwe for always having my back. We're just getting started. #bxbweek

A post shared by Seth Rollins (@wwerollins) on

It's pretty surprising that Seth's still only 31. Since his days as Tyler Black, it was obvious that he was going to become a massive star in the wrestling industry one day. WrestleMania 31 was his greatest moment cashing in his MITB contract. The company was later forced into turning Rollins as a face due to the great reactions he kept getting. He's currently serving as the IC Champion and arguably, the most beloved member of the Raw roster.

Out of the ring, Seth likes to keep things quiet. Unlike his fellow peers that either reside out of the California or Florida areas, Seth still lives back home in Davenport, Iowa. He still maintains childhood friendships and he sees his family more often than most wrestlers, that's the benefit of living where you grew up.

In terms of expensive purchases, Rollins put his cash to good use expanding his Black and Brave company.

He started the wrestling school back in 2014 alongside good friend Marek Brave. The Black & The Brave Wrestling academy is located in Moline, Illinois. The duo is expanding the company as it's not just a wrestling school but a brand as well. You can buy lots of merchandise as Seth and his partner expanded the brand to clothing.
4

Shane McMahon – Customized Jordan Shoes

Thank you @jumpman23 for continuing to let me #TakeFlight #AJXXXI #TeamJordan #SurvivorSeries

A post shared by Shane McMahon (@shanemcmahonwwe) on

With Stephanie and Triple H taking the reins behind the scenes, Shane McMahon shocked wrestling fans by leaving the company in early January of 2010. Shane went off on his own separating himself from the WWE. He would invest his time and money into a company overseas, an on-demand company called You on Demand. Shane would eventually pull out of the company and in 2016, he surprised the WWE Universe with a return, it was the first time in almost seven years that we saw Shane-O in a WWE ring. What a moment it was as the Detroit crowd couldn't stop cheering for the forgotten McMahon family member. More than two years later, he remains with the company as a prominent figure over on SmackDown Live. His duties haven't been relegated to out-of-the-ring duties, as we've seen him lace the kicks on more than a couple of occasions.

Given that his Jordan sneakers are customized, one can assume that the shoes don't come cheap.

And oh, he's got a new pair for every match… no, he isn't recycling the same one's over and over again. The expensive shoes you see above were featured at the Survivor Series event in 2016. He also wore a wicked customized pair during the recent Hell in a Cell PPV.
3

Baron Corbin – Lincoln Continental

Me and the old man "Charlie" #64 #LincolnContinental . . . #vintagecar #vintagecars #classiccars #classiccar #airride #airide #airrider #baroncorbin #wwelive #airridesuspension #suicidedoor #suicidedoors #suicidedoorlincoln #baggedlife #baggedcars #suicideslabs #lowlifestyle #lowandslow #64lincoln #liarsclub

A post shared by Baron Corbin (@baroncorbinwwe) on

We promised more Baron Corbin and here it is. Corbin recently posted a photo alongside his fantastic ride, a '64 Lincoln Continental, a car similar looking to Corey's new purchase earlier in the article. Judging by the things Corbin and Graves like outside of the ring, it shouldn't shock anyone as to why the two are such close buddies. The two even posted photos together with their steamy partners from the WWE Hall Of Fame.

Out of the ring, Corbin lives a quiet life, similar to his Lone Wolf character on-screen. A little known fact: Corbin's also happily married to his beautiful wife Rochelle Pestock. They're now residing out of the beautiful Florida residence we made mention of earlier in the article – life isn't too shabby for the Superstar outside of the squared circle.

At the age of 33, Corbin continues on and you can expect some big things out of the Lone Wolf. He eliminated Rey Mysterio during the Saudi Arabia event; is WWE perhaps signalling a feature story between the two? Another rumored scenario has Corbin working a program with Roman Reigns. However, for the time being, he'll be helping to elevate another NXT alum, the newest member of Raw No Way Jose.
2

Stephanie McMahon & Triple H – New Family Pet

Meet the newest member of the family, our baby girl #mastiff Attila! #GirlPower!

A post shared by Stephanie McMahon (@stephaniemcmahon) on

Given the roles of Stephanie McMahon and Triple H, you can bet they're making some decent money. The two are not only involved on-screen, but they play a huge role in shaping the company's future behind the scenes. Stephanie serves as the Brand Ambassador while Triple H continues to anchor the future down in NXT. Given their work in recent years, the company will be in good hands for years to come.

As if those duties weren't enough, both spend lots of time at the WWE HQ as well. The headquarters are just a 20 minute drive from their stunning residence. The couple lives in a gated community (we tend to forget but they're also juggling three daughters at the same time).

As if that wasn't hard enough, they recently added to the family with a new pet, a mastiff named Attila.

Stephanie posted a picture of the beautiful hound and although he looks small, he's going to grow up to be a beast. They have their hands full out of the ring with two dogs nowadays. And oh, they also find the time to work out inside of their home gym despite their insane schedules. If this power couple doesn't motivate you, we're not sure anything will.
1

Alexa Bliss – Body Enhancement

?

A post shared by Lexi Kaufman (@alexa_bliss_wwe_) on

At the age of 26, surely Bliss could not have anticipated such a resume this early on in her career. She became the first ever title holder of both Women's Titles on Raw and SmackDown. She's come a long way since her NXT debut; who can forget that awful Fairy Tale gimmick she was given early on? Bliss really broke out with a heel demeanor serving as the manager of Blake & Murphy. She was the star of the group, though she really blossomed on her own once she made the jump to the main roster and joined SmackDown Live.

In her personal life, Bliss is the exact opposite of the character we see on television. She's shy and loves to live the quiet life, whether it's taking sun in the backyard, watching Netflix or even spending some quality time with her pet pig.

She hasn't wrestled since WrestleMania 34 when she was defeated by Nia Jax. She's set for a rematch at Backlash. However, fans are wondering why we haven't seen the Goddess. Well, it has now been revealed that the reason is due to a recent body enhancement procedure. Until her match at the PPV, she'll likely only be taking part in backstage segments and doing some promo work.

Source: Read Full Article