25 (Once Untouchable) NBA Players That No One Talks About Anymore
The NBA is the greatest sports league in the world and right now it is better than it has ever been. These facts has been proven time and time again. Seriously, go find a scientist and ask them. There have been peaks and valleys during the leagues history, not unlike a basketball game itself. There are times where nothing could be more exciting, and there are time where it seems like everyone is dogging it. The not so great times are still good though, because hey, at the end of the day it's still basketball.
The 2000s were an odd time for the NBA. They great and terrible. It was the post Jordan era, and LeBron had not yet taken over as the unquestioned lord of basketball quite yet. There were numerous contenders to the throne. The game itself was going through a drastic change as well. The 90s had been personified by the hardscrabble New York Knicks and Miami Heat teams. Guys that would just grind it out and punish anyone that dared to drive into the paint. Final scores were regularly in the 80s and low 90s, rarely breaking the 100 point barrier. The league changed the rules and the high scoring, free wheeling and driving, volume shooting style of the 2000s were born! The game has changed yet again, and that style barely has a place in the modern NBA. Some of the top stars of the 2000s have been forgotten as the game became what it is. How many do you remember?
25

Gilbert Arenas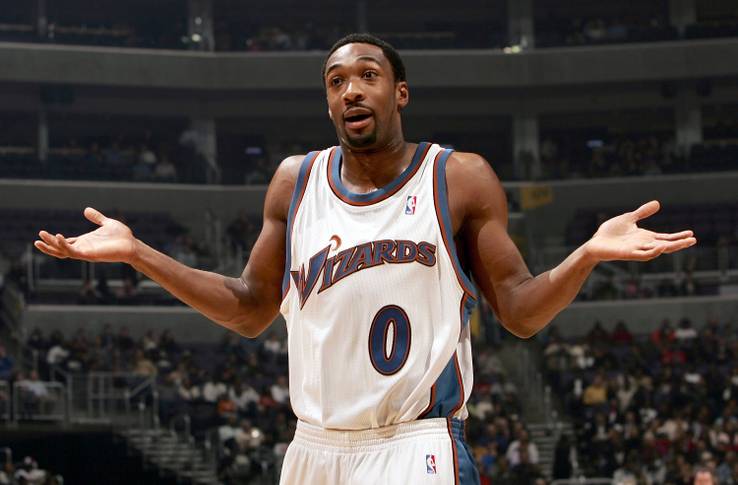 Agent Zero. The Hibachi. Gibby. The one and only, Gilbert Arenas. In addition to having his nickname game on point, Arenas was one of those NBA stars that could not only score in droves but also make you smile even if he was torching your team. Arenas seemingly came out of nowhere, he was drafted in the second round, 31st overall.
Arenas came out firing. He became a fan favorite in Washington. He was a three time All Star, a three time member of an All NBA Team, and he was awarded the NBA Most Improved Player trophy in the 2002–03 season. His career was derailed slightly in 2009, due to a little locker room incident. Arenas bounced around the league a bit afterwards and was a solid contributor. But he never again achieved that sizzle of the Hibachi.
24

Steve Francis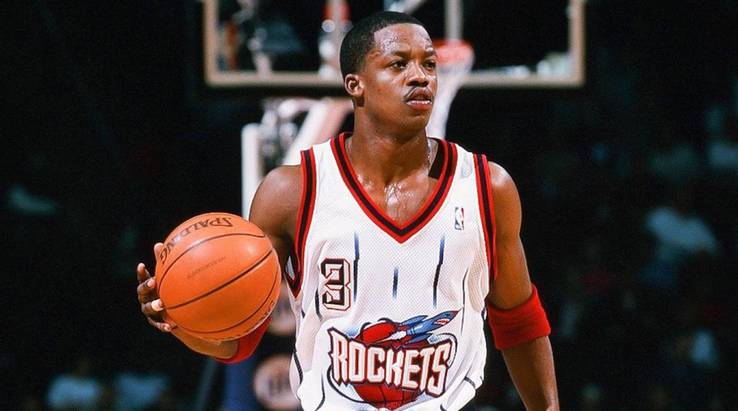 Don't you ever forget about Stevie Franchise! It seems so hard to believe in retrospect, when you know how his NBA career ends and see how his star faded.
Stevie Franchise was selected in the number two spot in the 1999 NBA draft by the Vancouver Grizzlies.
If you are having a hard time remembering Francis in a Grizzlies jersey, don't worry you probably don't have dementia, he forced a trade before the season began and went to the Houston Rockets. The reasons Francis gave for not wanting to play in Vancouver were that it was too far from his Maryland home, taxes, endorsements, and God's will. You can't really argue with that, I guess. While in Houston, Stevie Franchise was paired with Yao Ming, and found his soulmate in Cuttino Mobley. Eventually, Houston flipped him to Orlando for Tracy McGrady.
23

Jerry Stackhouse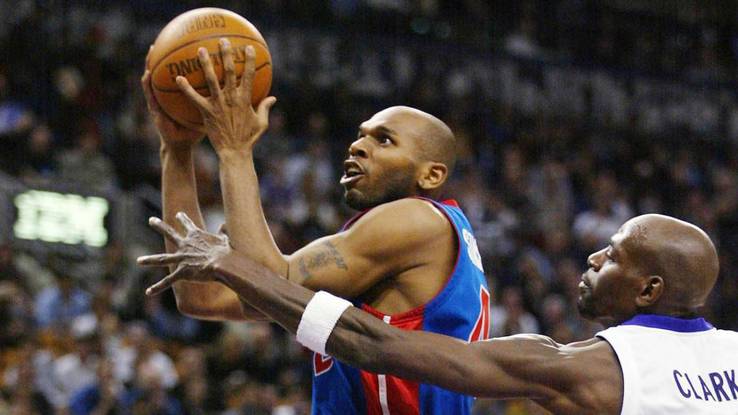 Jerry "Stacks on Stacks on Stacks" Stackhouse has been successful at every level of basketball he's ever been a part of. This is the dude labelled "Baby Jordan" back in his college days and he actually lived to tell about it. That's what happens when you're a 6'6″ shooting guard out of UNC.
For most, getting bestowed the title of Air apparent is to heavy a burden to shoulder. But not Stack. He came up in the days of the volume shooters, so that's what he did.
If he was hot and having a good shooting game, he shot his shot. If he was cold and not having a good shooting game, he shot twice as much so he could find his rhythm.  Stack entered the league with the 76ers, but it wasn't until he went to Detroit in 1999 that he developed into the star he was destined to be.
22

Latrell Sprewell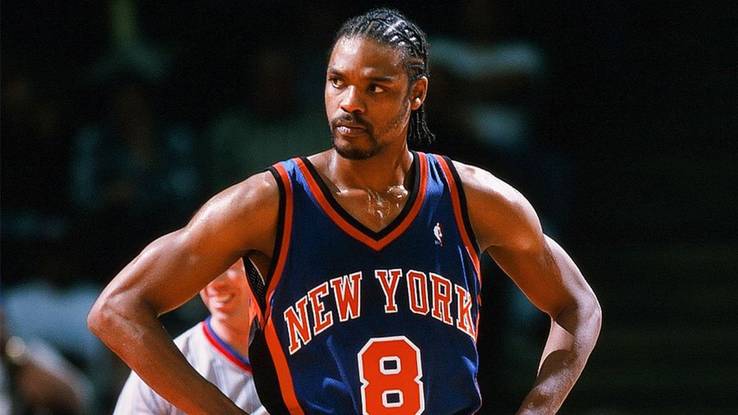 Latrell Sprewell was a legitimate freaking superstar in the NBA and does not deserve half the hate that gets thrown his way. Yes okay, so he attacked his head coach during a practice. Actually, you know what? That's pretty terrible. Maybe he does have some of that hate coming. But the incident and that silly quote about needing to make enough money on his next contract to feed his family constantly overshadow just how brilliant this guy was on the hardwood.
Spree was a four time All Star and he led an 8th seeded Knicks team with Allan Houston and the reanimated corpse of Patrick Ewing to the NBA Finals. When Sprewell got traded to the Minnesota Timberwolves, he formed one of the highest scoring and most fun to watch trios in NBA history. It was pure joy watching Kevin Garnett, Sam Cassel, and Latrell Sprewell take the court together on those teams.
21

Damon Stoudamire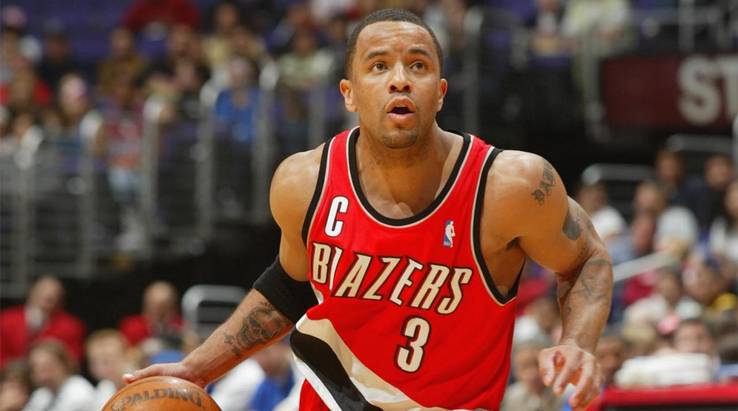 How could you not love a dude whose nickname in Mighty Mouse? Damon Stoudamire takes his nickname to heart, and has the cartoon rodent tattooed on his arm. It is overwhelmingly appropriate as well, Stoudamire measures in at only 5 foot 10 inches, but he is one of the fiercest competitors to ever lace up a pair of high tops.
Coming out of Arizona,  Stoudamire was drafted by the Toronto Raptors where he was the 1995-96 NBA Rookie Of The Year.
Eventually,  Stoudamire made his way to the Portland Trailblazer where he came of the bench behind guards Scottie Pippen and Bonzi Wells. The dude fought his way to the starting lineup and became one of the faces of the infamous Jailblazers teams. Stoudamire and the rest of the team may have had a bad rep off the court, but on it he was balling. In 2005 he reached his career high with 54 points.
20

Corey Maggette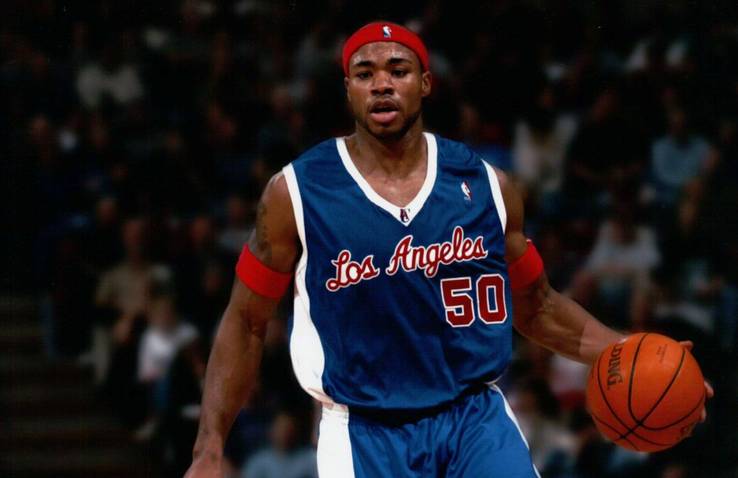 Corey Maggette was the Los Angeles Clippers superstar player back when they where considered the joke of the league. Actually, I guess that can describe the Clippers at any point in their history other than the last 5 years or so. Maggette had a solid mid range jump shot back when that was a shot players actually took on the regular, and had a unique gift of being able to drive and create contact, allowing him frequent trips to the free throw line.
In 2006 Maggette was instrumental in doing the impossible and helped the Clippers get their first playoff win in 13 years. Yes, the franchise was that bad. Maggette ended up swapping teams several times after the Clips. He provided veteran leadership off the bench to those super fun late 2000s Golden State teams. After playing in 2013 for the Pistons, Maggette retired and ended his 14 year NBA career.
19

Wally Szczerbiak
Wally Szczerbiak was one of the all time greats in Minnesota Timberwolves history, a great college athlete, as well as a very handsome man.  The 6 foot 7 inch wing player was born in Madrid, Spain. His dad played on a Spanish league team and had also spent some time in the now defunct ABA.
Wally was picked 6th overall in the 1999 NBA Draft and immediately made an impact. Wally scored 44 in a game in 2003 which was the franchise record in points for a time.
That record was eventually beaten multiple times because, I mean come on, it's 44 points. Like, it's impressive but Corey Brewer has done it. Corey freaking Brewer. Wally bounced around the league and finally was able to accept a role coming off of the bench, extending his career. He finished his career in 2009 playing for the Cleveland Cavaliers alongside LeBron James.
Featured Today
20 WWE Stars Who Look Unrecognizable Without Makeup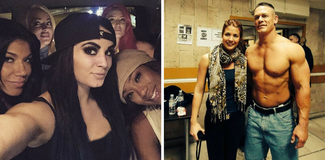 10 Rules WWE Divas Have To Follow (And 10 Only For Male Wrestlers)

8 Real-Life WWE Breakups Nobody Expected (And 7 We Did)

18

Stephon Marbury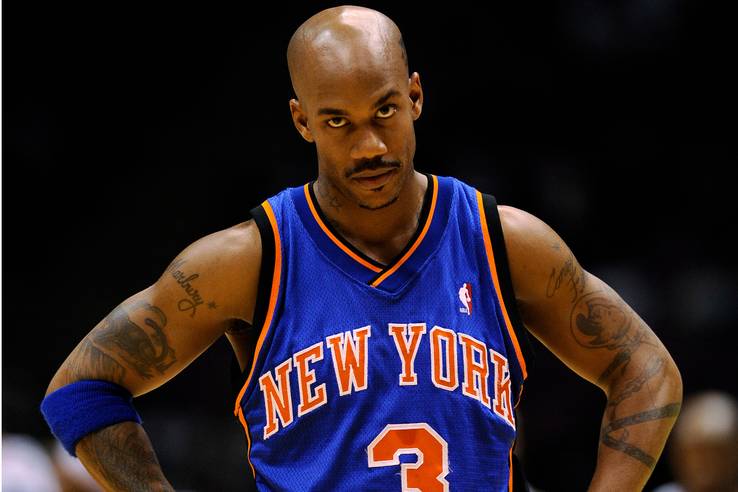 Stephon Marbury, or Starbury as he is also called, is the NBA's riddle wrapped in an enigma. The dude was a true, legitimate NBA superstar for a decade. He had plenty of knocks against him and he rubbed some people the wrong way, but he never tried to hide who he was. You always knew exactly what you were going to get with Starbury. And that was lots and lots of shots.
It was great when that meant lots and lots of buckets, but that was not always the case. The guy really cared about his fans, too. He went out of his way to design and release his own brand of sneakers, The Starbury, with the most important thing being that they stay affordable while maintaining style. He was a two time All Star. And when the NBA didn't want him with a big role on a big team, he went to China and won three championships in the Chinese Basketball Association.
17

Jermaine O'Neal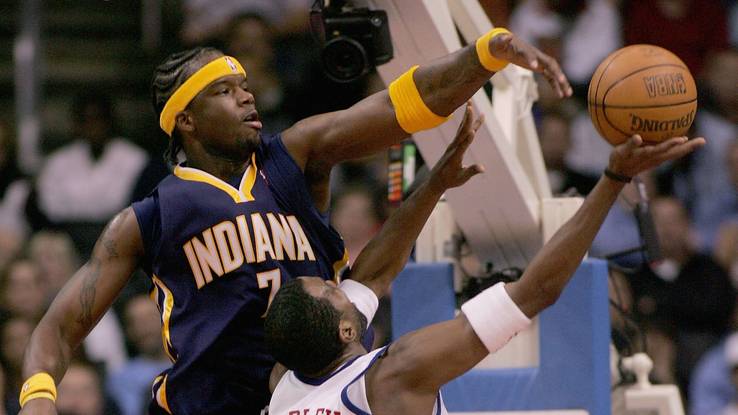 Jermaine O'Neal gets a bad rap for his career and it is not earned. This dude is a border line hall of famer. He also happened to be in the wrong place at the wrong time several notable times. Well I guess if that happens enough, you may be a part of it. But the guy is still a great ball player.
He was one of the last dudes to jump from high school straight to the pros before the NBA instituted the one and done rule.
Unfortunately for him, he came into a Blazers team that was destined to be coined the Jailblazers due to their extracurricular exploits. On the other hand, the young big man had Arvydas Sabonis, Rasheed Wallace and Clifford Robinson on hand to learn from. He went to the Pacers where he excelled. Unfortunately, he was there for the malice in the palace. That kind of reputation is hard to outrun.
16

Peja Stojakovic
Peja Stojaković was a man well ahead of his time in the NBA. This dude was a 6 foot 10 inch, 3 point shooting machine. Can you imagine that guy spreading the floor at the four or five in today's NBA. Peja is of Serbian descent and was the first European born player to win the 3 point shoot out at the NBA All Star Weekend. You know, reading that last sentence back, it sounds a lot less impressive than I thought. This guy was 10th all time in the NBA for 3 pointers at the time of his retirement.
Long story short, the dude could really shoot. Stojaković was a key part of those amazingly fun to watch Sacramento Kings teams from the 2000s that were one crooked referee from becoming an NBA dynasty. He is now serving some time in the Kings front office. Oh man, poor guy.
15

Antoine Walker
There is an ancient basketball legend that involves Celtic (not that) great Antoine Walker. The legend goes as follows.
Once upon a time, Antoine Walker was asked why he took so many 3 pointers. He smiled and replied simply, "Because there are no fours". That just about sums this guy up.
He was one of the greatest 3 point shot attempters of all time. Unfortunately he was not that good at making them. But that confidence and that completely unearned swagger made Antoine Walker a legendary cult hero among the NBA's most dedicated fans. He entered the league as a Boston Celtic and after a few years became a bit of a journeyman. He wound up on the Miami Heat's bench and won an NBA title behind the efforts of D-Wade and Shaq. That was all that he needed. In his mind, that must have validated all of those past missed threes.
14

Baron Davis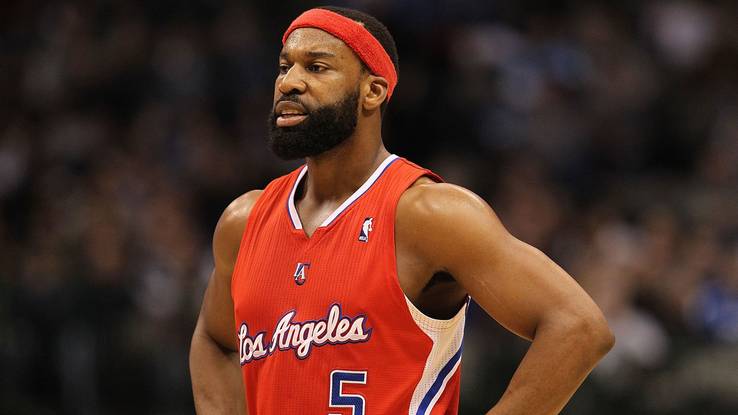 Baron Davis was drafted third overall in the 1999 NBA Draft by the Hornets. He bounced around the league a little and played for several teams, but nothing exemplifies the fun and joyous abandon that this guy runs around the court with during his time put in with the Golden State Warriors.
Davis was with Golden Sate from 2005 until 2009, putting him right there in the heart of those easy to love "We Believe" Warriors teams.
That's right, the Warriors weren't always so hate-able. Davis was the point guard for that team that entered the playoffs as the eighth seed and eliminated the 67th win, number one seed Dallas Mavericks. Davis is a two time All Star and the all time NBA leader in steals per game average for the playoffs. After Golden State, he bounced to the Clips and the Knicks. In retirement, he is a real interesting cat as well. He's been spotted on several dates with Laura Dern.
13

Michael Finley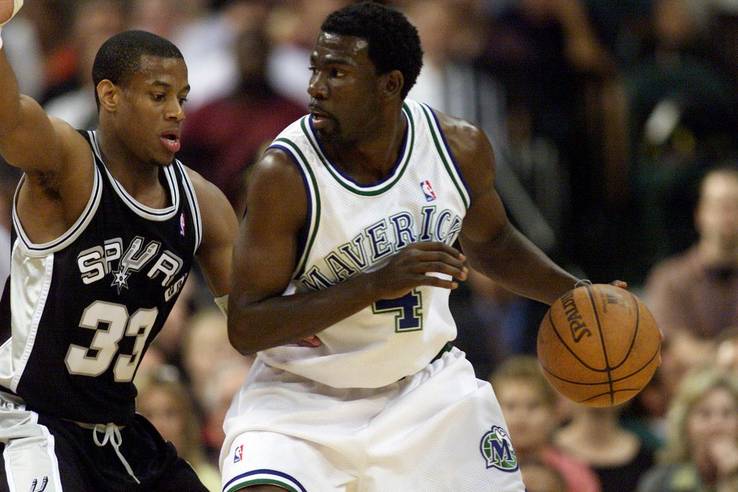 Michael Finley is a 15 year NBA veteran. The dude was drafted by the Sun, and then went over to the Dallas Mavericks where he was basically the entire franchise until that Dirk guy eventually showed that he was a first option and a sure fire hall of fame candidate. He was a two time NBA All Star selection and a scoring monster. Seriously, this guy was an offensive machine and he could play the heck out of some defence.
In his very first season with the Mavs, he led the team in both assists and steals.  Finely, Steve Nash, and the Dirkster formed a formidable run and gun offense that gave the Mavs an identity for once. Dallas cut Finely for salary reasons and he accepted a hugely reduced role with the San Antonio Spurs. Finley stepped up and was a great fit in the Spurs system and finally earned himself that elusive championship ring.
12

Jason Williams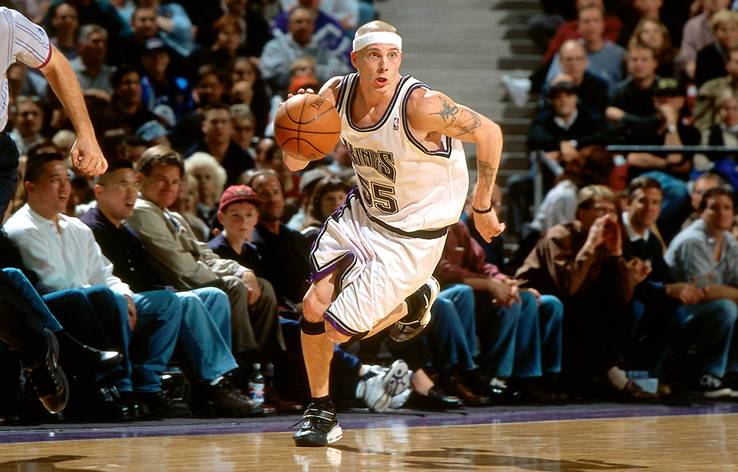 Jason Williams was given the nickname "White Chocolate" because of his flashy style of play and because the people around him are terrible at coming up with nicknames. The guy was drafted by the Sacramento Kings and was immediately one of the NBA's most popular stars.
In his first season, his King's number 55 jersey was among the top five selling jerseys in the NBA.
That Kings roster featured him, Peja Stojaković, Vlade Divac, and Chris Webber, not only a diverse crew but a supremely talented one. That Kings roster went deep into the playoffs several years in a row and developed an entertaining cross state rivalry with those dastardly Los Angeles Lakers. Williams bounced from the Kings to the Memphis Grizzlies, and finally wound up on the Miami Heat where he won a title. Williams amassed a fare amount of fines over his career for yelling at refs and fans as well as several drug offense.
11

Yao Ming
Yao Ming was drafted number one in the 2002 NBA Draft by the Houston Rockets, opening up the NBA to China, bringing in hundreds of millions of new basketball fans, and boosting the Houston Rockets monetary value into billion dollar range.
To put it mildly, Yao Ming had the largest impact on the international game of basketball in the last few decades. And what gets forgotten in a lot of this, is that the dude was pretty great.
It took him a few seasons to find his groove, and sadly, injuries robbed us of seeing what he was truly capable of, but Yao Ming was good for right around 20 points and 10 rebounds per game most of his NBA career. He was selected to an All NBA team five times and was an eight time NBA All Star, one time being the only player from outside of the United States to lead the All Star voting.
10

Michael Redd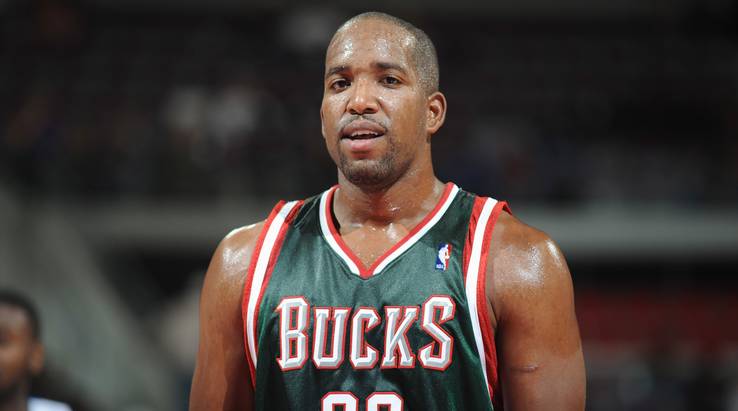 Michael Redd is one of those real crazy cool NBA stories. He was drafted 43rd overall and not expected to do much, if anything at all. Playing for the Milwaukee Bucks, he was behind the incomparable Ray Allen on the depth chart. That is guaranteed to not net a young player a lot of playing time. But Redd was a hard worker and a nose to the grindstone kind of guy and made the most out of every minute he was able to take the floor.
Once Ray Allen was traded, Redd had the opportunity to show the world his stuff, or as much of the world that tuned into Milwaukee Bucks games, and had a breakout year.
In the 2003–04 season after several years in the league, Redd averaged 21.7 points per game and was voted to his first and only NBA All Star game. In 2007 he upped that average to 26.7 but an injury to both his ACL and MCL cut his career a little short.
9

Eddie Jones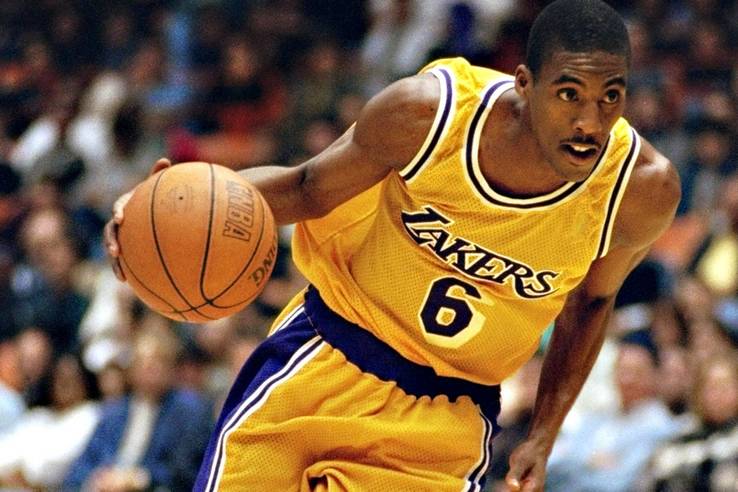 Eddie Jones ended up finishing his 14 year playing career as one of the most popular and beloved non mega stars to ever play for the purple and gold. But it was not always that way. Those same fans that ended up loving the dude gave the Lakeshow many complaints when they used the 10th pick of the 1994 NBA Draft on this unproven wing. This was to squeeze into their already crowded backcourt when they were desperate need of some bigs.
Jones was a connection from the Nick Van Exel Lakers to the Shaq attack squad. He served as a mentor to a young Kobe Bryant. Jones averaged right around 15 points per game and was an All Star selection three times in his career. Getting to an All Star game while averaging 15 points per game is something that only happens to Lakers. In the year 2000, he led the NBA in steals. Cool.
8

Allan Houston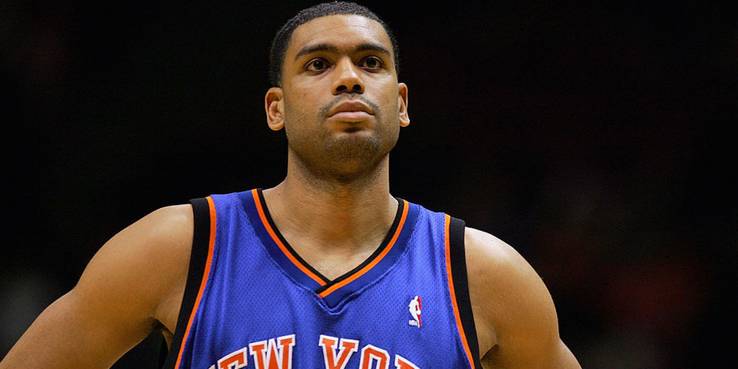 Poor Allan Houston. Poor dude never really ever had a chance. After all, John Starks served as his mentor on the Knicks. Houston was picked at the number 11 spot in the 1993 NBA draft by the Detroit Pistons. When his rookie contract was up, he went over to New York City for one of those ridiculously high contracts that the Knicks have been historically fond of throwing at unproven talent for some weird Knicks reason.
This time, the risk paid off, and Houston was part of a core that lead the eighth seeded Knicks to an unlikely finals appearance before ultimately falling to the dynasty in the making San Antonio Spurs.  Allan Houston was a two time All Star and also won a gold medal with the US men's basketball team at the 2000 Sydney Olympics.
7

Bonzi Wells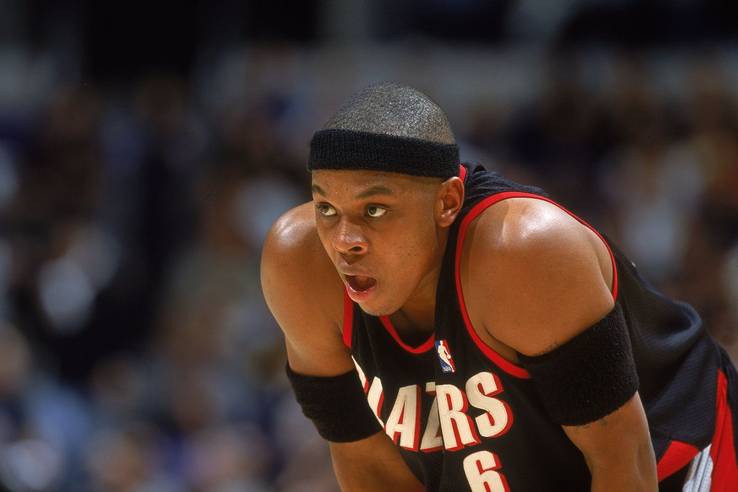 Oh sweet! It's another one of the bad boy Portland Jailblazers crew! For as much smack as people sling their way, they really were a fun team to see go out and compete. And when the unsavoury Jailblazer shenanigans start getting talked about, Bonzi Wells is usually right there in the middle of most every one of the stories. Forget that stuff for a minute though.
This guy was a junkyard dog on the court and fought hard every night. Except for the plays he took off of course. He was never an All Star. And he never made any All NBA team.
But he was fun to watch. Especially when he was picking up fines for publicly cursing out his coach during a game. Or making some obscene gestures towards some fans after a game. That one cost him $10,000, but I'm sure it was worth it in the long run.
6

Elton Brand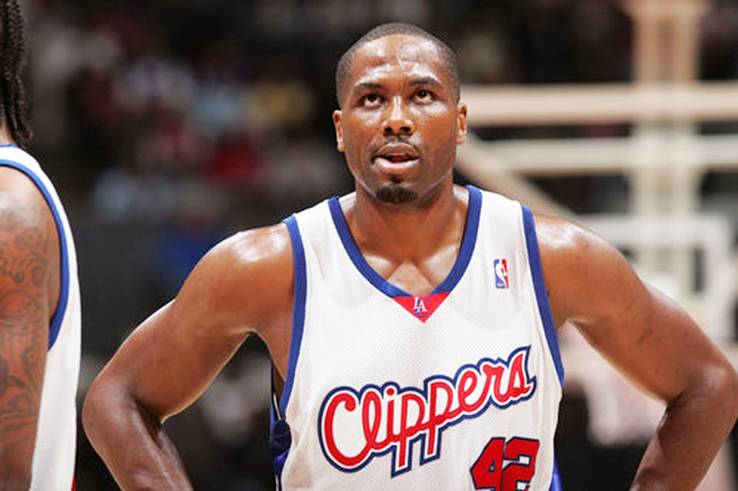 Elton "The Brand" Brand burst onto the NBA scene in 1999. I gave him that nickname by the way. I think it's pretty cool. Brand was drafted by the Chicago Bulls during their post Jordan funk, out of the hated Duke University. He shared that season's Rookie Of The Year award with Steve Francis of the Houston Rockets. Brand got traded to the Clippers and in 2002 became the first Clipper to make the All Star Game since Danny Manning in 1994. Yeah, that's the Clippers for you.
Elton Brand is a two time All Star, one time All NBA Second Team, and a one time NBA Sportsman Of The Year because he is just such a great guy. He's such a great guy that even the Clips old owner Donald Sterling liked him, and that gross old dude didn't like anybody. When the Heat offered Brand an $82 million contract, the Clips actually matched.
5

Antonio Mcdyess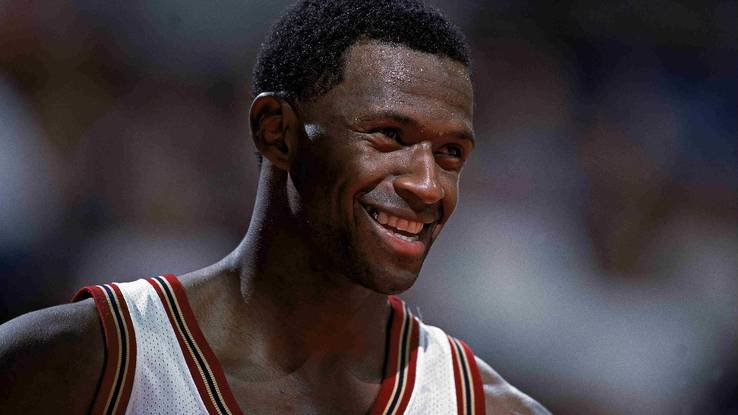 Antonio Mcdyess is one of those dudes who, even when he was a college kid at the University of Alabama, he looked like a 46 year old man. And now as a 43 year old man, he still looks like a 46 year old man. Also see LeBron James. Antonio Mcdyess was the second overall pick in the 1995 NBA Draft.
He was picked by the Los Angeles Clippers, but fortunately for his long term career, he got traded immediately to the Denver Nuggets.
The dude went all over the NBA with some notable stints on the New York Knicks, the Denver Nuggets, the Phoenix Suns, the Detroit Pistons, and the San Antonio Spurs. Mcdyess has always been a super solid contributor no matter what role he was asked to play by his coach. In his time with the Detroit Pistons, he made it to the NBA Finals, but they lost to the Spurs.
4

Stephen Jackson
This guy right here! Stephen Jackson was born in Port Arthur, Texas. Home of Bun B and Pimp C, UGK. I don't think they knew each other, but you never know, it's a small town, man. Jackson was drafted in 1997 by the Phoenix Suns, but was waived. The guy didn't have his official rookie year until the year 2000 when he was picked up by the New Jersey Nets.
It was not until his stint with the Atlanta Hawks in 2003–2004 that he had a real breakout year, averaging 26 points per game as the NBA's 6th leading scorer. Jackson was traded to the Pacers and got a front row seat to the infamous malice in the palace, featuring his buddy Ron Artest. After the Pacers, Jackson was one of the key dudes in those fun "We Believe" Golden State Warriors teams. In 2012-2013, he went to the Spurs bench, where he finally won a championship.
3

Cuttino Mobley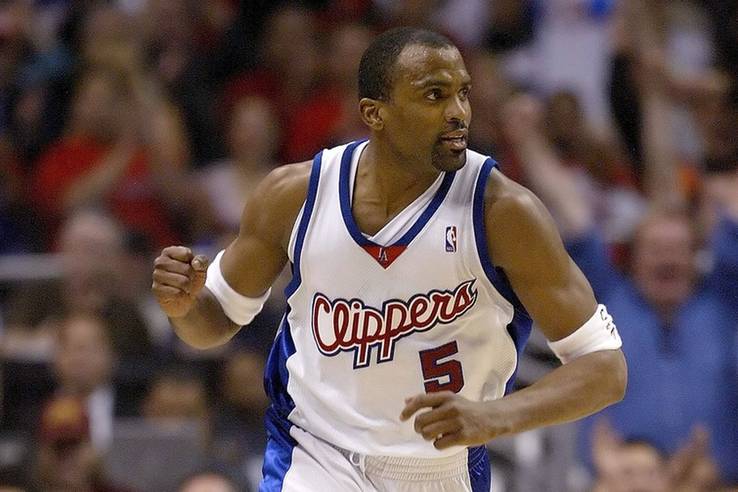 Cuttino "The Cat" Mobley has had a wild life, an impressive NBA career and is a genuinely nice dude that is a good follow on Twitter. Cat was picked in the number 41 spot overall during the second round of the NBA draft by the Houston Rockets and quickly found his BFF Stevie Franchise.
These two formed an athletic backcourt for Houston that was officially going into rebuild mode after winning two titles and their Charles Barkley and Scottie Pippen gambles had not worked out quite as well as everyone had hoped. In the 2004 off season, Cat and Franchise were shipped off to the Orlando Magic for Tracy freaking McGrady and a merry band of cast offs including Tyrone Lue, Juwan Howard, and the man with the shortest arms ever Kelvin Cato. Man, they really don't make those blockbuster trades like they used to these days. Cat eventually retired in 2008, as a Clipper.
2

Ben Wallace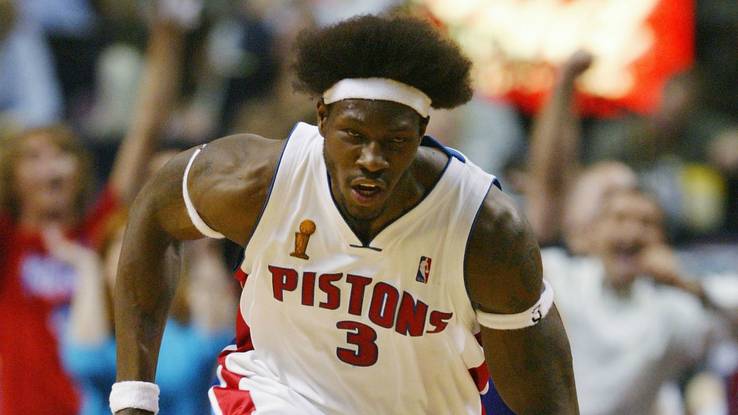 When someone says Big Ben, they are most likely referring to this defensive monster, Ben Wallace. Unless they're British, or you are actually in London. Most likely in those scenarios, whoever is referring to Big Ben probably is talking about the clock. Their loss. Wallace signed with Washington as an undrafted free agent in 1996.
That's right, this dude was not even drafted. He played his way around the league, getting better each season, and finally found a home in 2000 with the Detroit Pistons.
It was with that team that Wallace found his niche, destroying the glass, getting every rebound and being an all around defensive menace. Wallace won the NBA Defensive Player of the Year Award four times. A record only matched by a gentleman by the name of Dikembe Mutombo. Wallace made two trips to the NBA Finals with those Pistons teams and won one championship.
1

Chauncey Billups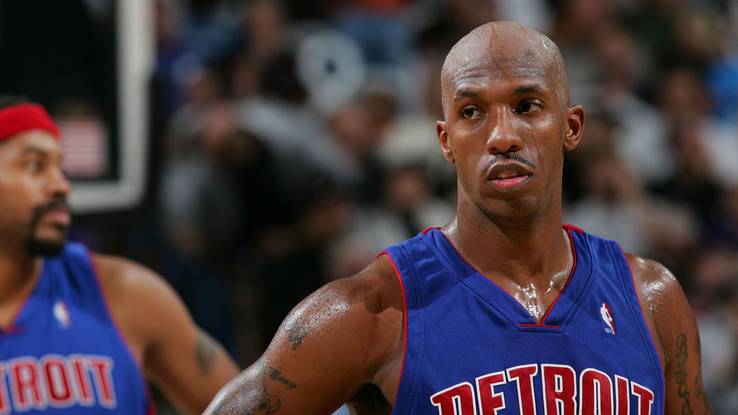 Chauncey Billups is most likely one of the greatest basketball players that no one talks about anymore. The man is one of the the smartest people to ever play the game. Billups was a five time NBA All Star, a three-time All-NBA selection, an NBA Champion, an NBA Finals MVP, and did way more than necessary to earn his nickname of Mr. Big Shot. He was drafted in 1997 by the Boston Celtics and immediately did not get along with eventual failed NBA coach, Rick Pitino.
Because of the drama, Billups was traded to Toronto in the middle of the season. Billups did the journeyman dance and bounced around from team to team for a while, including a short stint for his hometown Denver Nuggets. He found his place with the Detroit Pistons and formed one of the most cohesive starting fives in modern NBA history. That's where Mr. Big Shot was born.
Sources: NBA, Stats.NBA
Source: Read Full Article