AFL brings back state of origin, but it's not for footy
The AFL has officially joined forces with one of the world's leading video game developers to help bring a state of origin esports tournament to Melbourne in late 2018, and to extend footy's reach in the esports world.
Riot Games (developer of the massively popular League of Legends video game) and the AFL will hold an esports tournament in November, potentially at Etihad Stadium.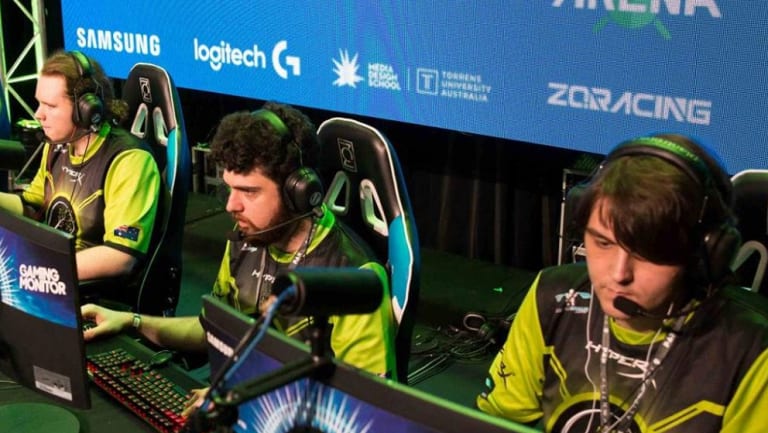 Adelaide Crows' esports team 'Legacy' competing in 2017.
Fairfax Media revealed in 2017 that the AFL was keen to run an esports competition given the lucrative nature of the billion-dollar industry and because of the youthful audience demographic it attracts.
Through the announcement the AFL has shown it also remains interested in hosting tournaments at Etihad Stadium and building a high performance esports facility at the league-owned venue.
AFL general manager of growth, digital and audience Darren Birch said: "We will bring our expertise and insight to the competition, giving all-star players an opportunity to play with different teams, play in a different tournament structure and in a completely different venue environment.
"Our vision is to progress the game of AFL and continue to help fans share in the experience of footy. Working with Riot is one step towards us learning new ways to connect with fans and enhance the complete digital experience."
Riot Games' head of oceanic esports Daniel Ringland said the AFL and his organisation were "culturally aligned".
"From fan engagement through to player welfare and development, they're [AFL] the gold standard. We aspire to the same levels of excellence for our pro players and fans of League of Legends esports, so a strategic partnership makes absolute sense," Ringland said.
"The AFL and Riot are culturally aligned, both being firm believers in putting the fan and player experience first. We're excited to be paving the way for esports fans in Oceania."
The date and location of the tournament will be revealed in the coming weeks. The annuncement comes after Football Federation Australia launched an E-League in 2018, which generated strong audiences.
Source: Read Full Article