Andrew Bogut's NBL return just the beginning says Brian Goorjian
Legendary former Sydney Kings and Boomers coach Brian Goorjian has hailed Andrew Bogut's move to the NBL, and believes it paves the way for the likes of NBA stars Aron Baynes, Matthew Dellavedova and Joe Ingles to follow in his footsteps in the twilight of their careers.
There were some nervous times for the Kings on Monday with the NBL taking its time to register Bogut's contract after the club had spruiked his signing on Sunday night.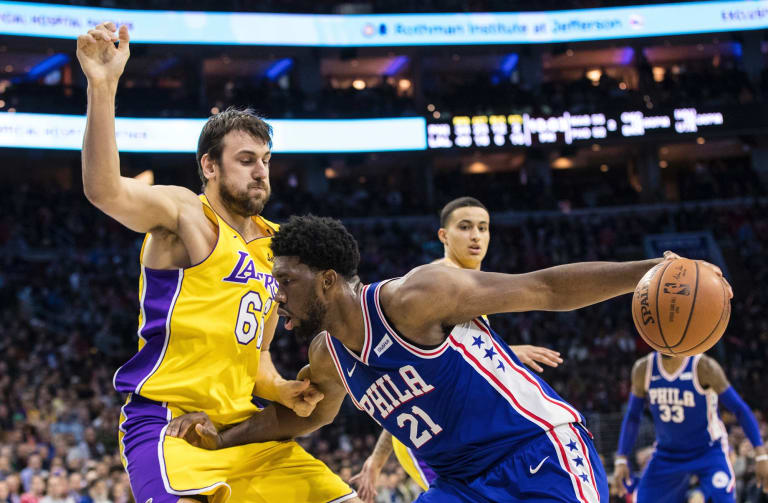 Giving back: Andrew Bogut has played for over a decade in the NBA, and wants to give the game in Australia a lift at the end of a stellar career.
Born and raised in Victoria, Bogut was close to signing with Melbourne United, which is owned by Larry Kestelman, who also owns the entire NBL after buying it for $7 million three years ago.
Sydney gazumped their rivals at the 11th hour but may have trumpeted the signing too soon.
"In line with player contracting procedures, the Sydney Kings have submitted to NBL head office appropriate paperwork for Andrew Bogut for review and processing," the club said in a statement.
Former Milwaukee Buck, Golden State Warrior, Dallas Maverick, Cleveland Cavalier and LA Laker Bogut was expected to attend a media conference on Tuesday morning but he is now likely to be unveiled on Thursday.
In any event it appears Sydney has pulled off its greatest ever signing, which Goorjian hoped would blaze a trail for more Australian-born NBA players.
"Andrew's breaking ground that it's comfortable to come back and play in your own country – it opens that door and I think a lot of those guys will follow," Goorjian said.
"All these tremendous players are coming out of Australia, we've got a lot of great players playing in the NBA.
"We've always talked about getting those guys to come back and participate in the league at the right time. You've got guys like Joe Ingles, Dellavedova Aron Baynes who will soon get to a point in their career.
"This opens up the door and gives it credibility."
Goorjian, the last man to coach the Kings to a championship, said Bogut's timing was perfect for a competition which he believed was starting to bounce back after a tough decade.
"Since Larry Kestelman got involved you can really feel the momentum and the quality of the basketball being played now," Goorjian said.
"I just think it's perfect timing for a guy like this to step into the league.
"It's good for Sydney, we need a competitive team in Sydney and they've been struggling. He'll bring people to the turnstile and then around the league when Sydney goes and plays there'll be a lot of momentum, a lot of interest in that and he'll draw crowds.
"He's also got a tremendous background, he's played college basketball, he understands social media, he understands the market, I just think he's going to be a tremendous ambassador."
Former Australian basketball greats have lauded Bogut's decision to join the Kings.
"It's a bit like Harry Kewell coming back to the A League towards the end of his career while he's still got some good games left in him," Chris Anstey said.
"It gives it another level of legitimacy on the overall sporting landscape in Australia and hopefully helps it climb up a peg or two and puts basketball in the conversation with a lot of the other sports that are spoken about in coffee shops and over beers at pubs."
Bogut has already contacted national coach Andrej Lemanis to confirm his 2020 Tokyo Olympics intentions.
"He got in touch and said that was one of the factors … being in the NBL, his ability to manage his body should enable him to be ready (for Tokyo)," Lemanis said.
Boomers great Shane Heal, meanwhile, views the NBL's 28-game regular season as a smarter option than the NBA's 82-game slog for the 33-year-old.
"They'll be able to nurse him through a season, playing great basketball but keep him fresh to be ready for the Australian team," Heal told Fox Sports.
"He'll be motivated to win a championship, but … keep in the race to be in this Australian team in two years."
with AAP
Source: Read Full Article