Baynes' Celtics beat Simmons' 76ers in NBA
Aron Baynes' Boston Celtics have claimed a 117-101 victory in game one of their NBA eastern conference semi-final series against Ben Simmons' Philadelphia 76ers.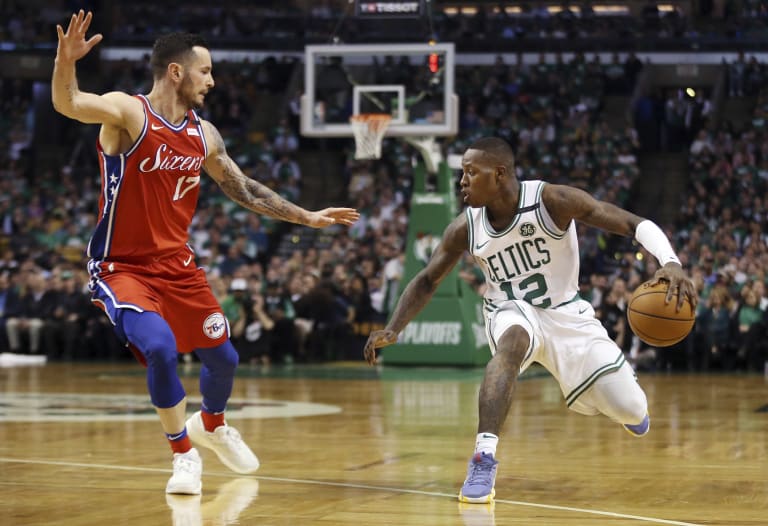 Terry Rozier makes a move against JJ Redick.
The Celtics were always in control on Monday in front of a delirious home crowd in TD Garden as Queenslander Baynes continued to show off his long-range shooting with two three-pointers in his six point, six rebound effort.
He also had the tough task of battling 76ers' All-Star big man Joel Embiid.
Melbourne-born Simmons had flashes of brilliance including power dunks and exceptional passes in his 18 points, seven rebounds and six assists, but he also struggled with seven turnovers.
The 76ers have been the NBA's hottest team, entering the playoffs on a 16-game winning streak and dispatched the Miami Heat 4-1 in the first round.
The tough Celtics, playing without injured stars Kyrie Irving, Gordon Hayward and Jaylen Brown, physically challenged rookie point guard Simmons and took away the 76ers' usually potent three-point shooters.
''To look at this game defensively and offensively, this is not who we are,'' Sixers coach Brett Brown said.
''This was a very poor game for us and I give credit to the Celtics for producing that.''
Celtics guard Terry Rozier was electric, repeatedly sparking his team with big plays, including seven three-pointers in his 29 points.
''We are a pro team and will play hard no matter what,'' Rozier said.
In the Celtics' first-round series with the Milwaukee Bucks coach Brad Stevens pulled Baynes from the starting line-up and replaced him with the more athletic Semi Ojeleye.
Stevens brought the burly 208cm Baynes back into his starting five to help combat the 213cm tall Embiid, who finished with 31 points and 13 rebounds, but Stevens was content with the outcome.
The 76ers had a horror night shooting from distance, connecting with just five of 26 three-point attempts.
Boston sank 47 per cent of their three-pointers.
''I give the Celtics credit for getting to our shooters,'' Brown said.
Game two of the best-of-seven-series is in Boston on Thursday before the next two in Philadelphia.
AAP
Source: Read Full Article