Brattan has shrugged off challenges to become City mainstay
Three years ago Luke Brattan was breaking into the Socceroo squad, had a move to Manchester City lined up and looked to be on the verge of a brilliant career.
Things didn't quite turn out as expected in Britain for the tough midfielder who made his name at Brisbane Roar, and he found himself back in the A-League for the 2016-17 season on loan at Melbourne City.
His career looked to be at a real turning point early in this campaign when, under new coach Warren Joyce, he wasn't making the City first team.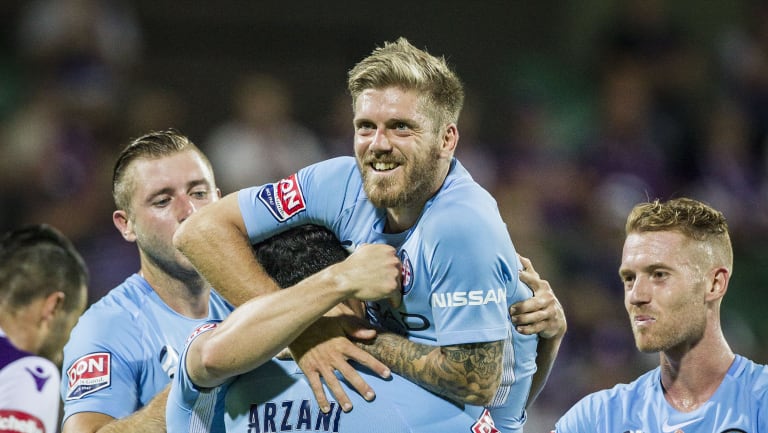 Luke Brattan has turned his season around.
But he knuckled down, worked hard and forced his way back into contention and now, as Friday night's A-League semi final against Newcastle Jets approaches, its fair to say he is one of his team's key players.
Brattan, 28, believes he has got mentally stronger as a result of his travails and disappointments these last few years, and says that under Joyce City has made a similar transformation.
The Sky Blues finished third on the A-League ladder, their best position ever, and have shown a grittiness that wasn't always a hallmark of the club from Bundoora.
''You look at a few games this year where say we've gone down to ten men or we've got an early goal and the opposition have their spell.
Replay
''Last year or in previous years at City they were the games we would have lost.
''Warren has come in and mentally and physically he's got us in a good spot. We grind out results when we need to.
''We try and play possession-based football and good football and pass the ball around and create chances – but at the same time sometimes in these games you've got to grind results out. I think that we physically we can do that and mentally as a group we're very solid as well.''
Brattan looked to have picked up a first half injury in Friday's 2-0 win over Brisbane, but says that he ran the game out all right and is clear for Friday night's sudden death semi in the Hunter Valley.
''I'm not sure what it was. I got a tight spot in my quad. I was a little bit worried about it. But all my power was fine and running wasn't a problem so it was all good.''
Brattan, like his team-mates, is confident that City can do another job on Newcastle. They have had the wood over the A-Laegue runners up this season having twice won in the Hunter Valley.
''I think the last two months we've been playing really good football.
''We're moving the ball. We're in the right positions. We're creating an awful lot of chances that we weren't at the start (of the season) and in the rough patch in the middle. That's all good coming into finals.''
He acknowledges that it hasn't been all plain sailing for him in recent times.
''I missed the first three or four games. That happens. I've worked hard and got myself back in the team. I think we're doing the right things at training, preparing right. We are working hard on our football and when we pass the ball around with intent and keep the intensity high then we create a lot of chances.''
He has forged a good partnership in midfield in a short time with January transfer window arrival Oliver Bozanic. City has a continuity in its midfield with these two that it hasn't always had.
''It's always tough when players come in and out frequently but when you're playing with good quality players then you sort of just gel. You get on the same wavelength.
''Olly's been great since he joined the club. We've proven that with injuries we've got the depth in the squad to move forward and keep performing well.''
Source: Read Full Article