Brumby rake Burrows vows to keep playing after missing Wallaroos squad
Four-time World Cup hooker Louise Burrows was "absolutely gutted" when told she was too old to be a part of the Wallaroos squad, but has vowed to play on and force her way back into the national team.
Burrows got the phone call all veterans dread last weekend. On the other end of the line was new Australian coach Wayne Nester, who told Burrows she wouldn't be included in an extended Wallaroos squad.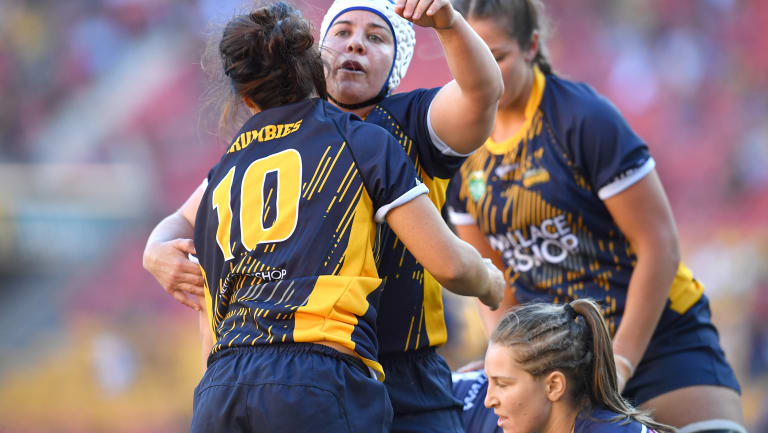 Louise Burrows has vowed to play on after missing the Wallaroos squad.
Nester has instead gone for youth, with an eye on the future and developing a group of players capable of being contenders at the World Cup in 2021.
Nester's first squad of 45 includes ACT Brumbies women Peta Cox, Violeta Tupuola, Shellie Milward, Georgia O'Neill, Tayla Stanford and Sammie Wood, who were all part of the inaugural Super W campaign.
Burrows, however, spoke at length with Nester about the need for new players to be exposed to international rugby and that the 40-year-old wouldn't be included in the initial squad.
Burrows made her Wallaroos debut 17 years ago and is refusing to give up on her hopes of playing at a fifth World Cup, determined to play for as long as her body allows.
"I've heard people say when they retire they know their time is up but I know myself at the moment I'm not ready to hang up the boots by any means," Burrows said.
"As long as I'm enjoying my rugby and am fit I'd like to keep playing, whether that is club (Royals) or Super W, I want to keep doing the work and see where it takes me.
"If this is it though, I've had an incredible international career and I've always appreciated every opportunity to pull on the Wallaroos jersey, I've never taken it for granted."
Burrows said the toughest pill to swallow was the fact she was being overlooked because of her age and not form.
"You can work hard and do all the right things but it doesn't guarantee anything and unfortunately my age has come into play here," Burrows said.
"I told Wayne I feel strong and fit and am playing good rugby and he said in three years I'll be 43, but I said who's to say I won't still be feeling good then.
"Maybe I will retire by then but at this point in time I'm really enjoying my rugby and am achieving goals on and off the field with training and playing.
"The thing is you can't change your age, you can be told to get fitter and stronger and work on your skills, but I can't change the fact I'm 40.
"I know there aren't any 40-year-olds playing for the Wallabies or Wallaroos, but if I'm playing good enough rugby I don't know why I can't be the first."
Burrows said she had seen rugby come so far during her two decades in the sport and wanted to be a part of an exciting new era.
Burrows will continue to play Super W for the Brumbies next season. She said the new competition has been a game-changer for the sport and she hopes to help usher in a new generation.
"Wayne said the legacy I've created and what I've done along the way has helped give girls their opportunity today," Burrows said.
"But that's the thing, I just feel like there's so much going in rugby now and I want to be part of it, that has made this a little bit harder to take.
"Playing week-in, week-out for 80 minutes and to getting the opportunity to travel and play for the Brumbies was so great. I'm really excited for future of Super W and to be part of it again."
WALLAROOS SQUAD: Props- Wynona Baice, Peta Cox, Toa Filmoehala, Evelyn Horomia, Hana Ngaha, Emily Robinson, Violeta Tupuola. Hookers – Melissa Fatu, Liz Patu, Darryl Wickliffe. Locks – Millie Boyle, Alisha Hewitt, Kiri Lingman, Ana-Lise Sio, Rebecca Clough. Flankers – Emily Chancellor, Ariana Kaiwai, Michelle Milward, Georgia O'Neill, Kirby Sefo, Vesinia Taufa, Alice Tonumaivao, Fi Jones, No. 8 – Grace Hamilton, Victoria Latu, Tayla Stanford. Scrumhalf – Georgia Cormick, Kendra Fell, Cobie-Jane Morgan. Flyhalf – Chloe Leaupepe, Trilleen Pomare. Centres – Katrina Barker, Tui Cope, Crystal Maguire, Nareta Marsters, Huia Turoa. Wing Courtney Hodder, Mahalia Murphy, Zakiya Kereopa, Atasi Lafai, Shanice Parker, Sarah Riordan. Fullback – Mhicca King, Samantha Treherne, Samantha Wood.
Source: Read Full Article