Challenges to come for World Series Rugby but Force make a good start
World Series Rugby has started with a bang but it remains to be seen whether the momentum can be sustained.
A sellout crowd of 19,466 turned out to see the Western Force post a 24-14 win over the Fiji Warriors at nib Stadium on Friday night.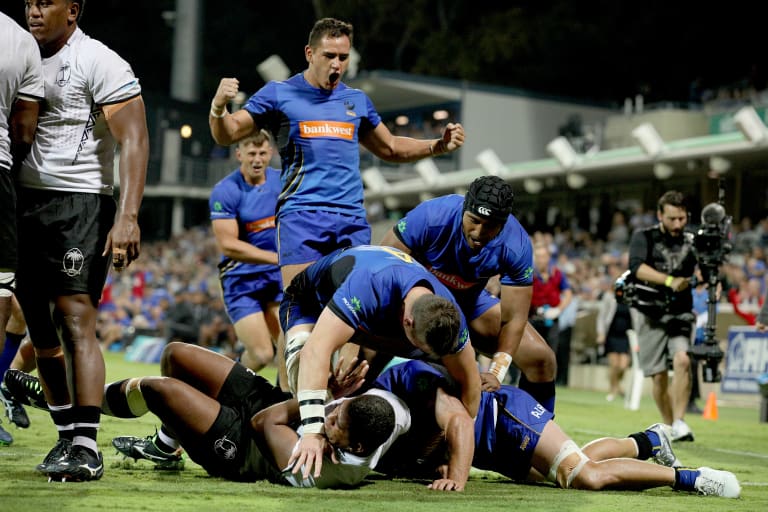 Back in action: Force players celebrate a try by Brynard Stander during their win over Fiji.
Pre-game fireworks, dance shows, and parachute landings entertained the crowd, while the introduction of several rule tweaks during the game also added to the intrigue.
Billionaire mining magnate Andrew Forrest is the mastermind behind World Series Rugby.
This year is all about experimentation, with the Force playing seven invitational sides in matches that have nothing riding on them.
Next year, Forrest hopes to launch an eight-team competition taking in teams from the Asia-Pacific region.
The Force next face Tonga in a Mother's Day clash on Sunday week.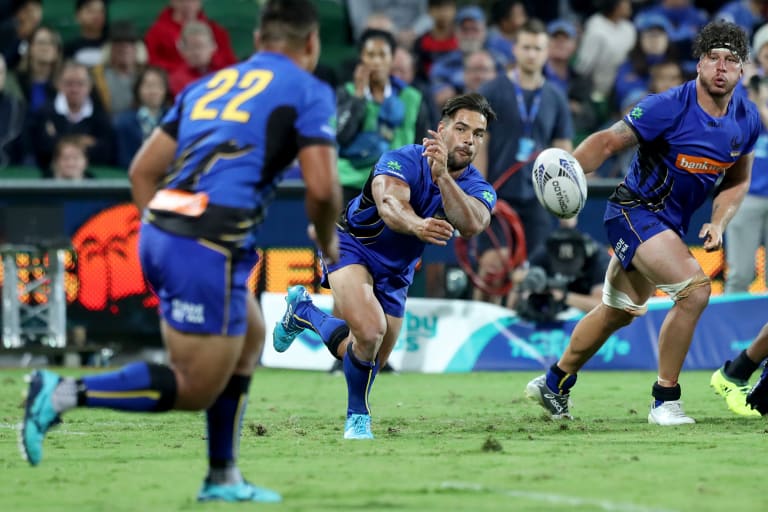 Ryan Louwrens spreads the ball wide for the Froce.
The first match of World Series Rugby was always going to be a success – with the intrigue and emotion surrounding the clash drawing in the sellout crowd.
But the challenge now is to maintain that momentum.
Force coach Tim Sampson and captain Ian Prior are confident the fans will keep voting with their feet.
"Over the next six games, I don't think there is going to be any lack of motivation from the fans," Prior said.
They're going to have plenty of motivation to keep rocking up, and voting with their feet to show Australia and the world that WA means on the rugby front."
Forrest entered the Force huddle to express his gratitude to the players after Friday's match.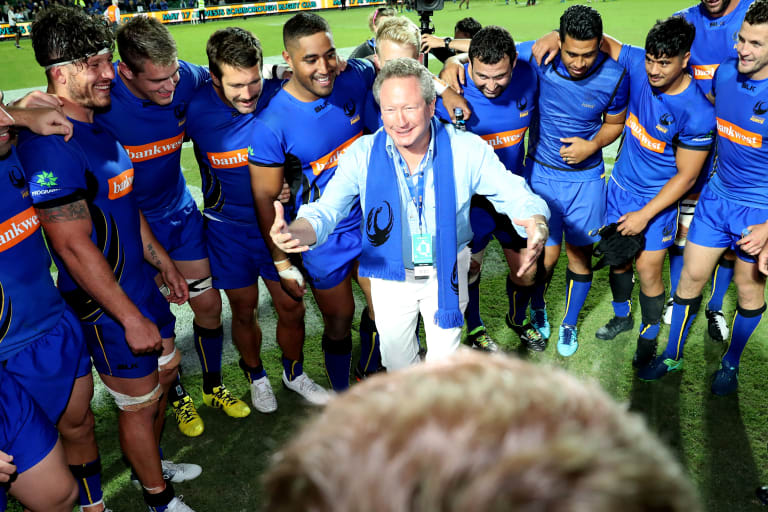 Andrew 'Twiggy' Forrest celebrates with the Force after the match.
"He was just saying how proud he was of us, and how WA is proud of us," Prior said.
"We wouldn't be here without his passion, without his generosity.
"He's very energetic. He came into the huddle last year saying he was going to back us all the way, and he's stayed true to his word.
"He's a really special guy. It's hard to put into words how much he's done for us."
Sampson said it was a relief to post a win in the first game.
"That sort of performance was beyond our expectations," Sampson said.
"I just take my hat off to the players about how they went out and executed."
No 'power tries' were scored in the match.
For that to occur, a team needs to start their attacking raid from inside their defensive 22m, with no turnovers in their march up the field.
"I think that power play was in the back of the guys' minds," Sampson said.
"There were a couple of players mid to late in the second half when they did chance their arm."
AAP
Source: Read Full Article