Why Clint Gutherson has the eye of the Tiger
It happened the last time Clint Gutherson played Wests Tigers.
Kick-off is just moments away, the players are waiting for the whistle to be blown and, because it's a Tigers home game, Survivor's Eye of the Tiger is blaring through the PA system.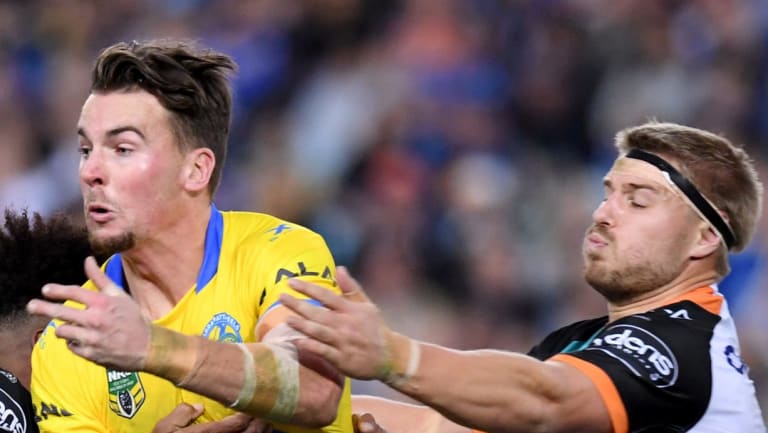 Cult figure.: Parramatta star Clint Gutherson is the ultimate personality player.
As proceedings are about to commence, the broadcasters look for a player to centre on. They fix the lens on Gutherson and zoom in for a tight shot. And there he is, singing along to the opposition team's anthem.
As you do.
It's one of many moments that sum up why Gutherson is one of the most popular players in the NRL. Like when he got busted asking a trainer, mid-match, for vaseline to apply to his lips. Or when Corey Norman posted about his Eels re-signing on social media and Gutherson replied: "Good luck getting the 6 jersey back iccckead".
Then there's that time he rocked up at Parramatta's awards night with perhaps the worst attempt at a windsor knot in the history of ties.
"He can do everything but the simple things," teammate Bevan says with a grin.
"He loves the tough jobs."
Subpar effort: Clint Gutherson's attempt at a windsor knot.
It's why Gutherson is the ultimate personality player. Eighth Immortal Andrew Johns labelled him ''The King'' and the nickname has stuck. He also goes by ''Gutho'', although there's another moniker his Eels teammates have given him.
"He looks a lot like Johnny Drama from Entourage," offers David Gower.
"That's why he's growing the goatee."
Whatever the case, Parramatta coach Brad Arthur knows Gutherson is someone he can call upon. He has played everywhere in the Eels back line, but it is the ultimate mark of respect that he will remain at fullback even when Jarryd Hayne and French are fit and firing.
Parramatta Eels star Clint Gutherson sledges teammate Corey Norman.
Now his also also the skipper. The 23-year-old has shown incredible resilience to return from a series of career-threatening injuries, but there is another trait that sets him aside. It's a desire to win at everything. Call it the eye of the Tiger.
"I've always had it; I've always wanted to win, no matter what it was," Gutherson says. "At school, at everything, I've hated losing.
"Whenever I lost I got cranky and went home. I was a sook.
Humble beginnings: Gutherson playing for Manly in 2014.
"I thought I was going to be there, but at the end of that year they had a massive cleanout; Bozo [Bob Fulton] came in and got rid of the players he didn't want," Gutherson says.
"Unfortunately, I was one of those players."
The very next day, Arthur brought him to Parramatta and the pair have been tight ever since. When Parramatta was trying to prise Mitchell Moses out of Leichhardt, the Tigers proposed a player swap with Gutherson. Arthur would have none of it, although the move would have pleased Gutherson's father.
"He's a massive Tigers fan," Gutherson says.
"He keeps asking for me to get all of Luke Brooks' gear from Mitch's house."
Gutherson made his NRL debut five years ago, but injuries mean he won't celebrate his 50th appearance until Sunday. Despite spending so little time in the top grade, Arthur sounded out the former Australian Schoolboys star about the captaincy more than 12 months ago.
"At the start of last year, during pre-season [Brad approached me]," Gutherson says.
"Brad said it would come around, but I didn't think it would be this quick."
The Eels have been ravaged by injury during a disappointing start to the year. At one point they had five players, worth a combined $2 million, sitting helplessly on the sidelines. But the man they missed most was Gutherson.
"He's just a good bloke to have around the club," Moses says.
"There's that one guy at every club that you just need, and that's Gutho. The way he brings everyone's energy levels up is massive for our team.
"He's been promoted to captain, that's how important he is to our team and how much we missed him in the first six weeks.
"You make a line break on the left and he'll be there. If he's tackled on the left, he will bob up on the right or be pushing up in the middle of the field. He's just a real competitor."
That competitive spirit almost took Gutherson to the 15-man game. He played both codes into his late teens and gave some consideration to focusing on rugby.
"I played both growing up until I was 17 or 18 when I had to make a decision what I'd play," he says.
"I was sort of a bit bored of it and league just offered a better pathway."
When he first arrived at Parramatta, after a series of forgettable performances on the wing, fans were calling for his head.
"They just wanted me to go back to Manly," Gutherson recalls.
He has well and truly won them over. At the end of last season, he was awarded the Provan-Summons Medal as the most popular man in the game. Which is why the cameras will again be trained on him on Sunday, just in case he sings the wrong team song.
"It doesn't bother me if someone gets a laugh out of me," he says. "You've got to take the piss out of yourself sometimes."
Source: Read Full Article