Don't suspend Hawkins, says Diesel's former coach David Parkin
David Parkin – who was coaching Greg "Diesel" Williams when the latter was handed a nine-match ban for pushing umpire Andrew Coates – believes Tom Hawkins shouldn't be suspended for making contact with umpire Dean Margetts on Friday night.
Hawkins will front the tribunal on Tuesday night after match review officer Michael Christian deemed the contact intentional.
Parkin was coaching Carlton in 1997 when Coates tried to defuse an argument between Williams and Essendon's Sean Denham and was working in special comments on ABC radio on Friday night.
Tom Hawkins stands over GWS' Nick Haynes.
"It did bring back memories, that's the first thing I thought of," Parkin told The Age.
"I know Tom reasonably well, I know his father very well, he comes from a great family, he's a very decent bloke with great values. It's always sad when something like this eventuates.
"There might be a penalty to pay which I think is quite sad for the player, his family and the club but I can understand why the competition needs to do that because it's something that the game doesn't need.
"You might fine him. I think a fine is to acknowledge there was an incident and needed to be publicly penalised in some way but to rub him out for me would be a very disappointing end product.
"He's not that sort of person anyway, he's a quality person."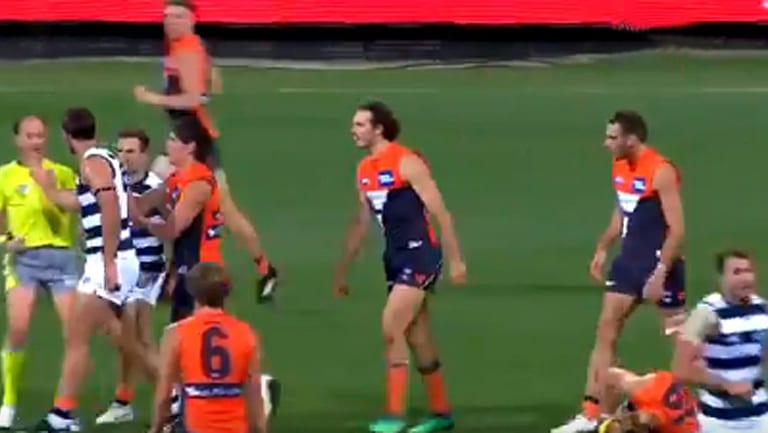 Touch and go: Tom Hawkins at the alleged point of contact with the umpire.
Christian said he deemed Hawkins' contact to be intentional after reviewing the vision from a range of angles and speaking to Margetts.
"The AFL takes it very seriously, that's why the guidelines say any intentional contact, whether that is very light or even forceful is referred directly to the tribunal," Christian said on Monday.
"I think that's the best place where Geelong can put forward their case, the AFL will put forward their case and then three independent tribunal members will assess that evidence and make a decision."
Parkin was very strong in his public defence of Williams after the round one incident in 1997. Williams was given a nine-match ban despite Coates doing his best at the tribunal to reduce the sentence.
"I believe that this was a reflex action and one that was a result of sheer frustration and anger directed at … Denham," Coates said after the game.
"Whilst his actions could be construed as interfering with an umpire, at no time did I feel threatened nor, given the above circumstances, that I was interfered with to an extent that would warrant such a serious charge and accordingly no report has been made."
Parkin still believes to this day that the penalty was too harsh.
"I was terribly disappointed at the time that Greg was outed for what I knew wasn't a direct insult or physical damage to the umpire," Parkin continued.
"I was flabbergasted at the time that he would've received a penalty of that nature, particularly that the umpire in the circumstance went publicly at the tribunal to lessen the severity."
If Hawkins is found guilty of intentional contact with an umpire at the tribunal, he doesn't necessarily have to be suspended, with a large fine still a possibility.
Source: Read Full Article