Hardwick bemoans score review confusion
Richmond coach Damien Hardwick has made an impassioned plea for the AFL's score review system to change after two lengthy delays marred his side's win over Collingwood on Sunday.
The Tigers trailed deep into the third term but kicked away late in the game to record a 43-point win, a result which looks to have at a further cost for the Pies after injuries to James Aish (PCL) and Ben Reid (Achilles), both of whom are set to be assessed in coming days.
Confounded: Richmond coach Damien Hardwick says it's time for an overhaul of the score review system.
But while Hardwick was proud of the way his overpowered the in-form Pies, the premiership coach was left frustrated post-match by a pair of score reviews.
The first came in the second quarter when a Josh Caddy goal was overturned. Replays at on the venue's big screens and in the Richmond coaches' box kept showing a goal line lunge from Lynden Dunn to get a finger on the ball, suggesting that was where the uncertainty centred. But in fact the call was correctly overturned because it was touched off the boot, which Caddy confirmed post-match on SEN.
The second review came in the final quarter when the ball had returned to the centre following a Jack Riewoldt goal, only for it to be called back as a behind.
Hardwick said the system had to be changed. "I still can't figure them out," he said.
"My theory is, let the goal umpire make the decision. Ball goes back to the centre bounce. If they can decide in that time that it's touched, then change it. Even the second one with Jack, why are waiting around for something that's obviously taken so long to make a decision. Just throw it up. We're looking at fingernails for god's sake. I can't understand it.
"I found it frustrating in the box too, because we had no idea [with the Caddy decision]. People are asking us 'did you see it, can you see it?' We got no replay at all. So I'm not sure what they're looking at.
"Otherwise it takes too long, it destroys the momentum of the game. And people are perplexed. That first one, how did they overturn that?
"I didn't see any touched off the boot.
"Figure it out. It's not hard. Vent over."
Pies coach Nathan Buckley argued that a perfect system was likely to remain elusive.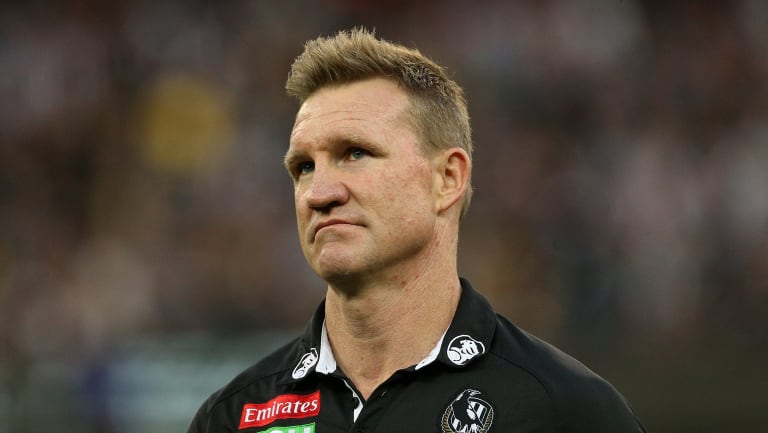 Tough call: Collingwood coach Nathan Buckley.
"We all want to get the decision right. Everyone that's in the spotlight is paranoid about making blues. No one's perfect," he said.
"Would you accept 95 per cent accuracy? Because you're going to get that without the goal review. And I don't know if we're getting 100 even with it."
Over and out: Ben Reid is escorted from the ground by trainers are suffering an injury in the round six clash against the Tigers.
The Pies were down a man for much of the second half following Aish's injury, which Buckley
conceded made things tougher for his side, but he refuted a suggestion that Richmond's extra day of rest had been a factor in the result. He said his side's performance had overall been encouraging.
Buckley flagged likely returns for Darcy Moore and Taylor Adams against Brisbane next Sunday but suggested Daniel Wells was unlikely to take on the Lions and that Jamie Elliott was a couple of weeks away. Late withdrawal Tom Langdon didn't recover sufficiently off the short break from Anzac Day but should be available for the game against the Lions. Brayden Maynard rolled his ankle on Sunday but the injury is no more serious than that.
Hardwick praised his side for the way they battled through.
"It was a pretty tough game," he said.
"I thought the Pies were outstanding. The 43-point victory at the end of the day was quite flattering to us. It was probably a three to four [goal] ball game."
Source: Read Full Article