ICC consider harsher penalties for ball tampering
Kolkata: Chief executive Dave Richardson says the International Cricket Council has asked an internal panel to suggest harsher punishment for ball-tampering and other misbehaviour by players in its bid to establish a "culture of respect".
The game's image was sullied in Cape Town last month when Australia batsman Cameron Bancroft was caught on camera tampering with the ball during the third Test of the ill-tempered series against South Africa.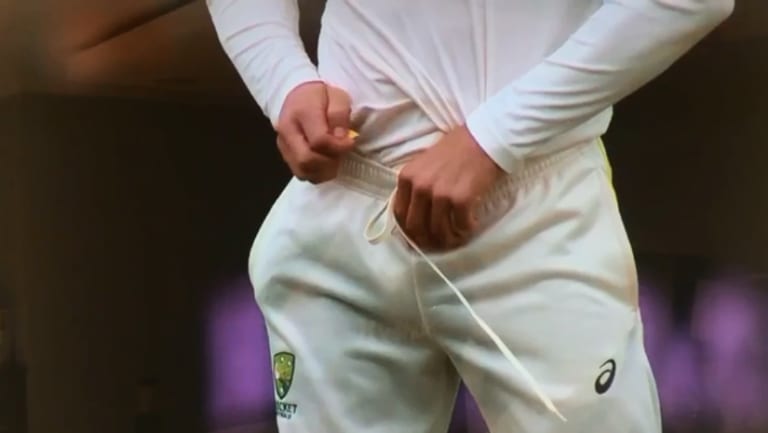 Cameron Bancroft hiding the infamous sandpaper.
Bancroft, former captain Steve Smith and opener David Warner were promptly sent home and handed hefty bans by Cricket Australia.
Addressing a news conference after an ICC board meeting, Richardson said the punishments under its code of conduct for such misbehaviour were inadequate.
"We want to move towards stricter and heavier sanction for ball-tampering and all other offences that are indicative of a lack of respect for your opponent, for the game, for the umpire, for fans, for the media etc," he told reporters.
"We want penalties in place which act as proper deterrent. Fines are not proving to be the answer."
The ICC's cricket committee, chaired by former India captain Anil Kumble, will review the current ICC code of conduct and recommend suitable punishments for rogue behaviour.
"We've got the spirit of cricket in the laws but we need to define it in the modern day and age," Richardson, a former South Africa player, said.
"Both the CEC [chief executives' committee] and the board were very supportive of trying to develop a culture of respect across the game, both on the field and off the field."
"Hopefully through these actions of reviewing the code of conduct and developing a culture of respect … we will achieve that goal."
Borrowing soccer's red and yellow cards and handing out instant punishment would be considered, though Richardson was sceptical about the idea of using cards.
"Whether we introduce red or yellow cards, we'd leave it to the committee. I'm not convinced that it would as easy to implement as it is in other sports."
Reuters
Source: Read Full Article