A-League grand final Lowdown: Newcastle Jets v Melbourne Victory
2018 A-League Grand Final
Newcastle Jets v Melbourne Victory.
Saturday 7:50pm, McDonal Jones Stadium, Newcastle.
Referee: Jarred Gillett.
Live on Fox Sports and One.
Likely teams.
Newcastle (4-3-3): Moss (gk); Giorgievski, Boogard, Topor-Stanley, Koutroumbis; McGree, Ugarkovic, Vargas; Hoffman, O'Donovan, Petratos.
Melbourne Victory (4-2-3-1): Thomas (gk); Nigro, Deng, Donachie, Broxham; Valeri, Antonis; George, Troisi, Barbarouses; Berisha.
Three to watch.
Dimitri Petratos, Newcastle.
The Jets playmaker will find himself a marked man on Saturday night. Operating as the fulcrum of his club's attacking style, he'll be the man Melbourne's bruisers will be most looking to shut down. He can score from distance, create out of seemingly little and provides exquisite service for the likes of Roy O'Donovan at the arrowhead of his attack.
Besart Berisha, Melbourne.
Put simply, there is no 'big game player' bigger than Berisha. The Kosovar international has scored in every A-League grand final he's played netting five times in four deciders. He lifts to the occasion, leads from the front and never seems to be overawed. He'll cause havoc for Newcastle's defence with his incessant pressing and be looking to test Jets' stand-in goalkeeper Glen Moss.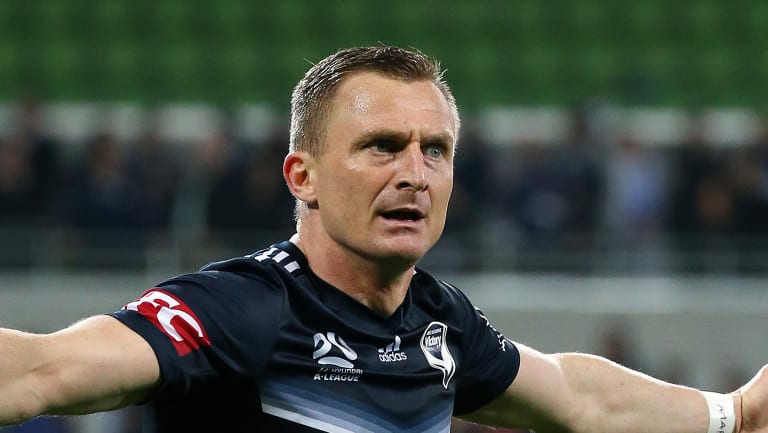 Final's figure: Besart Berisha has a perfect record in A-League grand finals.
Riley McGree, Newcastle.
The young midfielder is experiencing a coming of age at the perfect time for the Jets. His performances are becoming increasingly composed while his eye for goal more acute. His incredible scorpion kick against Melbourne City stole the limelight and rightfully and makes him an ever present threat
Key battle.
Steven Ugarkovic v Terry Antonis.
The midfield will determine the victor and the clash between each club's respective metronome looms as the most promising. Ugarkovic has been the unsung hero of the Jets' campaign this season operating as the pivotal water-carrier for the grand final hosts. Matching a tireless work load with a sharp reading of the game, he'll also be tasked with nullifying the gifted ball-playing Terry Antonis of Melbourne Victory. Antonis pulled the strings against Sydney FC last week with a superb passing display and his vision will unlock Victory's quick forwards.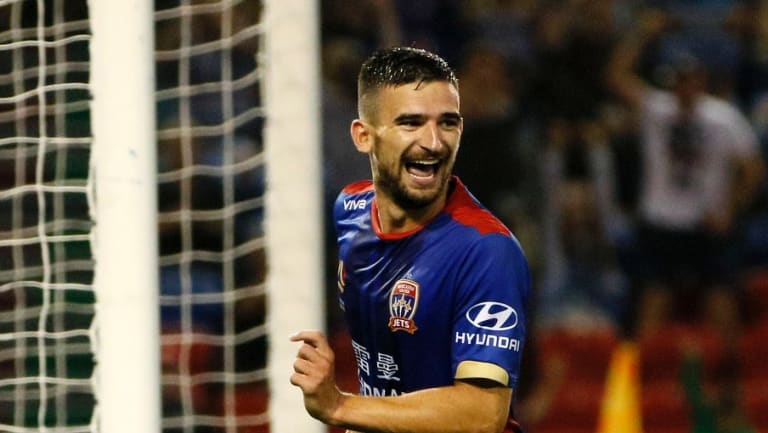 Unsung hero: Steven Ugarkovic is the Jets' workhorse in the middle.
In the dugout. 
Ernie Merrick, Newcastle Jets.
While most coaches put their teams in lock down leading into such big games, Merrick has told his players to embrace the occasion. He wants his players to experience the rare treat of a grand final hosted in a regional centre symptomatic of his real approach to management with the Jets. They play simply, yet attractive. He wants his defenders to defend, not play like number 10s and his side to go forward at every opportunity. The Jets will enter as slight favourites but will feel like they have nothing left to lose and hopefully that leads to a carefree display from Merrick's men.
Kevin Muscat, Melbourne Victory.
Victory's coach has an innate ability to fire-up his side like no other. Their final standing reflects their inconsistent season but their finals' form has been among their best. An injury toll hampers his progress, the absence of two suspended assistants makes for a more lonely bench but Muscat will look to use all their disadvantages as motivation for his troops.
Source: Read Full Article