Nabbout in the box seat to spearhead Australia's attack against France
Kazan: Andrew Nabbout is firming as the man most likely to lead Australia's attack against France in their first match of the 2018 World Cup having already won the backing of coach Bert van Marwijk.
While team selections will not be finalised until the day before Saturday's match, Nabbout appears to have the lead in the race for the centre-forward role, having started each of the four matches during the tenure of van Marwijk. The Urawa Red Diamonds man is one of just four players to have done so.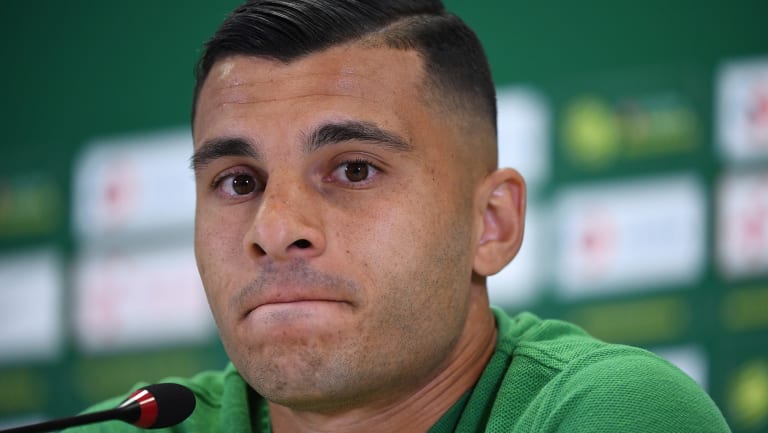 Focal point: Andrew Nabbout.
Alongside left back Aziz Behich, winger Matt Leckie and defender Mark Milligan, Nabbout appears to be a clear favourite for van Marwijk leading into their match against France in Kazan.
Replay
"Andrew Nabbout, I saw him in Newcastle playing. I heard a lot of information about him, I think he is also a player than can make the difference," van Marwijk said.
However, it's not just the Dutchman who has publicly recognised the threat of Nabbout, but France coach Didier Deschamps. The former World Cup-winning captain singled out the strength and aggression of Nabbout as one of Australia's main attacking weapons, despite likely not knowing anything about the forward just three months ago.
"To be recognised by him is pretty big. I'm going to go out there and prove him right," Nabbout said.
The former Newcastle Jets man was candid when asked about his style of play helping his chances of starting against France. His aggressive and physical game is tailored towards the way van Marwijk wants Australia to start the match, according to Nabbout.
"Its the way that [van Marwijk] has presented on how he wants to play. He wants that pressing at the front. He wants people to put teams under pressure and run in from behind and that's my game," Nabbout said. "Hopefully I get that chance and I'm going to keep on doing that."
That tenacity is evident even at training. The 25-year-old was involved in a heated exchange with teammate Trent Sainsbury on Tuesday after a clash between the pair during an exercise. Nabbout quashed suggestions of a rift with the defender, suggesting it was only a momentary flash of anger in the heat of the session.
"There was nothing in it to be honest, it was just emotions at training. I was more angry at myself to be honest. No issues there, morale is high in the team and we're just focusing on France," Nabbout said.
Should the forward start against France, he believes Australia has a strong chance of snaring an upset against the World Cup contenders and heaped pressure on their stars to perform to their expectations.
Notoriously slow starters, the French will carry the burden of expectation to begin their campaign admirably at the expense of the comparative minnows in Australia.
"It comes down to the day, they could have the biggest name players but if they don't perform, everyone's exploitable," he said.
"They're a quality side. We're expecting minimal errors and it's our job to force them into those errors. At the end of the day, It's about how we play, if we're on our game on our day we're going to cause any team problems."
Source: Read Full Article