Nikolai Topor-Stanley delivers on promise to resurrect Newcastle Jets
When Nikolai Topor-Stanley rejoined the Newcastle Jets eight months ago the team was at its lowest point in club history, having collected two of the past three A-League wooden spoons.
They hadn't played finals in more than seven years but Topor-Stanley vowed to turns things around and instil a winning mentality.
Nikolai Topor-Stanley will be the toast of Newcastle if he can help deliver the A-League trophy.
The Canberran delivered, taking Newcastle to second on the ladder and a preliminary final clash against Melbourne City when they host their first final in over a decade on Friday.
Topor-Stanley has played every minute of every game this season and will be vying for a fourth grand final berth. He is yet to win one.
The 33-year-old arrived for his first stint at Newcastle the year after they won their only A-League title and then lost three grand finals with the Western Sydney Wanderers.
The defender been instrumental in turning things around at Newcastle and said it has been a satisfying season but emphasised the job isn't finished yet.
"Second place to a Sydney FC team who have made A-League history as back to back premiers, it's no mean feat coming from where Newcastle were last season," Topor-Stanley said.
"I'm not going to sit there and say it was me, as much as I love to blow my own horn. It was a lot of players we brought in who have finals experience and wanted to be winners. They were sick and tired of just scraping into the finals.
"Daniel Georgievski has won things, Dimi Petratos won a title at Brisbane, Roy O'Donovan has won things overseas. It is no surprise that those players have played a major part in our success to this point.
"We set ourselves a goal of really challenging and being right up there this season. It's about having a winning mentality where you go out there every day to bring the best out of yourself and your teammates.
"We've been on an incredible run and it's a testament to the coaching staff for putting this team together and the players for sticking together to make it possible.
"We're one win away from being in a grand final and the works not done. Nobody is happy with just being in a semi-final.  We're not just happy to be here to make up the numbers."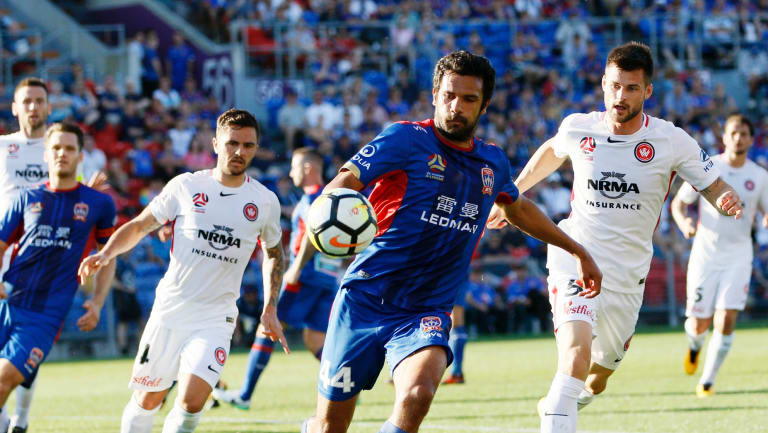 Nikolai Topor-Stanley will play for a spot in his fourth grand final.
Topor-Stanley has worn the captain's armband in the absence of defensive partner Nigel Boogaard for the past five games and will likely lead the side again on Friday.
Newcastle have not dropped below third on the ladder all season but have lost two and drawn one of their three clashes against City.
Topor-Stanley said his men know they're more than capable of winning the game and believes they will break the duck on Friday.
"We know we can win if we turn up with the right attitude, which I feel like we've done for the vast majority of the season," Topor-Stanley said.
"You don't want to put too much pressure on and people are afraid to make a mistake but I don't think that will happen in this group.
"We have the potential to be up there and compete which we are doing, we're living that, but whatever happens will happen, a lot of variables are out of our control.
"You can't control if Manny Muscat comes on and puts it in the top corner from 50 yards. I don't really want to think about outcomes, it's the process, you hear that a lot from athletes but it's true.
"You want to focus on what you can control and how you prepare yourself on and off the field and hopefully that comes good game day.
"Everyone is different but I'm trying to keep grounded as much as possible. You want to build it up to a special occasion but you also want to enjoy it."
Source: Read Full Article