There is no quick fix for Australian teams
Where to now for Australian rugby?
The game is at a crossroads and last weekend's four losses in Super Rugby come against a backdrop of constant discussion about the future of Super Rugby and what Australian rugby should look like beyond the next broadcasting deal.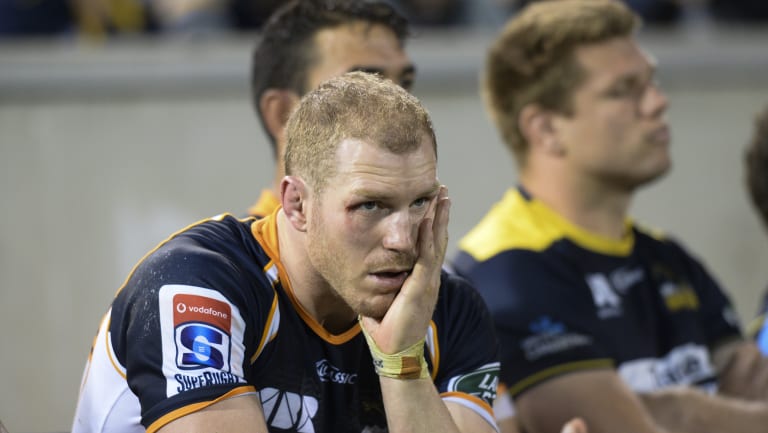 Disaster: David Pocock watches on as the Brumbies lose to the Jaguares.
But let's take a step back and work out how we got here in the first place. There has been a combination of three factors: the loss of coaching experience, a malfunctioning development system, and the loss of players overseas.
Although at the time 2012-2013 felt like turmoil years (certainly at a Wallabies level) they actually represented something of a high water mark when it comes to collective coaching nous available to Australian players.
Below Wallabies coach Robbie Deans were Jake White at the Brumbies, Ewen McKenzie at the Reds, Michael Foley at the Force and Michael Cheika at the Waratahs (from 2013 onwards).
Fast forward to today and that has almost been flipped on its head. There are two first-year Super Rugby coaches (Dan McKellar, Brumbies and Brad Thorn, Reds), one second-year coach (Dave Wessels, Rebels) and one third-year coach (Daryl Gibson, Waratahs).
That's an very inexperienced group and although all have had roles as assistants or coaches at NRC level there is just no comparison between those jobs and a Super Rugby job.
In New Zealand, Chiefs coach Colin Cooper has more Super Rugby coaching experience than all of the Australian Super Rugby coaches combined. No wonder the Chiefs are doing well despite a heavy injury list.
In Australia, damage has also been caused by the compounding effect of picking young coaches. The Reds have now effectively chosen three successive coaches without any track record of success at Super Rugby or in a comparable competition.
These young coaches face another challenge – the deterioration of player development in Australia over the past five years and beyond.
For example, if you take a look at the Australian under-20s program from 2011-2015 (that period is chosen because it is reasonable to expect those players to be 'graduating' to Super Rugby and the Wallabies by now) there isn't a single playmaker from the Junior World Championship squads who even starts at No.10 in Super Rugby.
In fact, most of the former under-20s playmakers aren't even in Super Rugby squads, although Jack Debreczeni was in and around the system and eventually came through at the Rebels.
It's hard to describe this as anything but a failure, or perhaps multiple failures, in terms of talent spotting and development.
The drift of players overseas has also hurt Australia: look at the Brumbies for example. The Toomuas and Tomanes and Mowens … it all adds up. The Brumbies have been particularly hard hit by the loss of on-field leadership.
The one area I am reluctant to include as a significant factor is competition for players from the NRL and AFL. Why? First, it's a bit of a cop out. Second, Ireland – whose population, north and south, is about one-quarter of Australia's – also counts rugby as its 'third code' (behind football and Gaelic games) traditionally aligned to wealthier schools but is managing to produce young players at a rate of knots.
Why is all of this important? Well, it is crucial to realistically spell out where Australian rugby is before you can plot the way forward.
For example, we can talk about a trans-Tasman competition all we want (incidentally, the prevailing view in New Zealand is, 'Why on earth would we want that when the South Africans look like the stronger conference?') but a restructure in itself isn't going to rebuild the Australian game.
That's a longer term project. When you have the perfect storm of a lack of coaching experience and too many players being exposed to Super Rugby before they are ready, or simply not getting the right quality of coaching when they do arrive, it is going to take time to turn it around.
Rugby Australia knows all of this of course. It's why they have recruited Rod Kafer and will spend fairly heavily on coaching programs under his control.
Asking for patience is a hard sell, but it's hard to package up the current situation any other way and keep credibility.
These woes have been years in the making, and they'll be years in the solving.
Source: Read Full Article