It's not cricket, and that's the whole idea
It was over as soon as it began. Kevin Pietersen hoisted Will Sutherland over the rope at mid-wicket and so won final of cricket's latest, most exciting and, most importantly, most lucrative competition yet, the Cambridge Analytica One-Off (OO).
The MCG crowd went wild and then went home, in plenty of time for Master Surgeon (thanks, Shaun Micallef).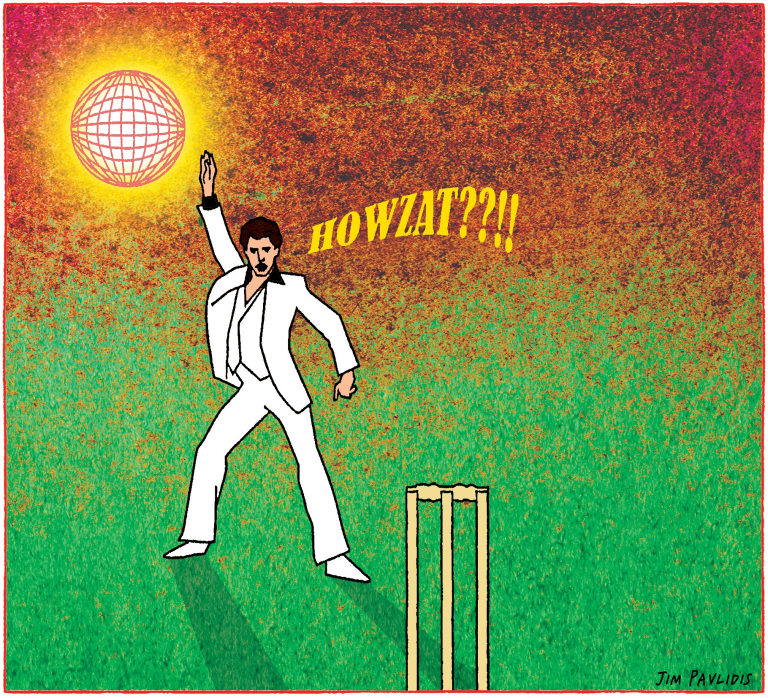 Illustration: Jim Pavlidis
Here at last was cricket's ultimate refinement: one ball each, winner-take-all, no questions asked, especially not about sandpaper.
It wasn't fully apparent who Pietersen was playing for that day, nor did it matter. Self or team, city or country, franchise or rep team: these nuances were long ago lost, these trappings discarded. All that mattered now was cross-promotion and leverage.
No one should have been surprised. What did anyone really think then Seven chief exec Tim Worner meant those few short years ago when he said cricket was about to get ''the Seven treatment''?
It was only one week later that the ECB announced a tournament in a new format, the shortest yet, 100 balls a side. ''A simple approach to reach a new generation,'' hyper-ventilated the ECB's chief commercial officer, responsible for all cricket-related matters.
Actually, consisting of 15 six-ball overs and one 10-ball over, delivered at a random juncture, it was a less simple approach than Twenty20. What the commercial officer meant was a shorter approach. It has been apparent to him for some time that cricket's problem was cricket, and he was determined to get it out of the way.
Kevin Pietersen: true blue.
And so the race to the game's vanishing point was eagerly joined. Necessarily, little ruses were used along the way. At one point, Cricket Australia chief executive Lachlan Murdoch boasted that the game was uniquely lucky in that it was played in 22 different formats, also that it came in a range of colours and accessories, like clothes pegs.
Some fuddy-duddies worried. The ECB said it had to do something because cricket was dead in the schools and lost from free-to-air TV. But who lost it? The work experience kid?
In the way cricket authorities all around the world were trying to buy in those who didn't like cricket by selling out those who do, some wondered, were they not simply operating a giant Ponzi scheme?Well, um, heh, look over there, a unicorn. Or is it a humble Australian cricketer? Something fabulous anyway.
And so the pruning and the paring continued apace. What was lbw anyway, an anachronism if ever there was? Out it goes. What was the point of the first five balls of an over? Out they went. What was the point of the first 10, 15, 19 overs, trying people's concentration like that? Gone.
No one pretends that it was all plain sailing. There was an early OO controversy when Mitch Starc's four wides were judged to be good crowd value, and he was given the points. And Israel Folau lost one day when he let his ball go, which showed only that he should have stuck to rugby, I mean league, I mean AFL, I mean his church.
Mitch Starc: crowd-pleaser.
In the dizzying whirl, as player movement became freer, and teams formed, disbanded and re-formed, and names changed, and tournaments came and went all over the place, Pietersen one day found himself playing himself in a final. No one noticed; artful Netflix editing saw to that.
In Australia, Pietersen has once been a villain, also retired, but that was in old cricket. All he had to do was to take the oath – ''The MCG is the only cricket ground, and there is no ground but the MCG'' – and he was instantly adjudged true blue and much loved (though we drew the line at Stuart Broad).
It's like swimming at the Commonwealth Games: it doesn't matter how dull the sport is as a spectacle, or so-so the competition, as long as it entails the prospect of Aussie gold, and can be given the Seven treatment, it's a winner. That said, they might have to do something about those 100-metres-plus events … but back to the cricket, quickly, before it's over.
Now that the future of the game is upon us, compressed and packaged up and packed down into a broadcast window, turned and trimmed to fit some homogenous latter-day marketing ideal of what makes sport, but with any quirk, oddity or peculiarity that used to go under the idea of the ''the fabric of the game'' smoothed away, one might ask: who's tampering now?
Source: Read Full Article